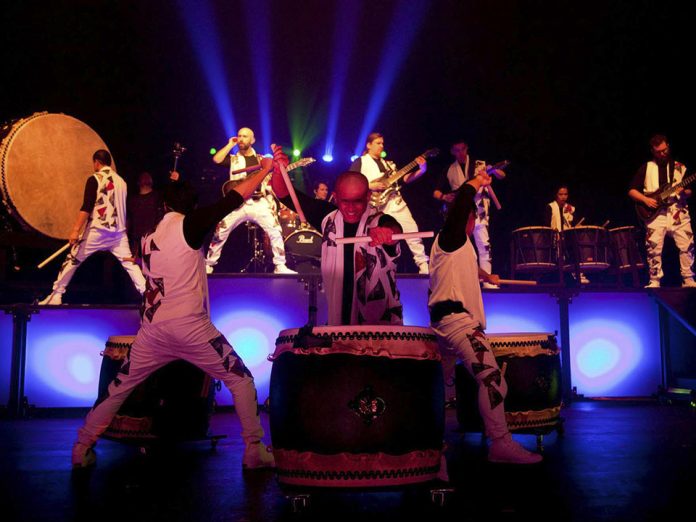 When Brandon Baruch first heard from a friend about Nick Wylie's plans to produce the Bataré tour, he realised pretty quickly that this innovative show was something he would like to light. "I tend to gravitate towards projects that require an unconventional design approach," he said. "So when Nick told me the concept of the piece, I was immediately drawn in by the fusion of styles and genres. I was also intrigued to learn there was a narrative arc for the performers, because it speaks to my theatre background as well."
After an exciting meeting with Wylie of Testu Productions, Baruch got his wish. Designing for the current Bataré tour, he has skilfully conveyed the emotional flow of this multi-faceted acrobatic Taiko rock show with a colourful and flexible lighting design, using a collection of Chauvet Professional fixtures supplied by Kinetic Lighting.
"It's a really fun production. There are many elements that feel typical to a modern rock show, but I get just as excited by the solo Taiko interstitial sequences, because they carry historical and traditional significance," said Baruch. "The first time I stepped into a rehearsal room with all the drums, I quickly realized that each drum has a very distinct personality. I try to respect that in my design. From a lighting perspective, my design ricochets between high-octane rock-and-roll and subtler theatrical gestures that support the storytelling of the drums. So my rig was put together with flexibility in mind."
Baruch uses nine COLORado 1-Quad Tour fixtures, as well as four Rogue R1 Washes and three Rogue R2 Spots, in his rig. The quick colour changing capability of these fixtures plays a crucial role in his flexible design.
"I use colour to accent the changing moods that characterize the performance," he said. "I believe context is everything, so having good whites and pastels is as important, if not more so, than having crisp, saturated colours. The COLORados have given me great options for both. For this design, I keep my whites balanced between 3500K and 5000K. The warmer tone simulates an incandescent glow, which feels more honest for the traditional moments. Then when I blast into rich colours, it has a nice impact that changes the emotional quality of the stage picture."
The Rogue R2 Spot fixtures in the Bataré tour rig are positioned 10' above the stage and are used for architecture, aerial effects, and audience lighting. "For the rock elements of the performance, we put lights in the air and on the crowd," said Baruch. "I try to keep the performers' vantage point in mind when I design a show like this. By painting the audience with dynamic textures and colours, I get to pull the musicians and audience into a shared universe where the performers can feed off of the crowd's energy."
Baruch accents Bataré's 800-pound Odaiko drum with pastel washes from the Rogue R1 Wash fixtures. He also highlights different performers with up lighting from Chauvet DJ SlimPAR 64 RGBA fixtures that are owned by the touring company.
"The SlimPARs are embedded under clear plexi panels distributed around the platforms of our stage," he said. "They let me up light and isolate individual musicians with saturated colours, and they also create excellent architectural columns when we pump the haze."
Dramatic moments and their progressive revelation are at the heart of Baruch's Bataré design."The lighting slowly builds as the show grows," he says. "I don't even fire up the Rogues until we're a few songs into the performance. They come to life when the Odaiko drum is played for the first time. The Bataré performance is about storytelling – and our lighting is part of the narrative."