LED Creative adds to the visual canvas for Blur's return to the stage, recreating the bands logo as a giant illuminated set piece.
Eight years since they last played together, Blur were back illuminating Britpop in 2023 with a sold-out Wembley Stadium and multiple festival appearances across the world, performing classics from their back catalogue along with tracks from their new number 1 album, The Ballad of Darren.
Wanting to make an impressionable return, the tour brought along LED Creative to create a large bright lightbox that hung above the artists in the shape of the band's logo. LED Creative, perhaps better known for it's work in the TV and Film as also over the year worked in the world live touring for artist including Dave and Glass Animals as well as events including the Eurovision Song Contest.
After being asked to cover the tour back in February, Project Manager Tim Rees stated: "Having grown up in the 90's with bands like Blur, it was a great privilege to be involved with such an iconic name in music." The team from Lights Control Rigging, who LED Creative have worked alongside before on various events, requested a 4.2m by 2.5m Lightbox with a three-sided face with Pixel Mappable LED to driver from its media servers.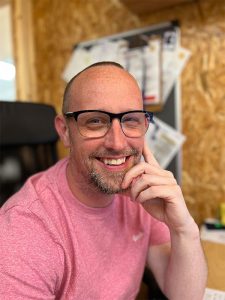 In the creation of the Lightbox, no technical drawings were given by Production, but Lighting Designer Matt Pittman gave guidance for dimensions and LED spec allowing the LED Creative team to go on to create visuals for the client as well as producing technical drawings to help further progress with the build. To ensure the lightbox was as tour friendly as possible, the set pieces was able to break into two pieces that travels on custom made set dollies.
Rees explained: "The opal front was always going to be a worry given the touring application, so this was designed with a clear acrylic middle layer. This added weight but give the front exceptional rigidity without effecting the light output."
Offering 60 LEDs per metre LED Creative used the new Sigma 60 for this huge set piece. "Sigma 60 provides better light output than previous pixel tapes. Sigma 60 is 20% brighter than our previous Sigma range," commented Rees.
The new Pixel Map Driver has been well received by Visual Operator Robin Senoner, who was impressed by the whole piece being able to be plugged into only one 16amp feed and one sACN feed with a built-in link to join the two.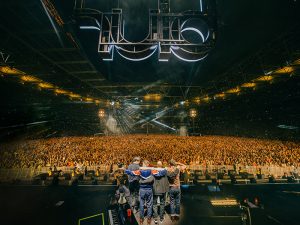 With the Blur Lightbox sign being designed to 'plug and play' no one from the LED Creative team had to venture out with the touring crew, showing the efficiency of the sign. That being said, Rees ensured that LED Creative are always at the end of the phone for any technical help.
After a triumphant two nights at Wembley Stadium, Blur went on to complete an extensive festival schedule backed by the Lightbox provided by LED Creative. "Walking into production rehearsals and seeing the Lightbox sign hanging centre stage, it looked fantastic," Rees emphasised. "The lighting and video team were busy setting looks but you could tell this was going to be a great show."