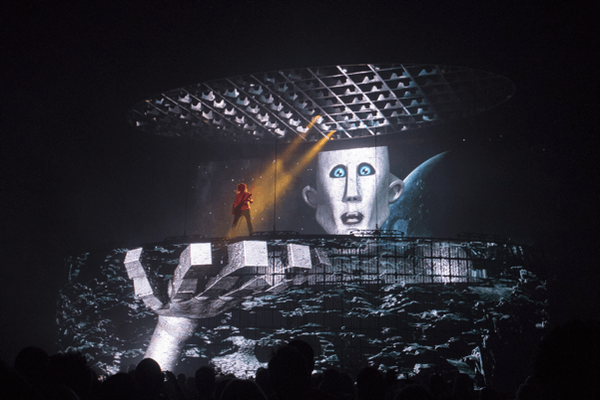 When Queen and Adam Lambert were planning their 2017-2018 USA, Europe and Oceania tour, set designers Stufish wanted to showcase the band in a new and immersive way, and Rob Sinclair was tasked with lighting design.
"I'd seen what Dark Art Creative had done before, and was blown away by the creativity and precision of the lighting," said Sinclair. "I knew that Oli Metcalfe was the owner and responsible for lighting the shows and, as I'd known him for decades, contacted him and asked him how he'd done it. He pointed me in the direction of BlackTrax."
BlackTrax is a vision-based system that connects to a range of third party applications, such as robotic lights, media servers, and any other device that uses the RTTrPM open protocol, capturing and passing positional 3D (X,Y,Z) and 6D rotation (yaw, pitch, roll) data to them. Sinclair used Clay Paky Scenius Uncio and controlled them with BlackTrax, with all seven band members being tracked. "Follow spots offer very few options and can give variable results which, when you're trying to deliver specific effects, can be enormously frustrating," Sinclair continued. "I knew there must be a better way of controlling some fairly complex lighting that could give me the repeatability which is a key element of any high-profile show."
Sinclair added: "Not only did BlackTrax give us that consistent repeatability, it also gave us the ability to create and deliver numerous effects and behaviours that would just not have been possible without it," he added. "We were able to design the whole rig around its capabilities. The support we got from Oli at Dark Art Creative as well as Sam Augustus (BTE on tour) was second to none, and the BlackTrax system has performed flawlessly throughout the tour."
It was a pleasure to work for Rob on this production. He has plenty of fresh ideas on how to use the system and really knows how to use the Zone Control feature offered by BlackTrax, meaning he has perfect distribution of his key light as well as the ability to use it during amazing effect in cues not possible with manned operators. I am a big fan of his work," concluded Oli Metcalfe at Dark Art Creative.
Stufish based the stage shape, 21m wide by 34m long, for the tour on Brian May's iconic custom made guitar. It is, according to the company, the most technically advanced show it has created for Queen + Adam Lambert. The main feature is the eight-ton red chrome, oval-shaped 'halo' kinetic lighting rig above the stage and which allows for spectacular and dynamic lighting effects. It is 15m wide, 9m deep and 1.2m high, and has 94 moving lights embedded within a series of mirrored boxes.