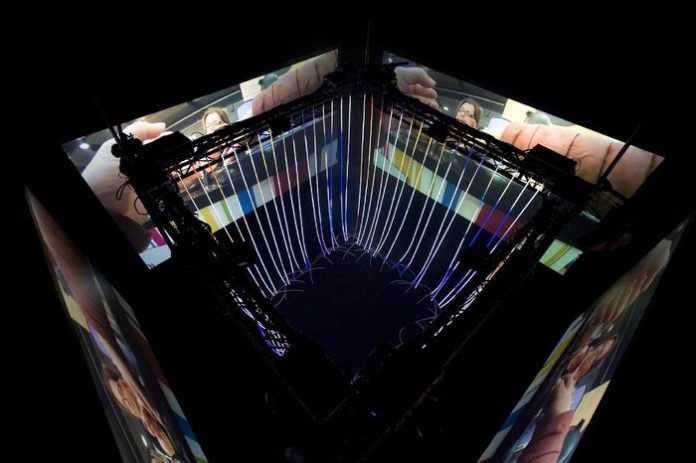 The team behind the 6-minute immersive mental health installation Blackout is delighted to reveal that they will be running a pioneering industry evaluation alongside their exhibition experience at this year's PLASA Show at London Olympia from Sunday 15 to Tuesday 17 September 2019.
Bringing academic analysis to the exhibition, Research Director in Clinical Psychology at the University of Surrey Dr Paul Hanna has devised a questionnaire to undertake the first evaluation on mental health awareness specifically within the UK technical backstage entertainment industry. Dr Hanna has worked closely with the Blackout creative team since the project launched at Guildford School of Acting (GSA) in May. 
Mig Burgess, GSA tutor and creator of Blackout, said: "This is an extremely important first step to address mental health awareness in the UK technical backstage entertainment industry and we are delighted that Paul's expertise will provide valuable insight into mental health issues in the sector. By evaluating visitors' experiences of Blackout at the PLASA Show we will be able to quantify our industry's overall awareness of mental health, and to gain an insight into how many people suffer with mental health related issues.
 "I am thrilled that Blackout has brought about this exciting research into mental health within our backstage industry and I am excited to collaborate with key trade associations to work together to evoke positive change."
The evaluation has been funded by leading industry associations PLASA, ALD, ASD ABTT, PSA, all of whom recognise the importance of supporting this research and its impact on membership organisations. The Blackout team see this as a further commitment as an industry to move forward and tackle this rising issue of mental health. 
Sean McNamara, Head of GSA, said: "As part of GSA's commitment to driving forward innovation in matters relating to mental health and wellbeing, we fully support Mig and her colleagues with this ground-breaking project."
The Technical Backstage Entertainment Industry Mental Health Evaluation can be found online by scanning the QR code below. Everyone from the technical entertainment backstage sector is encouraged to participate, whether or not they plan to attend Blackout at PLASA.
To get involved in the Industry Evaluation click here:
Technical Backstage Entertainment Industry Mental Health Evaluation
To book a place to experience Blackout at PLASA click here: