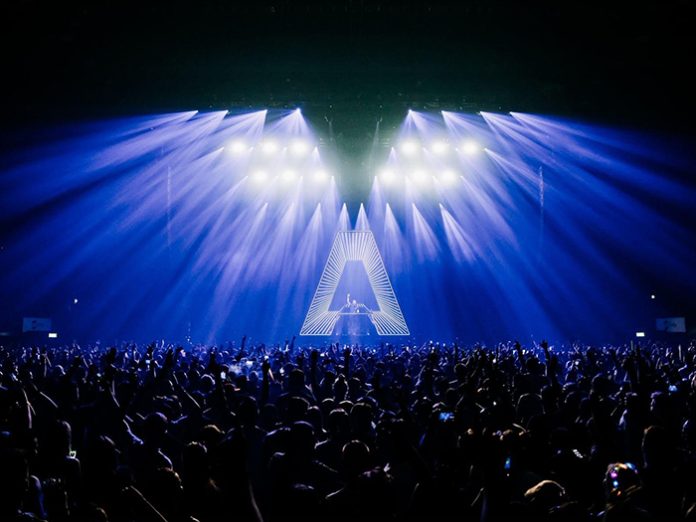 When Dean Graves and the team at Bigabox Productions added the new CHAUVET Professional Color STRIKE M to their inventory, they had some very definite ideas on how they were going to use the motorised strobe/wash to enhance their clients' shows.
"We took on this fixture, because we were super impressed with its output, functionality, and IP rating," said Graves, adding that the latter feature was especially important given the number of outdoor festivals that rely on Bigabox supplied stages. "Aside from the fixture's ROI potential, we were quite impressed with the kinds of looks designers could create with it. In our minds we could see it being sensational at big outdoor shows."
Graves' vision came to fruition in April when lighting designer Michael Seeverens of TwofiftyK used 12 of the high output fixtures to create dazzling visuals for Armin van Buuren in the  Dutch trance masters show at Wembley Stadium.
Joining 30 STRIKE 1 fixtures and a collection of 24 Rogue R3 units, the Color STRIKE M luminaires gave Seeverens a versatile and powerful creative tool chest, which he took full advantage of to transform the stage into a glowing, multi-faceted light box that captivated the sold-out crowd.
Built around a large illuminated geometric structure that was accentuated with voluminous overhead light, the design pulled the crowd ever deeper into a matrix of colour and brightness. All the while, it never strayed from making the renowned artist on stage the centre of attention during the show, which was produced by TwofiftyK.
Featuring two ultra-bright white light tubes, surrounded by 14 controllable sections of pixel-mappable RGB LEDs, the Color STRIKE M opened myriad creative options for the show's lighting design.  The fixtures 180ﹾ tilt range allowed intensely bright light to be directed along wide range of paths, enhancing the matrix effect that so captivated the audience at Wembley.
Also contributing to the intricate rig layout were the fixture's multiple mounting options, which allowed it to be hung vertically or horizontally. Its built-in alignment pins made it easy to position the fixtures in perfectly straight configurations.
Speaking of the Color STRIKE M's flexibility, Graves said: "Its versatility sold us on this fixture," adding "it's perfect for a long list of shows," and that includes one at Wembley Stadium for one of the world's leading trance artists on a beautiful April evening.