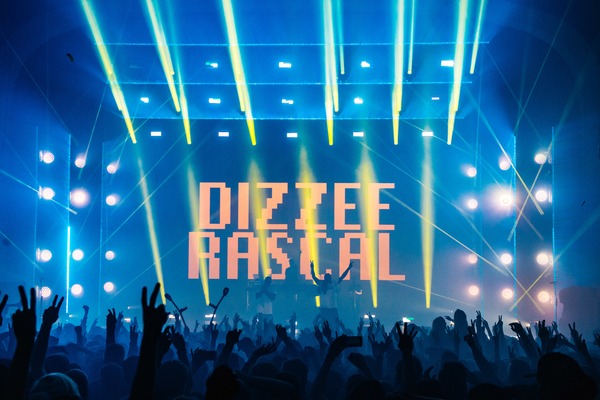 Among Lighting Designer Steve Bewley's high profile roster of artists, is champion of hip-hop, Dizzee Rascal, spawning a professional relationship dating back 8 years.
Over the course of his long career, the LD has turned to successive generations of German Light Product's LED moving head solutions, starting with the original impression 90, before moving onto Volkslicht and X4/X4 S. Bewley said: "I've always liked the products that GLP release as they are always of a premium nature. I could instantly see an application for [GLP products] across the board. I have seen X4's on multiple tours and at trade shows — and as for the JDC1 [GLP's new versatile hybrid strobe], I had a little play with one at Christie Lites and loved them straight away."
And these have become a central part of his design for Dizzee Rascal after commandeering 27 JDC1s and 72 GLP X4 Bar 20s, the inventory supplied by Mike Oates at LCR, who have invested in the fixtures. The JDC1's have a range of tasks, varying from an effects light, to a huge blinder while they are also used to colour wash the stage.
"The strobes are so versatile and I knew the on-board effects would achieve what I wanted for Dizzee's show. The lights are very easy to programme and the on-board macros are killer. As for the Bars they were intended to create massive fields of light around the large LED screen, coming from the sides and the roof. I had limited real estate on the show, as they wanted to keep the screen in full view and not be blocked by lighting. They were also used as effects lighting to bring the music to life," Bewley added.
Summing up the impact of the JDC1, Bewley concluded: "It is a brilliant tool for a designer with a multitude of uses, which I hope I explored in this show. I will definitely be using these again and have already specced them on my other clients' tours coming up shortly.
"This product offers something brand new and I see this becoming a bit of a legend just as the Atomic [conventional strobe] before it was.