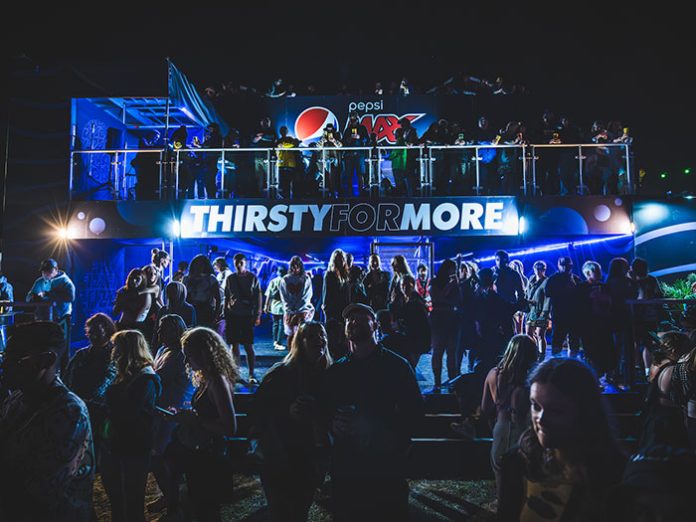 Better Green Productions is making waves in the realms of experiential marketing, event exhibitions and roadshows.
Better Green Productions is not only making its firm mark on the landscape of live experiences but also shows clearly how to be both sustainable and socially responsible. Their impactful work is impossible to overlook with standout projects at some of the United Kingdom's most recognisable events, including the Reading Festival, Wireless Festival, COP23, Summer Sounds Greenwich, The RHS Chelsea Flower Show, Royal Ascot, The Eurovision Song Contest and more.
For the fifth season, working on the Pepsi Max project and the second year in a row with iD Agency, The Pepsi Max Tower is now a festival goers landmark on the festival map at Reading and Wireless Festivals. The activation literally stood above the rest, twice the size of previous years – a testament to direct-to-consumer brand marketing, making a positive and lasting impression on its audience.
iD Agency and Better Green Productions worked collaboratively on a dynamic transformation and upgrade of the Tower, evolving it into a grander, more spectacular presence, covering a mighty 300sqm footprint over three floors.
Although a completely new design, both Better Green Productions and their clients, iD, were resolute in incorporating as many stock raw materials as possible from the previous years' builds, whilst not compromising on quality.
Accordingly, much of the pre-production time was spent retrieving existing elements and reconstituting the materials into the current design to reach their sustainability goal of using 50% of the existing structure or material in the build. In addition, not only were over 550 trees planted in Indonesia and the UK, but three outreach projects received a considerable percentage of funding from Better Green's bottom line from this project. These projects included a fully funded road side store for one at risk family in Kenya via Start Small, much needed maintenance to a unit for homeless champions ShowerBox and sponsorship for a fundraising partnership with the IOW Youth Trust.
"We are here to not only off-set, we are here to actively put back more than we take both environmentally and socially, real direct-to-need impact," explained CEO and Sustainability & Outreach Director, Dee Parsons. "Environmentally sound waste disposal isn't easy or glamorous," Explained Managing Director Ed Parsons, "But an area of the business that is both unavoidable and crucial."
All waste materials are prepared and separated in accordance with Better Green's recycling partners' guidelines to enable less than 5% to landfill. Alternatively, materials and products are advertised locally to be recycled or reused throughout local businesses, schools, and community projects. "This is the base, the minimum we can all do, it does not have to come at the cost of huge financial commitment, it is about being smart in our choices, and being well informed to what we do, has both the biggest and most positive impact," commented Parsons.
With huge sustainability & outreach goals already in place, including a commitment to planting 30,000 trees by 2027, Better Green Productions is excited to share their ethos with the industry and continue to work with clients on delivering projects that are not only sustainable but also helping companies reach and develop their own sustainability goals.
However, Parsons clarified: "Let there be no doubt – we are far from flawless, but our pursuit of excellence and progress drives us forward. We have no intention of masking our efforts with 'greenwashing'; instead, we choose to maintain a realistic approach, continually enhancing both our operations and the services we deliver to our valued clients".