Green Wall Designs, a creative studio based in Sweden, is renowned for crafting captivating visual experiences in the world of live entertainment. Specialising in video, lighting, and scenic elements, the firm has contributed to some of the most thrilling live productions in recent memory. With 15 years of experience as a studio, Green Wall Designs has evolved into a fully-fledged (and ironically green wall-less) studio featuring a collaborative team who seamlessly bring their clients' visions to life. Among Green Wall Designs' impressive portfolio are remarkable projects such as Loreen's winning performance at the 2023 Eurovision Song Contest, ABBA Voyage, Beyoncé's Renaissance Tour, and The 1975's Still… At Their Very Best, to name a few. Distinguishing itself as one of the few creative studios offering a comprehensive suite of in-house production services, TPi journeys to Green Wall Designs' headquarters in Stockholm to delve into the studio's origins, meet the brains behind the operation and reflect on its exceptional body of work.
Having met and become closely acquainted on the touring circuit, Green Wall Designs co-founders – Production Designer, Producer and CEO, Fredrik Stormby; Creative Director and Producer, David Nordström Abelli and Creative Director and Producer, Viktor Rundlöf – all share a passion for live entertainment, despite their varying disciplines. Despite cutting his teeth at an audio company, Stormby has a keen eye for lighting; Nordström Abelli in video and content, while Rundlöf is a motion designer with a penchant for software.
"We began working together in an office in downtown Stockholm, and at that time, no fellow creatives wanted to touch, let alone specialise in video, but we shared an eagerness to integrate video with lighting, which is now fairly commonplace," Stormby recalled, going on to explain the reasoning behind the unique business name. "People ask if it's to do with green screens, but that couldn't be further from the truth. In fact, we settled on the name because we couldn't agree on what colour to paint the walls of our first offices, the only thing we could collectively agree on was the colour green," he laughed.
In 2013, Rundlöf – who was on the road with The 1975 at the time of writing – joined the lofty ranks of what is now a studio which employs 16 full-time members of staff with a pool of 25 core freelancers. Over the past few years, Green Wall Designs has implemented more defined workflows and production pipelines as well as investing in next-generation products – adding motion designers, content producers and creators to its team.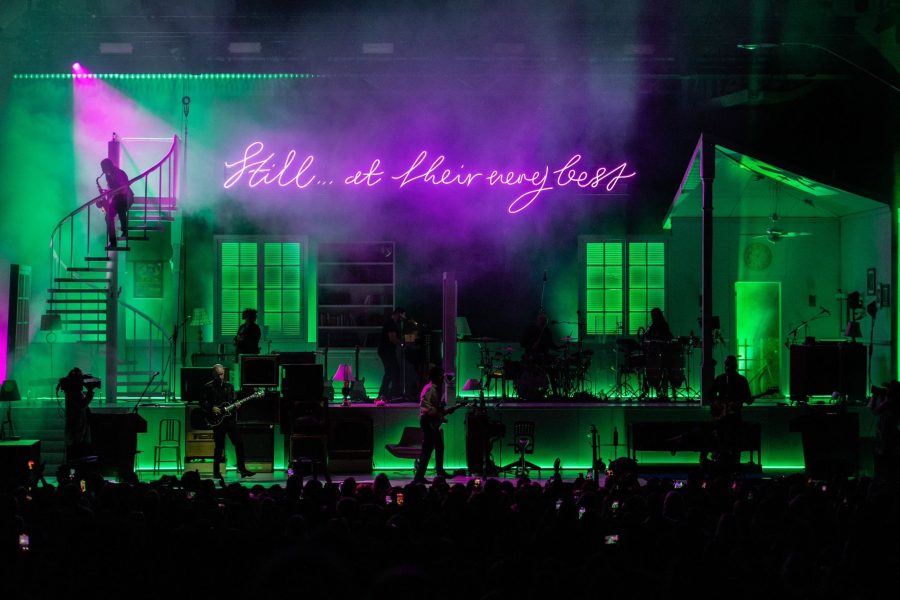 "We are looking to expand our production team, which is an exciting and challenging prospect. To be honest, we have learned how to be employed by having employees," Stormby said, modestly. "Over the past year, we have sent a lot of key personnel on the road for landmark projects which require a lot of attention, such as ABBA Voyage, Beyoncé's Renaissance Tour, and Melodifestivalen ('the Melody Festival') – Sweden's annual pre-selection competition for the Eurovision Song Contest. Although we have invested in equipment on site, we have also invested in remote work solutions for multiple workflows and curating a hybrid working environment."
Indeed, Green Wall Designs' state-of-the-art headquarters currently boasts two production and rehearsal spaces for clients. Studio 1 spans 100 sq m and boasts a ceiling height of around six metres. It is equipped with traversing trusses, providing versatility for equipment needs and can be completely darkened for precise creative control. Meanwhile, Studio 2 is primarily dedicated to lighting/video programming or temporary workstations, It also functions as a control room.
Following its involvement in Sweden's winning Eurovision Song Contest entry in 2015, Green Wall Designs received more calls for projects outside of Scandinavia. Nordström Abelli, who was key in curating the winning performance together with Director, Fredrik 'Benke' Rydman, explained Green Wall Designs' holistic approach to visual design: "We've always seen lighting, video, and content – in some cases, choreography – as one, big visual set piece. We initially just wanted a space where the client could come in and collaborate with us to deliver them an entire visual package, instead of focussing on one visual discipline. I truly believed that in the future, lighting designers would have to be able to operate video and those who didn't, and focussed solely on lighting would probably be phased out. While that has not necessarily happened, I think that most modern-day creatives now see production design, particularly the visual approach, as a complete package, given the evolution and widespread adoption of pixel mapping and colour matching lighting fixtures with LED screens and surfaces."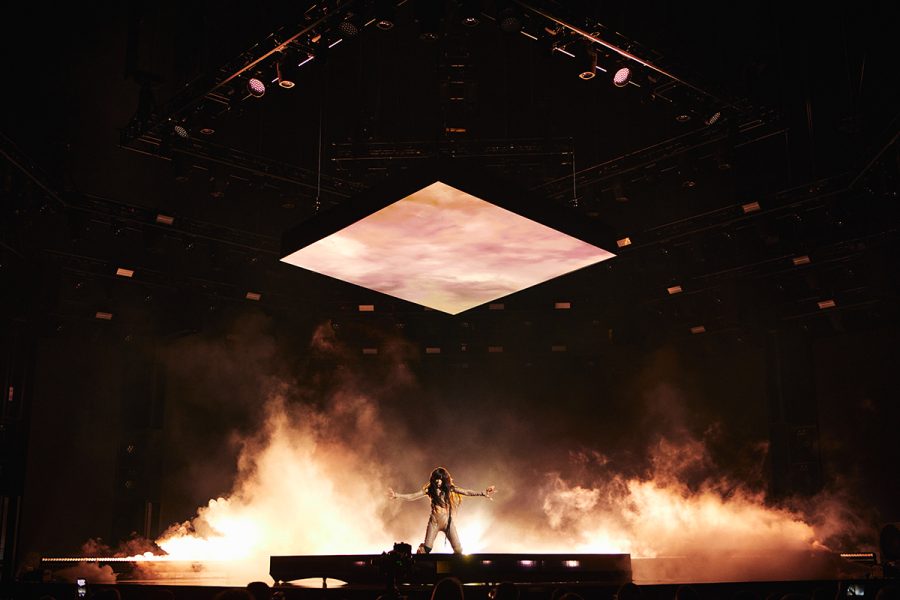 Although admittedly not involved in the XR and AR boom synonymous with the lockdown of traditional live events amid the COVID-19 pandemic, Green Wall Designs are looking to explore immersive technologies.
"ABBA Voyage pushed the envelope of what is possible, we spent a lot of time experimenting with emerging technology. Another milestone is our continued partnership with Production Designer, Tobias Rylander on The 1975's live shows, Beyoncé's Renaissance Tour as well as corporate or broadcast projects on the other end of the spectrum. I think we've been very lucky to specialise in and provide solutions for multiple markets, which while we initially approached with trepidation can be equally as inspiring and influential," Stormby explained, theorising on the future of creative workflows.
"I find AI an interesting prospect, particularly amid the first stages of a production when you want to experiment to work with something that doesn't require you to model it yet. Traditionally, we've built a space, which we then fill with lights and then you render it. Now, you can draw something out of nothing by feeding or prompting it with different inputs. As a studio, we regularly produce terabytes of content and for us to be able to feed AI technology with things we have produced and train something that we have produced or in train it is an exciting avenue of exploration. AI is also very intuitive and fun to bounce thoughts around to see what comes back but, in the end, it only inspires and does not take creative ownership of a project.We put a lot of effort into learning how to use AI, which is another level of computing power, and adding it to the studio as a tool while also learning how to work with it responsibly."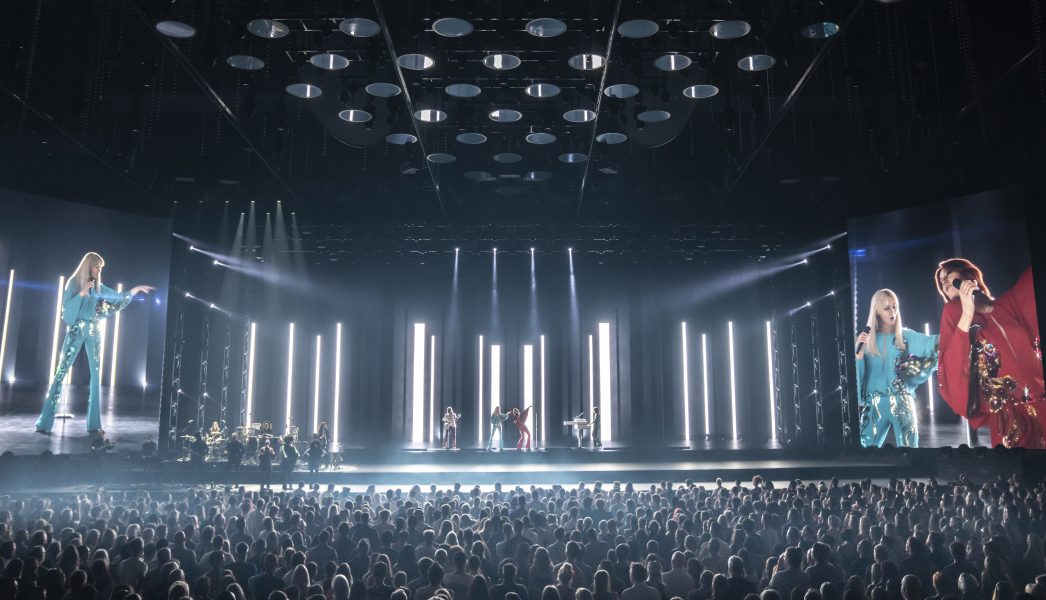 Green Wall Designs Junior Motion Graphics Artist and Social Media specialist, Olivia Ramviken, agrees: "It is a way of pushing the boundaries a little bit and experimenting with your own mind. It's an extension of how our brain works because we draw inspiration from each other anyway."
Moving forward, the creative studio plans to explore new markets and experiment with commercial film shoots as well as live entertainment projects. However, the constant expansion of the company will inevitably drive costs up. "We try to take on the jobs that we will enjoy but also make sense, financially. Combining technology with art is in our DNA," Stormby remarked, sharing where he believes the room for growth is. "The quality of LED surfaces and video screens are so much better nowadays. We can work with video in a very precise way today and be in total control. Lighting, on the other hand, still requires improvement. Next year, we will head to Malmö to embark on the lighting design and programming of the visual elements of the entire Eurovision Song Contest, working closely with each contestant's delegation and support teams."
Nordström Abelli concurred: "We love to use advanced technology to portray a feeling or an idea but we believe that the viewer shouldn't be overly conscious of its presence."
The co-founders – who very rarely take periods to reflect, given the pace of projects – say they are proud of the team as well as the vast and varied body of works it has forged. Meanwhile, progression means taking stock of where there are gaps in the company, and the sector at large. "We are consciously trying to bring in more women and the next generation of creatives. Having a range of backgrounds, disciplines and skill sets in your ranks makes a huge difference to creativity. We recently collaborated with Industrial Light & Magic (ILM) on ABBA Voyage, and I was so inspired by the diversity of their team," Stormby said, disclosing his vision for the future of the sector.
"Although we consider this as the 'coolest job in the world' – that message is not necessarily filtering through to where we recruit from, I think there is a lot of work to be done to not only make this a visible industry but one which can encourage people to stick around with better working practices."
Words: Jacob Waite
Photos: Green Wall Designs, TPi, Alma Bengtsson, Johan Persson and Jordan Curtis Hughes