TPi's Ste Durham visited the glorious green fields of Hyde Park for one of the highest-quality events of the summer season.
Barclaycard presents British Summer Time Hyde Park (BST) once again returned to the nation's capital for six days of high-profile headliners spread over two weekends in July. The royal park played host to a number of big names during the event, including Massive Attack, Florence + the Machine and the fastest selling ticket ever for a BST show, Carole King. TPi was in town on a sunny Friday evening to enjoy a twilight set from folk-loving friends of the roadies, Mumford & Sons, as well as support from Alabama Shakes and Wolf Alice.
For BST's 2016 incarnation, much of the main production remained in the same vein as the previous year, with only small improvements made to the audio, video and staging elements.
Audio
Now in its fourth year at BST, Martin Audio's MLA system appeared in various guises on the main Great Oak Stage, the second Barclaycard Stage and Sony PlayStation stage. Six areas in total featured the company's systems, all of which were provided by Capital Sound, as well as a significant digital upgrade.
For the main stage, the PA inventory again comprised two hangs of 16 MLA and one MLD downfill per side, with 12 MLA and one MLD downfill for the sidehangs. The subwoofer array consisted of 21 MLX in a broadside cardioid array, with a further 11 enclosures back facing. Additional W8LM line array enclosures provided front fills, while an array of LE1500 floor monitors were provided throughout the BST season.
The main nine delay towers comprised seven MLA and a single MLD downfill, supported by 12 MLX subs, while delay positions 10 and 11 each deployed eight MLA Compacts.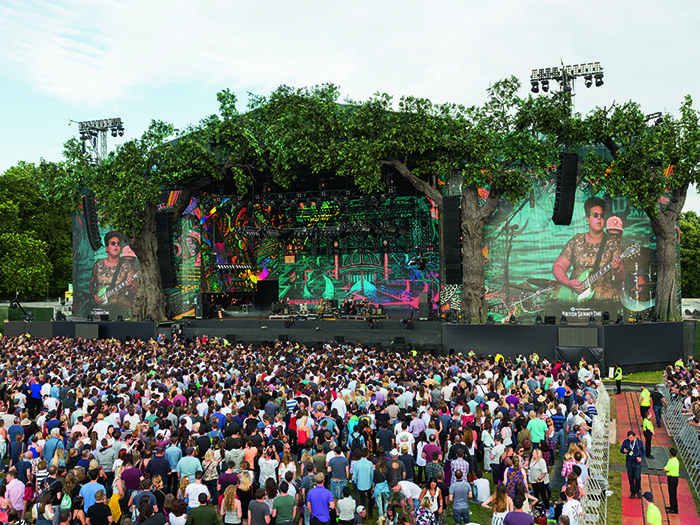 Although it was a tried and tested design on the main stage, the biggest boost to sound was provided by the new beta version of Martin Audio's DISPLAY prediction software, as well as deployment of the new Dante digital network designed by Capital Sound Project Manager, Robin Conway. The conversion from an analogue to digital returns system on main stage represents a huge leap forward for Capital Sound.
The event's long-standing System Tech Toby Donovan, commented: "By using FIR filtering to improve LF control, and making some adjustments to the overall tonality of the system, MLA now sounds better than ever."
The network featured a combination of Lake LM44 processors, Focusrite RedNet D16 AES break out boxes and Cisco SG300 10-port switches. "This is an affordable solution and gives us the option of running full 96K, enabling us to further improve the noise floor of MLA, which was already extremely impressive," said Conway. "With the signal no longer needing to pass through various conversion stages, and the sound boosted by DISPLAY the benchmark is raised even higher."
The delay system was again controlled via an Ethernet tunnel on the Optocore network, connected to a Martin Audio Merlin matrix processor at each position, and this in turn connected to the Martin Audio arrays via U-NET. The 11 delay positions and VIP stand were all distributed from the FOH rack presided over by Donovan. The site-wide topology was constructed from 14 Optocore XR6-FX interfaces in a redundant loop, starting from the LM44's at FOH, which fed the Optocore network via AES.
An important requirement of the audio system at BST was to comfortably meet both the on and offsite requirements of promoters AEG Live and sound consultants Vanguardia. According to Martin Audio R&D Director, Jason Baird, the amount of level achieved for all headline acts exceeded expectations while the offsite thresholds were well within limits. "This was despite swirling winds blowing in the direction of the measurement points," he noted.
Of DISPLAY, he said: "Optimising a full festival rig including side hangs and delays, set back to 400 metres to achieve the target SPL levels presented a very real challenge, and it passed with flying colours."
Vanguardia Principal Consultant Olly Creedy supported Jason Baird's meteorological observations, confirming 100% success. "Despite the unforgiving weather, levels of up to 100dB(A) were achieved at front of house during the first gig, Massive Attack and up to 103dB(A) during the final show for Stevie Wonder."
This year Vanguardia introduced a new Metrao measurement system, enabling correlation between the on-site and off-site sound to determine the noise impact of a specific stage. "This was also valuable in determining non-music noises such as sirens, helicopters and sports cars contributing to the off-site noise levels," stated Creedy.
Finally, for this year's set-build, MLA broke all records for the speed of getting the system up in the air, tuned, with all propagation tests carried out. "And this was because you simply don't need to EQ this system," said Donovan.
MLA had originally been introduced for the inaugural BST in 2013, to mitigate the historic noise pollution problems and consequent neighbourhood complaints around Hyde Park. AEG Live adopted MLA to help solve this, knowing that its advanced level of control would maintain an offsite level beneath the stipulated threshold. The SPL could still be raised considerably within the audience area, if necessary, to give crowds of up to 65,000 the festival experience they have come to expect.
On 8 July, Mumford & Sons required a subtle and versatile approach, as did acts like the Mystery Jets on Barclaycard stage and The Strumbellas on the Summer Stage. For the first half of their set, Mumford donned their signature banjos and acoustic guitars for classics such as Little Lion Man, White Blank Page and I WiIl Wait, before they turned to the electric guitars and a faster paced contemporary set. The band also brought out special guests Baaba Maal, Beatenberg and The Very Best.
Other Stages
Martin Audio systems were also provided for several other stages. On the Barclaycard Stage, eight MLA Compacts were flown on each side with 14 WS218X subwoofers in a L/C/R cardioid configuration, with four Martin Audio DD12's providing front fill sound.
The intimate 200-capacity Sony PlayStation tent was serviced by Martin Audio's tried and trusted package of four pole-mounted MLA Mini enclosures per side, atop an MSX power plant, covering the low end. Wedges were Martin Audio LE12JB monitors.
On the Summer Stage, located at the south end of the park this year, a Martin Audio W8LC / WS218X system was used with three Martin Audio W8LCs and three WS218Xs ground stacked per side, and Martin Audio LE12JB wedge monitors. The Bacardi Bar also featured a distributed system including 10 Martin Audio DD6 loudspeakers. A similar Martin Audio DD12 system was deployed in the Promoter Bar.
Summarising the site wide experience, Baird said: "We were delighted with the deployment of our systems again this year. The sound of the main stage system sounded really natural."
Jim King, Senior Vice President of Live Events at AEG, added his endorsement: "Four years into this event it is reassuring that we are still able to operate at sound levels that were once unimaginable while again keeping neighbourhood complaints to a minimum, despite the windy conditions.
"Capital and Martin Audio continue to refine the sound system year on year, with increasingly sophisticated software, and the improvement was immediately noticeable when I walked the site before the festival began. It is this that continues to keep us ahead of the game."
Visuals

PRG XL Video has been closely involved with BST since the event's inception, this year providing the full house lighting rig in addition to extras for headliners such as Mumford & Sons, Massive Attack and Take That. Account Director Yvonne Donnelly Smith took care of the project for PRG XL Video: "BST Hyde Park is an amazing event right in the heart of London, with fantastic artists playing every day, on one of the most beautiful stages of any festival. It's a pleasure to continue our work with Production Manager Mark Ward of Proper Productions.
"He always comes to us with a clear picture of what he wants and how to achieve it. Playing a major part in the largest summer event in one of the royal parks is a real privilege, but it presented the usual challenges associated with outdoor shows. Our Crew Chief Luke Jackson lead a talented team of lighting and rigging technicians on site to ensure everything ran smoothly."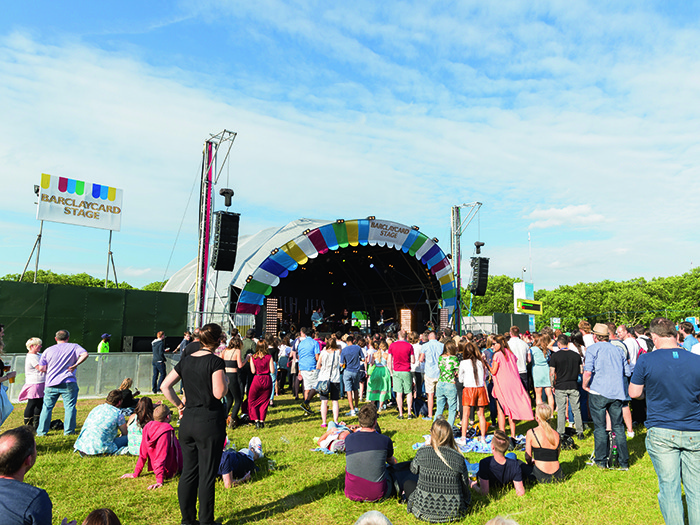 The lighting rig centred around a multitude of festival-robust and high-performance Vari-Lite products, with 68 VL3500 washes, 36 VL3000 spots and 18 VL2000 wash fixtures used. Also featured were 24 GLP Impression X4 RGBW LED wash lights, 25 Solaris Flare LED RGBW multifunctional lighting fixtures and the PRG Best Boy spot HP moving light.
There were 50 generic molefay lights around the perimeter of the stage, powered by Avolites ART2000 dimmers, and six long throw 2.5kW Lycian M2 followspots at FOH to provide the mainstay of followspot lighting, along with a pair of Lycian 1271 Starklites overhead as truss spots. The house lighting control consoles were MA Lighting grandMA2's, with DMX distribution served by PRG Super Nodes.
Video was another area in which BST adopted the 'if it ain't broke, slightly improve it' mantra that applied to this year's audio system. Video Design again supplied 1,000 sq metres of LED screen to wrap around the Great Oak Stage, with WinVision's 8mm product lining the wings and returns and its 9mm panels used to form a large upstage wall. Multi award-winning Stage Designer Es Devlin was the original mastermind behind this screen layout, as well as the scenic oak trees that allow the stage and delay towers to appear as if they are a living part of the park itself.
MD at Video Design, Alex Leinster, explained his company's role at BST: "In addition to the 11 million pixels worth of LED we have up there, which is all d3 Technologies-driven, we provided a four-camera PPU system and extras for Florence + the Machine, Mumford & Sons and Take That. We just take care of cameras for the live shots, while Blink TV brought in CTV Outside Broadcast to handle OB duties."
Video Design had 15 crew members on site at peak times, some of whom were specifically there to look after any d3 Technologies programming-related problems. Leinster continued: "Because d3 allows you to visualise the whole thing in advance, we generate the project files and the bands can take them away to work independently. They bring it back, we load it onto the d3 servers and off you go.
"The amount of pre-programming varies from band-to-band. Take That programmed for a week at LH2 Studios before they came here, while others were more of a collaboration on site."
Many of the headliners including Carole King, Florence + the Machine and Massive Attack created bespoke content for the Hyde Park show, while others used custom effects on the video content being streamed live by Video Design's cameras and robocams. Leinster said: "The sheer number of pixels up there mean you can't just hash content together and hope it looks ok. You'll get found out in the definition. This, and the fact that it is a huge show in one of the capital's royal parks, motivates the artists' video teams to come up with something special to show the world what they're made of."
This was the first time that Mumford & Sons had used LED on stage, so the band asked Video Director Steve Price to create some organic and subtle content. Price explained: "Usually they play a good old fashioned gig with no click tracks, no Pro Tools and no gimmicks – it's just live music and of course Ed Warren's incredible light show. It was important that the backgrounds remained as exactly that – backgrounds not foregrounds – so I decided to go for live camera shots rather than pre-rendered video content.
"In addition to the bunch of cameras I was using for my IMAG cut, I also had a further 10 robocams that were being cut under my direction by the hugely creative Tom Robinson. I've worked with Tom before and I knew he'd be the right man to interpret what I wanted on a song-by-song basis and have the confidence to improvise if he needed to."
Price also worked closely with d3 Programmer Nils Porrmann during the run up to the show, who brought experience that was integral in suggesting different ways to map the band's backgrounds across the massive screens.
Price continued: "We started quite gently and got bolder as the evening progressed. This turned out to be exactly the right thing to do because the sun set directly opposite the front of the stage. This actually helped the abstract nature of the design to begin with, then as it got dark we introduced more detailed content and it all seemed to evolve quite naturally.
"The first song had no content at all, then the second song, Little Lion Man, was a shot of flight case in black and white with Mumford's 'Gentleman of the Road' logo plastered down the side. At first, this appeared to be a photograph, but on closer inspection it became clear it was a live video shot of a flight case at the back of the stage with the band performing out of focus and over exposed in the corner of the shot."
A highlight for Price came when the team had to hurriedly improvise a look for an extra song the band added into the set at the last moment. Price remembered: "I asked Tom to point his robocams at the sky to grab some cloud backgrounds and asked Nils to map it accordingly over the screens. As it happened, Tom found the crescent moon right there in the daylight and zoomed in on it – this looked amazing live on the screens but just went off the scale when two aircraft flew through the moon leaving a smoke trail behind them. It's that kind of unplanned magical moment that makes your day, we all went nuts on cans, and not for the first time during that show."
Staging
Bedford-based Star Events provided all of the structural work on site with the exception of fencing, cabins, toilets, ground protection, bars and so on. This included the Great Oak Stage, Barclaycard Presents Stage, hospitality areas, viewing platforms, FOH structures, delay towers, screen supports, entrance arches, gate gantries and all production rigging. That meant 82 trucks worth of gear had to be loaded into Hyde Park and rigged in the space of two weeks – one of which saw between 80 and 110 Star crew on site.
"Even though most of the structures look bespoke, they are largely based on Star rental kit, which is like a giant Meccano set, leaving more budget for the custom parts," Star Project Manager, Tez Sheals-Barrett, explained from the company cabin on site. "The main north entrance is an example; it's based around our Orbit roof but has extra parts to give it the unique appearance. The delay tower bases are a totally new design but otherwise all of the core components in the Great Oak Stage you will find in the delays, FOH and so on."
The Es Devlin-designed faux oak trees that fringed the main stage and delays were made specifically for the original event and, though the overlays required sprucing up now and again, there were no major changes to branding or set for 2016 from Star's perspective. The company's priority was to reduce the footprint of the delays to increase the overall capacity and make the structures quicker, safer and less labour-intensive to install.
Sheals-Barrett continued: "Star Events has been the main structural supplier since 2013 and that experience, coupled with the company's telling new technology, meant we kept to the two-week build despite terrible weather conditions much of the time.
"We have a full stand-by team for the show weekends as well and load out in just five days. It's challenging to keep the ground in immaculate condition on load-in but the site team is great at providing the ground protection."
As well as making the site 'bigger' in terms of crowd numbers, Star was charged with creating more rigging capacity for production in the roof of the main VIP viewing structure (a Star VISTA unit) to allow for more lighting and audio, as well as strengthening the main stage roof. "We swapped out the regular spans to double heavy duty trusses in order to accommodate what is the heaviest rig we've ever had at BST," said Sheals-Barrett.
Headliners Massive Attack, Mumford & Sons and Take That all had additional rigs to be loaded in and out overnight. Mumford in particular had most of the house rig removed for their lighting set up, only to be taken out and loaded straight back in (along with extras) for Take That the following night.
To accommodate these varied shows efficiently and securely, Star needed to accurately know all the weights and their distribution in the roof. Sheals-Barrett commented: "Our computer analysis tells us where weight should be going but, until you get it here, the wind, weather, temperature and actual loads are all variables.
"This year we extended our Active Roof Technology (ART) system to put a load cell on all 34 of the main stage roof masts, which gave us accurate real-time data of how the loads were actually being distributed through the very complex structure. If there was too much on one span or down one mast we could shift weight around using spreaders to load different spans, which worked really well. That makes it not only the strongest but the safest roof we've ever constructed here. Mumford took the 'heaviest rig' honours, with the ART system recording 116 tonnes in the air."
Behind The Scenes
Quantum Special Effects was on site in Hyde Park to provide a tailored programme of effects for Mumford & Sons and Take That.
To help Mumford & Sons take their production up a notch as requested, Quantum provided 60kg of white and yellow confetti fired from 14 blowers positioned at the front of the stage, a pyro waterfall, a hand-held marine flare and a pyrotechnic finale for The Wolf using a dazzling combination of Crossettes, Comets, and Mines.
For Take That, Quantum supplied tailored effects for seven individual tracks that included confetti, Comets, Mines, G Flames, and 10 Flaming Staff that were weilded by dancers on Relight My Fire.
Catering specialist GIG…fyi, part of Chesham-based Global Infusion Group, was hired by AEG Live to provide food and refreshments for the dozens of artists who performed at BST. The company served up over 2,500 meals to artists, their entourages and bands from a bespoke dining marquee that was transformed into a summertime garden.
The GIG…fyi crew were on site for all 10 days of the festival providing a full range of refreshments including hot and cold drinks and snacks – working 24/7 to ensure food was available around-the-clock for stars and support teams arriving overnight.
The temporary kitchen served hundreds of full English breakfasts with cereals, yogurts, fresh whole and cut fruit and fresh breads. Throughout the day the chefs provided a rolling buffet for lunches. As well as manning the restaurant, GIG…fyi's team also serviced the artists' dressing rooms. In addition to the food and drinks it also supplied all of the decor, dining furniture, buffet set up, service ware and some of the lighting.
Katy Turner, GIG…fyi's Operations Manager, said: "This was our fourth successive year supporting BST, which is one of our favourite events of the season. There was a fabulous line-up of stars including the legendary Stevie Wonder for us to feed. We can't wait to be back again next year!"
Showforce was also heavily involved in BST, working closely with AEG Live and LarMac Live, Star Events, Alive Advertising, Loud Sound and Wightfencing. The company deployed over 300 crew to help build and dismantle various structures on site including the main stage and scenic elements such as the pre fab Olde English style pubs that created an entertainment village for the audience.
Showforce also worked hard to distribute lights around the site for various projects, allowing the production team to keep the to a tight schedule. The crewing specialist worked around the clock to become part of another successful Hyde Park event, which according to Crew Manager Lawrence Jones, resulted in "another enjoyable show that went off without a hitch".
Although TPi only made it to the one day, we're inclined to agree. Every aspect of the event was finished to an incredibly high standard, from the world-class PA system to the perfect weather (thanks for arranging that guys!). All told BST looks to be going from strength to strength, and if that means only incremental changes each year then here's to what's certain to be another superb afternoon in 2017.
TPi
Photos: Jessica Gilbert
www.bst-hydepark.com
www.aeglive.co.uk
www.larmaclive.com
www.capital-sound.co.uk
www.video-design.co.uk
www.stareventsltd.com
www.prg.com/uk
www.q-sfx.co.uk
www.globalinfusiongroup.com
www.showforce.com