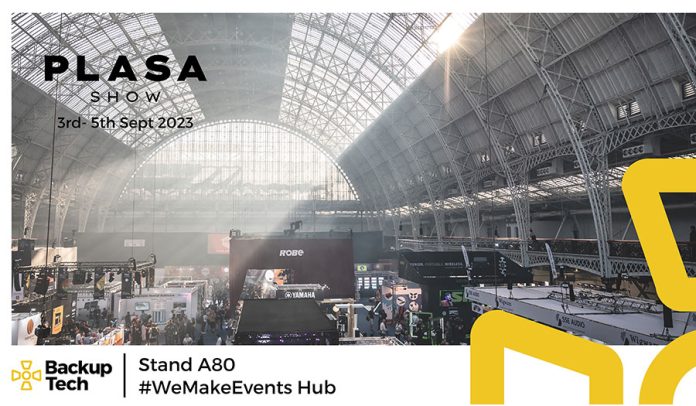 Backup is delighted to be the lead charity on the #WeMakeEvents Support Hub at this year's PLASA Show at London's Olympia from 3 to 5 September.
The #WeMakeEvents Support Hub bring together multiple charities and organisations. The team will be on Stand A80 to offer support, raise awareness of mental health and help remove the stigma that surrounds it. Trained mental health first aiders from Backup and Music Support will be on hand to provide advice and information for anyone who wants to talk, either for themselves or for someone they want to signpost to get industry help.
PLASA are also bringing in EventWell to provide a specific Wellbeing and Safe Space for anyone who needs immediate help at the show. On Monday 4 September at 11.30am in Seminar Theatre 3, Backup will also host a session entitled Neurodiversity and our Industry, the Advantages and Challenges.
Host, Jess Allan from Backup will be joined by counsellor/psychotherapist, Chris Madden, MBACP registered and part of MITC, Mig Burgess, Senior Lecturer, Co-Chair of the ABTT, Mental Health First Aid (England) Instructor and a Trustee at Backup, Daisy Simmons, a freelance Lighting Designer who is just starting out and was diagnosed as autistic in 2019, Dinesh Sattee, a Freelance Technician working in theatre, who has a couple of years' experience in the industry and was diagnosed with autism as a child, and experienced Mix Engineer, Phil Wright, who was diagnosed with ADHD in childhood and more recently with autism.
The session will discuss how the industry naturally attracts neurodiverse people and how their creative and unique ways of problem-solving can be at the heart of making the impossible possible, the challenges they can face, how they can be overcome and how we can make sure the industry can properly support them.
Allan explained: "This subject that has not really been discussed publicly in our industry, is an area we are only just starting to explore, but one that we, as Backup, are passionate about addressing."
Backup will also be part of the PLASA Wellbeing in the Industry session on 5th September from 12.30 to 13.15 in Seminar Theatre 1.
"It can be very difficult to ask for help, whatever it is you need, and even more so when your mental health is affected," commented Backup Vice Chair, Piers Shepperd. "The Wellbeing and Support Hub proved to be a successful initiative last year and we're delighted that PLASA has invited us back to be part of it again."
Information will also be available about Backup's AJ Bursary for free Mental Health First Aider training for freelancers via industry course provider Music Support at the Wellbeing and Support Hub.