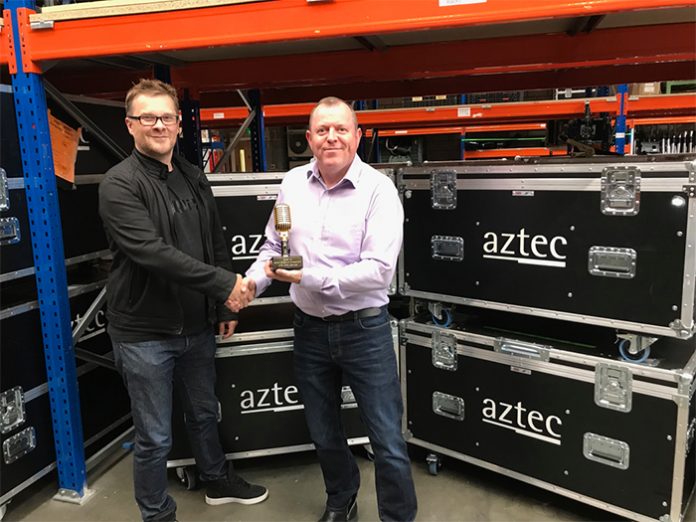 Shure UK has announced Aztec Event Services as its 2018 UK Rental Partner of the Year.
The award was presented to Aztec's Operations Director, Steve Colesell in recognition of the company's commitment to embracing new technologies that ensure the best results for their customers.
The team at Aztec have gone the extra mile this year in learning about and embracing digital wireless systems for use on complex RF coordination projects. Most recently, Aztec technical staff were quick to realise the potential of Shure's new Axient Digital wireless system, and their early adoption was crucial in staying ahead of the game.
"The entire team at Aztec are a pleasure to deal with," commented Stuart Moots, Regional Sales Manager. "At Shure, we've always advocated that continued commitment to education in the latest techniques and tools are paramount in delivering solutions fit for the challenges faced by today's production teams, and there's no doubt we see this commitment from the team at Aztec. It is my pleasure to present this award, and we look forward to building on this year's success going into the future."
Steve Colesell, commented: "Shure's commitment to the continuous development of new wireless systems is exemplary. It's been an exciting journey working with Shure over the past 12 years, and we look forward to building on the strong partnership we've built. The support Shure UK offer is second-to-none, enabling us to fully embrace new systems (such as Axient Digital) and hit the ground running. As an early adopter, the new technology has definitely given us a competitive edge across a wide range of venues both in the UK and parts of Europe.