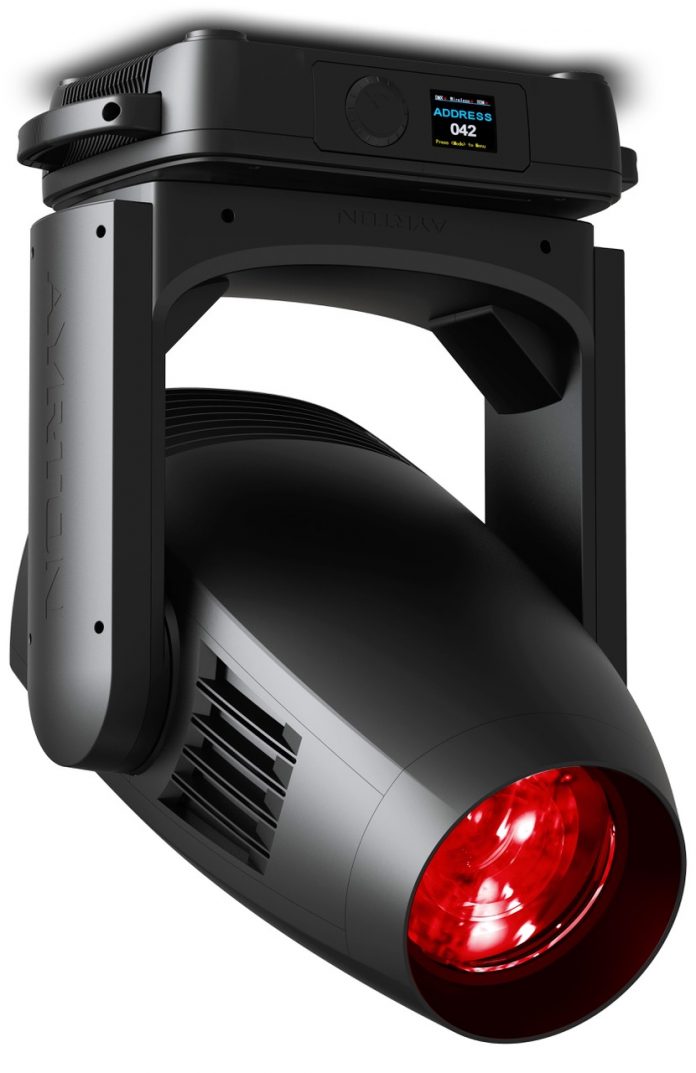 Record numbers flocked to the Ayrton stand, excited to see the new products and witness the fabulous new light show populated by Ayrton's latest fixtures.
This year's releases, the Levante and Diablo wash and profile fixtures, were in action for the first time alongside Khamsin, Bora, Ghibli, Mistral, Merak and NandoBeam, all of which illustrated the huge versatility, power and feature set of Ayrton's expanding new Wash, Spot and Profile ranges.
Ramping up the excitement to an entirely new level, Perseo-S and Huracán-X made debut appearances at the show. Perseo-S is Ayrton's first compact multi-function IP65 rated fixture developed for intensive outdoor use – think 'Ghibli' but weather-proof, and with a 27,000-lumen output from just a 500W source – and weighing in at less than 40kg. Huracán-X also created a storm as the 1000W big sister of Khamsin, in a similarly compact housing but with massive 50,000-lumen output, perfect for touring and large scale venues.
Levante is a dramatically miniaturised version of the Bora wash light, endowed with outstanding performance capabilities in an ultra-compact form that matches that of Diablo. Weighing just over 20kg it produces a light output greater than 20,000 lumens and can sculpture light using a high-transmission diffusion filter that erases the edge of the beam without changing its angle and a variable linear frost system that allows the user to adjust the desired diffusion level with precision.
Levante's optical system is specially developed for optimum wash applications and comes feature rich from the factory.
Weighing just over 20kg, Ayrton's innovative, ultra-compact Diablo is the smallest, lightest and most efficient LED luminaire of its type, with a record output of 19,000 lumens from its 300W source. Versatile and feature-rich, Diablo matches the ultra-compact Mistral dimensions and joins Khamsin and Ghibli in Ayrton's stunning new profile luminaire range.
Diablo's miniaturised framing system uses eight additional motors to accurately position its four blades across 100% surface area. The 119 mm frontal lens produces an extremely uniform flat beam that renders perfect images at any beam angle. Diablo shares Mistral's optical system to produce a 6.7° to 53° zoom and includes a full range of features.
Both Diablo and Levante are available in two versions: Diablo-S and Levante-S are specially designed for stage applications with an ultra-high output monochromatic 6500K LED light source; Diablo-TC and Levante-TC are geared for applications that require perfect colour rendition, using a monochromatic 5700K light source with a native CRI greater than 90 and high TM30 readings. Levante and Diablo is ready to ship with immediate effect.
Perseo-S is Ayrton's first compact multi-function luminaire with an IP65 enclosure rating developed for intensive outdoor use. Producing 27,000-lumen output from its 500W LED source, calibrated at 8000 K, Perseo-S has been designed to achieve an optimal resolution-to-performance-to-efficiency ratio with perfect image reproduction, a zoom range of 7° to 56°, and a significant improvement from distortion at wide angles.
Feature rich as standard, with a wealth of effects and gobo options, and of course, 100% framing shutters, Perseo-S has a new minimalist design in lighter die-cast aluminium weighing less than 40kg. It incorporates full weather-proofing features that ensure easy accessibility, including a highly effective phase-change liquid cooling system fitted with four submersible fans located outside the watertight enclosure and a new water-resistant menu navigation system.
Huracán-X is a marvel of technology that brings exceptional light output to a standard-equipment luminaire in a class by itself – a formidable graphical tool for enhancing creativity in applications requiring power and refinement. Huracán-X produces record output of 50,000 lumens from a high-efficiency 1,000W LED module at a colour temperature of 6500K. For this exceptional luminaire, Ayrton has developed an entirely new complex colour mixing system with a double CMY saturation level capable of generating 281 trillion colours (patent pending). A triple variable colour temperature corrector allows subtle adjustment from 2700 K to 10000 K and offers noticeable CRI improvement. Designed to project complex graphical effects, Huracán-X boasts specifically developed optics that deliver an extremely uniform flat beam with no hot spot and reproduce high-definition images, a 10:1 zoom ratio and a zoom range of 6.2° to 62°.
Wonderpix App – Instant Product Demonstrations in Your Hand Ayrton released its totally new, easily portable catalogue at Prolight+Sound, Frankfurt. The 2019 edition brings together the entire range of Ayrton products from the spectacular new Profile, Spot and Wash fixtures, like Khamsin, Bora, Ghibli and Mistral, and the new Perseo-S and Huracán X, to the long-established, original Creative Solutions and Imaging Display ranges.
The catalogue also introduces Ayrton's brilliant new wonderpix App which instantly connects viewers directly from a product photo to video presentations of all Ayrton products. Simply download the App to your smartphone, take a photo of the luminaire from any visual reference (catalogue, advert or magazine) and watch the product presentation video on your phone.
If you are looking for truly viable LED fixtures to populate your entire rig, you will find all you need within Ayrton's range of fixtures: all the cost and environmental advantages of LED with no compromise on quality, output, features or performance. Ayrton – Smaller, Lighter, Brighter.