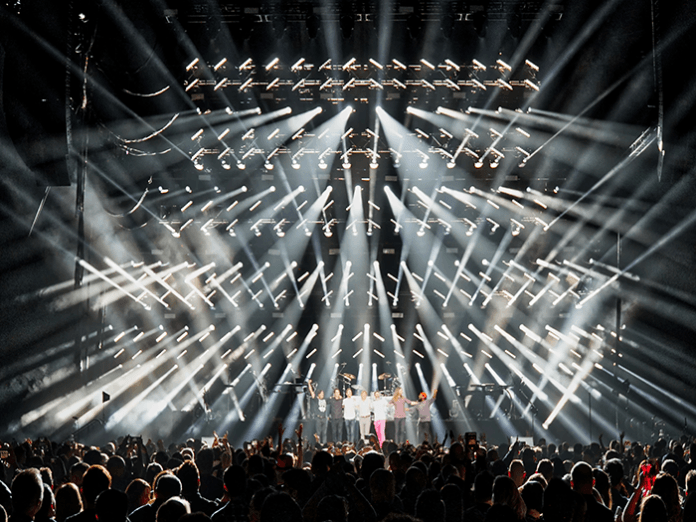 Brian Jenkins of Flicker Designs, designed and programmed the lighting and directed Maroon 5's annual 2-night New Year's Eve show at the Mandalay Bay Hotel in Las Vegas. The veteran LD selected a large complement of Ayrton MagicBlade LEDs as well as MA Lighting grandMA2 consoles for lighting control, supplied by ACT Lighting.
"It's a push to come up with something new and creative when you have programmed the same songs off and on for a few years. That's probably the biggest challenge: How do I give new life and feeling to this song?" questioned Jenkins. For this show he opted to put a majority of the instruments in the air keeping the trusses straight and with a lot of density.
"The MagicBlades provided the anchor for the rig, although it was fun to keep them dormant for the first 5 or 6 songs then have them come alive slowly throughout the rest of the set," he explained. "I leaned on them to provide a base look for the rig, to give it a foundation for the songs and later on all the fun pixel-dancing tricks that we all know and program. I didn't plan to use them for a truss toner but, for one song, it actually worked out well."
Jenkins placed 176 Ayrton MagicBlades on horizontal trusses "yoked out and double stacked with just enough clearance so the heads would clear each other. We only had about 45 feet of workable trim so the use of a smaller product like the MagicBlade worked perfectly."
He noted that: "I didn't necessarily need the Ayrton MagicBlades for their infinite pan/tilt – although that came in handy in a few tasteful moments – but for linear looks and to work well in large numbers in close proximity. I wanted a linear product that could accent the width and height of the lighting rig. With the direction I was envisioning I figured the MagicBlades would set nicely in between the rows of trusses. We made sure to watch output levels closely so the audience wasn't constantly blasted by a wall of light."
Jenkins deployed 2 MA Lighting grandMA2 full-size consoles and 5 NPUs for lighting control. Â "As most programmers would say the flexibility of the grandMA's layout views makes life a little easier when dealing with multi-instance fixtures," he said. "Taking the time to create interesting selections is key. Â For added fun, once a layout is made, I'll usually copy it a few times and do some alignment trickery to skew the selection order.
That gives us some interesting looks when using delayed timing or using the selection order in the effects engine. The grandMA is the console I stand behind night after night after night, it's like Groundhog Day sometimes!"
www.actlighting.com