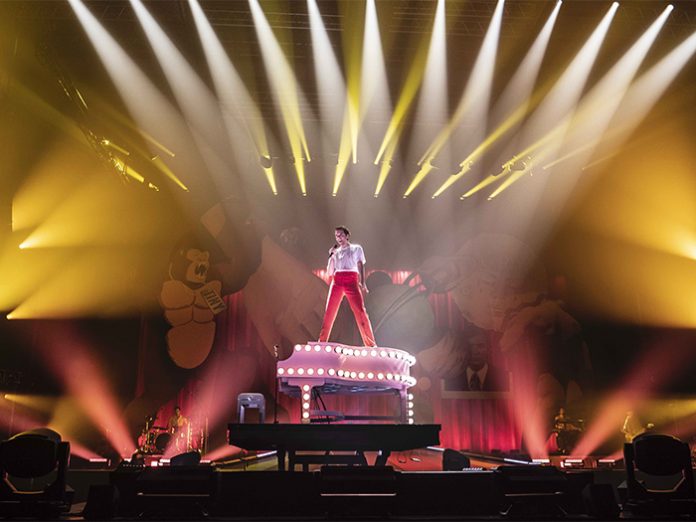 The charismatic singer-songwriter Mika's Revelation tour in support of his fifth studio album, My Name is Michael Holbrook, may have been postponed midway through due to the current COVID-19 crisis, but it wowed audiences from autumn through to this spring. Lighting Designer, Vince Foster who, with an impressive CV which spans well over 30 years, requires little introduction.
Foster's design for Mika's Revelation was clean and uncomplicated: plenty of floor lighting, significant numbers of side fixtures and trusses in the most effective of locations.  His choice of fixtures was similarly unambiguous: just four different fixtures and overwhelmingly from Ayrton.  Alongside around thirty Ayrton Magic Blade-FX fixtures were approximately one hundred and twenty of one of Ayrton's newest moving heads, Khamsin-S.
"Every moving light is a Khamsin," opened Foster when we spoke to him about his design.  "I have always been a big fan of Ayrton, using a variety of their fixtures over the years and their move into developing moving heads that have that Ayrton combination of feature-rich technology and quality engineering is really exciting."
The Khamsin-S were everywhere on the rig: the floor, the side hangs, the 'B' thrust stage and on both the stage trusses and the one downstage of the B stage. "The rig was designed with input from both Mika and his sister Yasmine. We wanted an unfussy but solid music hall look to allow the audience to focus on Mika himself," Foster reminisced. "The brief was essentially to create something of a 'Baron Munchausen' feel, a slightly tongue-in-cheek, comedic atmosphere. He is the consummate performer, a true showman with a very theatrical approach, and a gift to an LD; he is like a peacock – you shine a light on him and he shows off."
This was the first time that Foster had used an LED light as his primary workhorse as he explained: "I've always felt that LEDs are not bright enough for a big, arena sized show but Ayrton's Khamsin proves that LED has now come of age.  Khamsin is a great fixture, it seems to have everything. It is a big beast but very quiet, and, as for its features: gobo wheels; animation wheel; two prisms; frosts – I have used them all – and of course the excellent beam range which allows me to use it equally as both a wash and a profile."
With no video on this show, the stage uses raked rainbow coloured stripes to allude to the new album cover, the lighting was very much central to establishing the visual ambience of the set. Foster used the Khamsin-S colour palette to full effect with the set list based on rainbow colours.  "With some colour mixing you can lose intensity, particularly when adding greens, but not with Khamsin. Having that facility in the same fixture that you can use effectively as a key light shows the light's flexibility," he added. "Mika spends a lot of time out on the B stage so we light him essentially in 360o and can use the Khamsins as back key lighting with support from followspots. In situations like that, and for lighting the B stage, the shutters are very useful, sited as they are on stage, for framing set pieces like the drum risers. I also use a single Khamsin as a big back light with a rotating gobo at the upstage vanishing point for his first entrance, and another under a grill at the top of the ramp to light him from beneath."
Alongside the Khamsin-S fixtures on the rig were nearly 30 of Ayrton's Magic Blades-FX.  "The MagicBlade-FX's are great," enthused Foster. "The zoom is fantastic, it can create a really wide back light that is completely beamless – like a wall of light.  I have ten up on the mid truss, eight on the floor and nine out on the B stage.  On the thrust, they work really well as uplighters and you get great footlight with a nice even fill which added to the theatricality out there.  I'm also a fan of the individual cell control; with seven cells you can have the outside one colour, then graduate the palette inwards and then flip it around.
"I am really pleased that I took the option of using the Khamsin-S and the Magic Blade-FX fixtures as the foundation for this design," concluded Foster. "The Khamsins have proved to me that they are a perfect choice if you are looking for a light that does everything in an arena environment.  They have more than met that challenge."
Ayrton is distributed exclusively in the UK by Ambersphere Solutions.