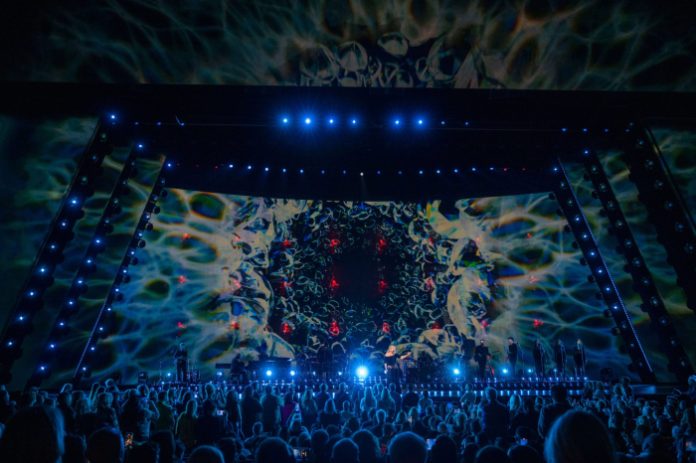 Ayrton Khamsins and Dominos dominated the rig designed by Cory FitzGerald for Weekends with Adele at The Colosseum at Caesars Palace in Las Vegas. FitzGerald is a Senior Partner, Lighting Designer and Creative Producer at Silent House Studios. ACT Entertainment is the exclusive distributor of Ayrton lighting in North America.
Weekends with Adele, a five-month series of Friday and Saturday night shows, commenced in November 2022 and ran through March 2023. The show received unanimous praise from critics for its "breathtaking" staging and elegance and its remarkable ability to combine the spectacular and the intimate. A sold-out slate of dates attested to the show's hit status.
FitzGerald previously worked with Adele when he served as the lighting designer for her appearance at British Summer Time in Hyde Park, London in July 2022. Coming on board for her Las Vegas residency he knew "from the beginning that it would be a very theatrical show. It would build quite a bit physically and in intensity starting with a small concept and growing to fill the stage with a full orchestral extravaganza with scenery, moving elements, and projections. The lighting needed to complement that and still give a theatrical feel and concert vibe."
FitzGerald mounted 192 Khamsin LED moving head profiles in three moving torms independent of the three moving projection layers on the show, as well as in three main overhead rows of truss for top and side lights and on two house truss positions.
"Khamsins were the workhorse for this show: They were the principle light used everywhere," he said. "I had worked with them before and knew they were very bright and punchy, as well as offered a lot of options. I wanted uniformity in the rig – all the same lights in different locations for better, cleaner visuals – but that meant the fixtures had to be versatile."
He explains that he wanted "a lot of flexibility in the way we positioned the lights" as the show evolved and Adele decided where best to perform each song. "We were able to move and adapt to the changes thanks to uniformity in the rig."
Khamsins were the perfect choice to provide consistency and versatility throughout the show. "Khamsins could do it all: really tight beam effects, wide animation washes, shuttering, gobo washes, strobing, colour bumps," FitzGerald said. "We even used them for key lighting because of their nice adjustable colour temperature. There's a lot of dimming in the show as lights come on slowly to create the mood and feel of some intimate moments. Khamsins were also perfect for that kind of subtlety." On the other end of the spectrum, "the venue has a 120-foot-wide proscenium, and sometimes we had to shoot a light from one side to the other or illuminate props, and Khamsin did that really well, too," he added.
FitzGerald also opted for 25 Domino LED moving head profiles, which were evenly distributed on the floor to create a horizon of light for the show. London-based Neg Earth Lights provided the rig. "For some sections of the show it was only Adele and a piano – quiet, simple and beautifully intimate moments; and sometimes there were huge full stage band songs with complex flame and water effects. The show would go from ballads to a rock concert, all while using projection and LED surfaces balanced between content and IMAG. Managing our exposure and overall stage image for camera, iPhones and the human eye was a challenge that these fixtures worked perfectly for," FitzGerald stated. "That demonstrated the versatility of the lights."
Weekends with Adele also used two full-size grandMA3 consoles to control lighting with a grandMA3 light for focusing. ACT Entertainment is also the exclusive distributor of MA Lighting products in North America. "I have been using MA since 2004," noted FitzGerald, "and this was the first show I've done that was programmed on grandMA3 – it was a big step. It represents the next generation in what we all will be doing lighting-wise."
Support from ACT and MA Lighting in Germany was ongoing as FitzGerald and his team learned the new software. "They were good about interacting with us as we worked our way through. We had enough time in the rehearsal process to try things out and get used to the new system. In the end, grandMA3 worked well with and we were happy that we went down that path."
For FitzGerald, lighting Weekends with Adele was about "giving Adele the moments she wanted for every song. The versatility of the rig made it feel like an intimate show at times or a very theatrical show at others. We made sure her audience of fans felt connected to every performance," he concluded.