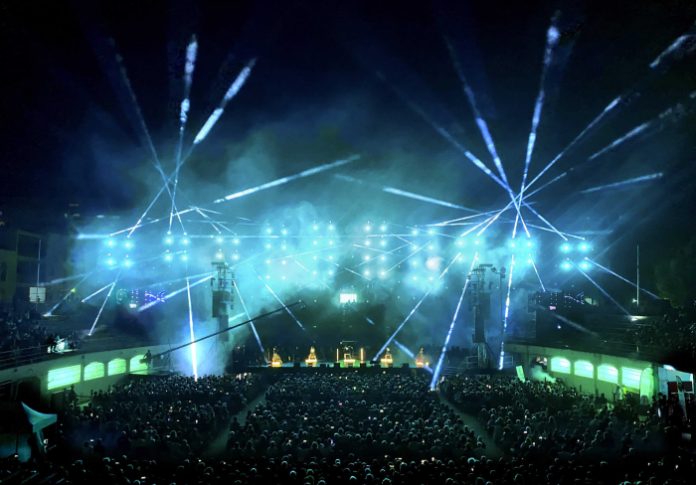 Every year since 1998, the mass choir of Les Fous Chantants (The Singing Fools), has honoured French-speaking songwriters and composers with a choral concert devoted to their works. The musical programme generally includes 25 songs, including those of the guest artist, that are sung with the choir.
This year's event, honouring Pascal Obispo, took place in the Temperas Arena in Alès, France at the end of July. One thousand choristers were seated on bleachers around a 27m wide by 13m deep main stage, extending the performance area a further 35m by 20m by 8m high.
Victor Lagiewski and Guillaume Fournier, founders of lighting design company Chromatik, have managed the lighting for this event since 2017 and specified 44 Ayrton Cobra, 16 Ayrton Perseo Profiles and 12 Ayrton Khamsin S luminaires for their main rig, all of which were supplied S Group of Alès.
Fournier explained why Ayrton fixtures were chosen for this show, and how they were used: "Ayrton is one of our favourite lighting manufacturers, and because we have such complete confidence in the fixtures, we try to work with Ayrton products as much as possible. We met the founder many years ago, and have had the opportunity to try out the different models many times, even participating in the launch of the DreamPanel Shift and Dreampanel Twin a few years ago."
The Cobra laser-sourced units were rigged on stepped trusses at the back of the arena, ranging from 16m to 18m high, from where Fournier and Lagiewski used them most frequently as a beam fixture. "The intent was to create a 'lighting cocoon' around all one thousand choristers, and also have as large a visual as possible behind the arena," Fournier explained.
"The Khamsins were used as front light for the choristers, and also for the dancers who mixed with the audience and performed at the front of the stage. The Perseo Profiles were used as side lighting to illuminate areas which are not accessible from the front lighting positions, and also to add colour to the choristers from a nice angle."
The results were obviously very pleasing and effective: "During the opening of the show, when the Cobra beams made their first appearance with a very dynamic movement effect, you could hear the intake of breath from the audience, followed by a big round of applause."
Fournier outlined why the Ayrton luminaires were such a perfect fit for Les Fous Chantants: "Of course Cobra's long throw and beam angle are unique, but equally we were very pleased with the visual effect of the moving 'laser' beams in the smoke. The visual render is very different from what we could achieve with a standard LED or arc lamp beam. We also really like the precision and sharpness of the Perseo and Khamsin fixtures, and the overall quality of the light. They are extremely suitable for illumination and also work perfectly on video."
Fournier says the programming of the fixtures was very user-friendly, but they would have liked more time to get to know the Cobra in full. "We only caught a glimpse of Cobra's ability but could already see it is very powerful and full of surprises. For the future, we want to continue working with Ayrton fixtures as much as we can!"