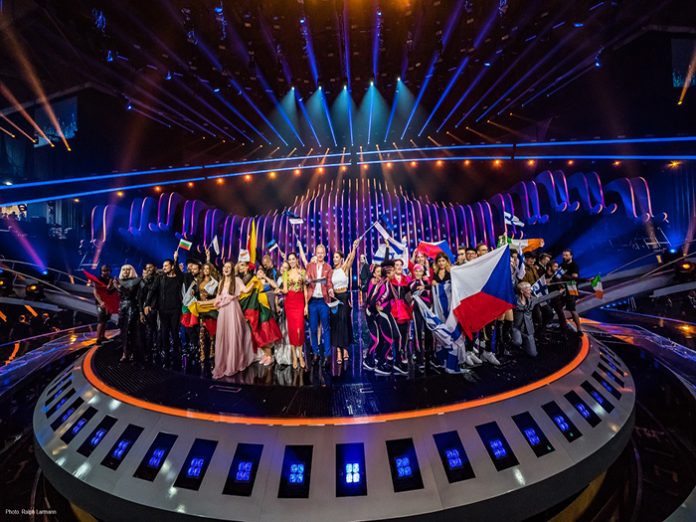 Ayrton confirms lighting designer, Jerry Appelt, chose more than 700 Ayrton fixtures for his stellar design at the 2018 Eurovision Song Contest.
Appelt chose not to incorporate any video element in the show, instead of returning to a lighting-based design in which Ayrton fixtures were a key creative feature adding depth, architecture and variety to the visuals.
With over 2,000 fixtures using 300 universes and 150,000 channels, Eurovision is the biggest production in the world and demands the highest production levels.
"The exemplary cooperation with Ayrton was vital for the success of the show and the almost 800 fixtures from Ayrton gave Jerry an important addition to his toolbox, enabling him to create a magnificent, multi-layered design that was absolutely needed to master this beast without having LED screens or any other video canvas in our set up," said ESC Head of Production, Ola Melzig. "And guess what, we did not miss the video for a second of the whole eight hours of spectacular broadcasts we created in the wonderful city of Lisbon."
Appelt, who has lit the ESC extravaganza for 3 consecutive years, chose Ayrton. "This all matters not only for my creative work but also in terms of a hassle-free production, load, static, power consumption, output, service and labour cost, etc, none of which should be forgotten, despite not being visible on stage," confirmed Appelt.
The aesthetic surrounding the deep circular stage of Florian Wieder's ambitious set relied upon the three-dimensional interplay between strong backlighting, a series of flowing wooden vertical ribs and a back wall of 351 Ayrton MagicPanelFX fixtures rigged on a custom-built aluminium wall, fabricated and installed by Ampco Flashlight.
The Ayrton MagicPanel-FX were used to create a large variety of effects that gave bespoke looks for each entry of the 43 countries taking part. This included using the face of the Ayrton MagicPanel-FX to make starcloth-style twinkles, pixel-mapping effects and run video layers to act as a low-resolution video wall, as well as dramatic beam effects through the scenic ribs.
Ampco Flashlight installed the wall with millimetre accuracy, using laser guidance precision to position each of the Ayrton MagicPanel-FX fixtures to ensure perfect symmetry. "We were able to make some great looks with the Ayrton MagicPanel-FX which were key to the architecture of the design and added great depth to camera shots," said Appelt.
"The MagicPanel-FX wall was used very subtly with no temptation to blast the audience with their full power," said Marc van der Wel, co-production director with Marco de Koff, for Ampco Flashlight. "Jerry used them in a way which was appropriate to each act, with maximum effect delivering a totally different look for each performance.
"On some numbers, a scrim was dropped in between the wall and the artist, and the depth effect from a combination of the MagicPanel-FX and the LED strips on the wooden ribs was amazing. It goes to show the quality of the lighting designer and what these fixtures can do in the hands of an artist like Jerry."
Also embedded in the back wall, interspersed among the Ayrton MagicPanel-FX were 64 Ayrton Mistral-TC LED spot fixtures which were used to create powerful rays of light that emerged from the deep end of the stage through the entire arena. "This was the most surprising and convincing fixture onsite for me", commented Appelt on his experiences with the Mistral-TC. "I would have never expected such a relatively small-looking, light LED spotlight to have such a convincing output and vast range of features. Even the quality of light is second to none."
Ninety-six of Ayrton's newly released MiniPanelFX units – a miniaturised 2×2 configuration of the MagicPanel-FX- were embedded in 2 rows around the sloping front fascia of the main stage facing the audience. "The MiniPanel-FX were just the right size for this and gave a beautiful effect," stated van der Wel.
"Those Minipanel-FX fixtures fitted really well into the shape of the stage, arranged in two lines with a railcam in between, and were instrumental in transporting the look and idea from the back wall to the main stage," added Matthias Rau, ESC Technical Manager Lighting and Production Gaffer. "The diversity of use was especially important in making every song look different: big beams with 4 dots, wash effects or single small dots as twinkle effect. The zoom is the biggest advantage in that 'tiny' yet powerful fixture – combined with fast movements for fast effects out of the stage – MiniPanel-FX could do it all."
Out in the auditorium, the balcony fronts above the audience were rigged with 112 Ayrton Ghibli luminaires which were used for key lighting. Ghibli is Ayrton's first LED spot luminaire that is factory-equipped with a 100% framing system. It is calibrated at 7,500K and delivers 23,000-lumen output with high TMI30/CRI readings and a fantastic 7°-56° beam spread.
"As with all Ayrton fixtures, Ghibli has a really nice output, colour temperature and colour intensity, all of which made an especially nice impression and proved a good choice," said van der Wel. Rau agreed: "Ghibli are great fixtures which gave us no problems onsite and were really reliable, with DMX-Modes that proved especially effective in terms of optimum channel usage."
Thirty Ayrton MagicDotSX fixtures outlined the outer edges of the circular downstage catwalks and were introduced to increase the dynamic with mid-air effects.
An additional 60 Ayrton NandoBeamS6 fixtures were used in 3 lines for backlighting the audience in the infield. "With such a high output these LED wash lights were perfect for the higher truss-trim in that area," comments Rau. "The wide zoom spread meant we could transition from beam effects to a nice wash using the same luminaires."
The Ayrton fixtures were supplied and installed by Ampco Flashlight along with the full lighting, rigging (including the customised back wall), motion control and video package. "I have to say the Ayrton fixtures are absolutely 100% reliable," says van der Wel. "We did not have to replace any Ayrton fixtures in the full five and a half week production. It is very good equipment. Jerry Appelt is such a precise man and made such careful choices of his fixtures to gather a portfolio that worked so well together for his huge design."
Project Directors Marc van der Wel and Marco de Koff, and senior project manager, Ruud Werkhoven, worked together with local Portuguese company, Pixel Light to get everything in place. "It was a pleasure to work with Jerry's team and experience his professionalism in a project which has the highest production levels and hits the boundaries of possibility for networking," says van der Wel. "It was a complex, challenging production – technically, artistically and politically – and very exciting for our people to be involved. We had good service and support from the manufacturers including technicians from Ayrton. We learned a lot and had great fun!"
"And I do not want to miss this opportunity to thank Ayrton for all their professionalism, both in their products and their team on site", concluded Appelt.