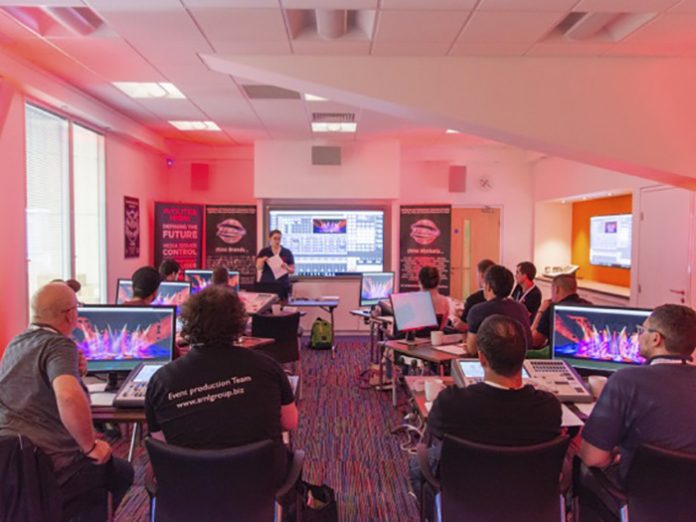 On 26th and 27th July, Leisuretec welcomed Avolites back into the TecZone for their Titan Foundation & Advanced Masterclasses. Leading the session was Rebbecca Harding, Avolites' very own product specialist and Titan Guru.
Harding has been with Avolites for over a year so her up-to-date knowledge paired with her bubbly and approachable personality made for the perfect presenter.
Since being founded in 1976, Avolites has firmly established itself as one of the world's leading manufacturer of stage lighting control equipment. Appealing to lighting specialists and novices alike, their Titan training proved to be as popular as ever with 16 participants attending the foundation course on day one, however with such a legendary reputation this came as no surprise.
First was an introduction to the Avolites product range and opportunity for the team to familiarise themselves with the consoles. The products available on the day were a selection of Avolites' most renowned consoles: the Arena, Tiger Touch II and the Quartz.
Harding spent the morning going through the layout and features with the team, while they had the chance to get hands on testing out some tips and tricks. Once the team had learnt their way around the desks it was time to get in depth with Titan V10. Boasting an extensive list of features, the Titan software is equipped with everything you need and more to put on an impressive and professional light show.
Day two was focused on the more advanced features that Titan has to offer such as cue lists, timecode, pixel mapping and MIDI. With the professional support from Harding, the attendee's let their imaginations run wild and got to work creating their own pixel map. There was a variation of designs throughout the room, including PAC-MAN. In addition to this, one attendee actually managed to make a horse run past its stable!
All TecZone training courses are completely free of charge, with drinks and snacks provided throughout the day alongside hot fresh food at lunch time.