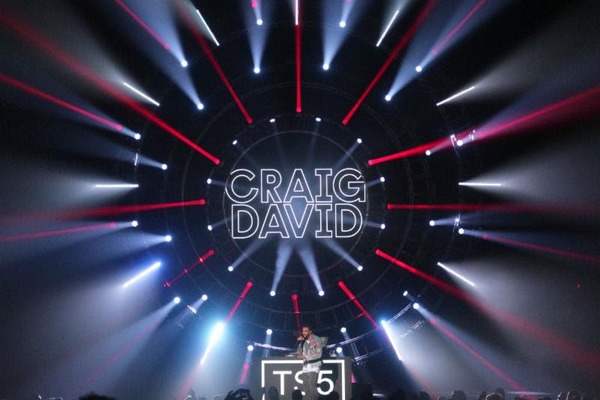 When recording artist Craig David brought his renowned TS5 gig to Brixton O2 Academy in November 2017, he called upon long-standing collaborator Stephen Abbiss. Favouring live lighting control over playback, Abbiss selected Avolites and its Arena console, running the latest Titan V10.1 software, for the TS5 show.
"I based my design for this show on the cover artwork on Craig's new album, The Time is Now. The picture is of him and a large clock face, so I decided to reflect that circular image with my lights and truss." Abbiss produced a series of 3 concentric circles of truss, receding into upstage, to frame the artist and bring a sense of depth to the focal point of the performance area. This effect was further enhanced by the beams from the moving head fixtures which lined the circular trusses, extending the 'tunnel' effect out into the audience.
The LD selected the Arena console, the newest control surface in the Avolites Titan range, to programme and run the show. "The Arena has lots of extra faders, giving me instant 'grabbing' facility – which is ace when I decide to create responsive lighting looks on the fly during the show," added Abbiss.  In addition, to the Arena's 10 main faders, a further 30 faders are laid out in 6 groups of 5 in 2 rows. An LCD screen above each group displays their individual electronic legends, allowing for fast access to playbacks, fixtures and palettes. Alongside the main display, a second touchscreen provides an additional workspace window, including labels for the adjacent macro buttons and rotary pots.
"I have always programmed Craig's shows from scratch to maintain control," explained Abbiss. "I use some colour shapes functions in Titan v10.1 and I lay out the touchscreen's fixtures page in workspaces, based on the physical lighting plot, to help speed up programming. This is really useful when I'm programming the more complex patterns in the show."
Robert Watson, Account Manager at PRG, provider of all lighting, video and its associated rigging for the recent TS5 shows says, "It is a pleasure to have supported the incredible designs of Abbiss for over 15 years. The TS5 design was very different and the circular truss was stunning. He always gets the best out of a lighting rig as he thinks outside of the box. It was a pleasure being the account manager on this job." Robert was supported onsite by Bradley Stokes (Crew Chief), Tom Harris, Adam Barthorpe, Matt Canter and Jamie Wright, ensuring a smooth load in.
"Thanks to Avolites for their continued support," concluded Abbiss. "As well as the PRG crew for squeezing the millimetres out of the Brixton proscenium!" The Time is Now album is scheduled for release on 26 January 2018 and will be the artist's 7th studio album.