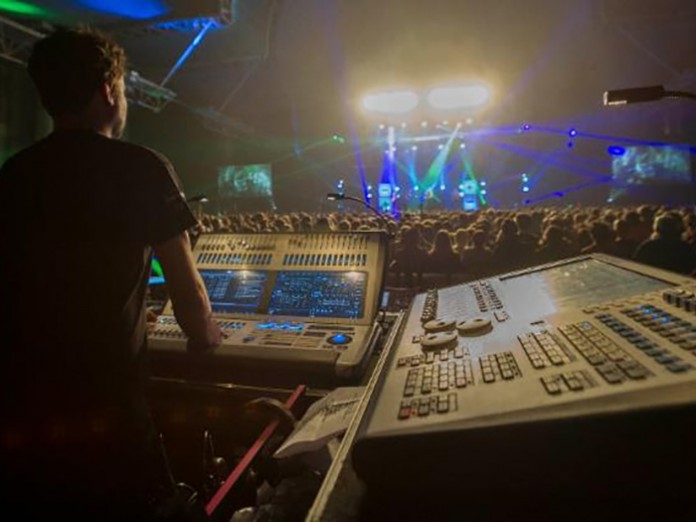 Nitelites' Lighting Designer Shaun Moore controlled a 'punk rock 'n' roll' show for English folk singer Frank Turner's headline gig at London's Alexandra Palace.
Moore utilised Avolites' Titan V9 Multi-User feature to network a Sapphire Touch and Tiger Touch II.
To create a high-octane show, Moore's rig included Martin Professional MAC Viper Profiles, MAC Auras and Atomic 300 strobes, Clay Paky Mythos, and Par 64 Can CP61/62's.
The Sapphire Touch served as the main console, with the Tiger Touch II (TTII) used as Multi User and Back up. The system ran Artnet through a Main and Back Up Luminex System.
"Avolites consoles are always my first choice, and now with the introduction of the V9 software I can easily network so my TTII is constantly backing up my Sapphire Touch, so in the unlikely event of my main going down I can jump straight onto the TTII with no need of changing any cables or switching nodes," explained Moore.
"This feature saves carrying additional consoles for support, having to switch nodes or even copper lines to the system and allows me to block out the elements of the rig the support can't use without affecting my show file.
"This also allows the support bands to have their own handle world without affecting my show file or having to reload files in between them and us."
Turner's support for the Alexandra Palace gig came from Will Varley and Skinny Lister.
Titan V9's Multi User Networking facilitates multiple console connectivity to work collaboratively or independently on the same show. A show can have multiple users, each with their own User Settings, Handle Worlds and Selected Key Profiles. When set to Multi User, consoles can still be used as backups.
"I moved up to the Sapphire Touch in 2013, having been an Avolites user for almost my entire career," Moore continued. "It was the best choice I could make – having the dual screen enables faster and easier programming time, and having the additional and motorised faders allows more hands-on control over the lighting rig and programming behind each song's cue list for fast and easy access while running the show live.
"Equally, the TTII is perfect as it has a similar layout to the Sapphire Touch, and is great for updating show files either in the edit suite or on the bus or even in an airport!"
Nitelites provided full production for the tour.