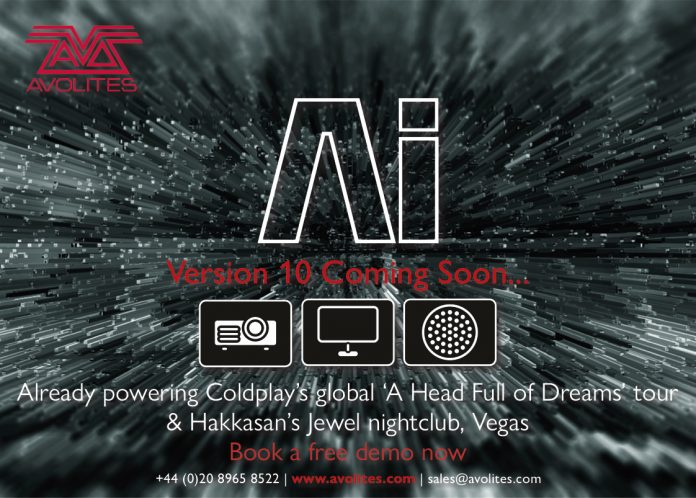 Avolites is gearing up to launch the latest update to its Ai software – Ai version 10 – which will see an overhauled user interface for a more intuitive experience and new features developed for the real world demands of Coldplay's video-heavy A Head Full of Dreams 2016 tour, and Las Vegas nightclub JEWEL, the latest addition to the Hakkasan Group of premium nightlife experiences.
Avolites' team of developers worked alongside Coldplay's video director Ben Miles, who scooped a Knight of Illumination Award 2016 for his work on the tour, and video programmer Leo Flint to bring to life one of the update's most salient new features – Notch and Spout Integration. Notch is a real-time effects generator whilst Spout, a real-time video sharing framework for Windows, allows users to share frames across applications on a computer.
An array of all new visual effects has also been added, allowing video designers to directly apply the same vibrantly colourful and dynamic treatments used by Miles and Flint on Coldplay's tour onto their own live camera inputs.
A further new feature of Ai v10 is BPM Sync, born from developing the custom integrated control system for the lighting and visuals at JEWEL Nightclub. The in-house Avolites consoles trigger effects in perfect synchronisation with the beat – a feature commissioned by Hakkasan's Director of Video Production Ed Shaw and Vice President of Entertainment James Algate. BPM sync allows users to assign a number of beats to a video clip to create their own immersive audiovisual experience.
The software update will also offer a new projection mapping tool, MeshWarp – a combination of Projective Keystone and Grid Warp – which will enable users to quickly warp their content to match the projection surface. This in addition to auto map and auto blend puts a powerful array of mapping tools in the hands of every user. Timeline is a major addition for Ai v10, providing precise control of video in a time-code environment, whilst still allowing live control simultaneously.
Users will be able to access all these features more easily and efficiently with the brand new Ai interface, which has undergone a full facelift complete with updated icons for a fresh yet familiar user experience.
Head Ai Software Developer, Ciaran Abrams commented: "Ai v10 represents a change in the media server in the way that our users will interact with the software. The extensive UI overhaul is just the start along with a list of easy, quick and intuitive controls, that make operating the software simple and fun.
"For me though, the standout feature has to be the timeline. The timeline has been completely refactored to create a basic, yet powerful feature that is visually intuitive and fun to control!"
Avolites previewed Ai v10 on stand at the PLASA London 2016 to great success. Ai Service and Support Engineer, Arran Rothwell-Eyre said: "People really appreciated the new, cleaner interface elements, the simplicity and flexibility of the new output warping tools. I am really looking forward to using the timeline as it offers so much more control than our previous versions – as a long term After Effects user I felt right at home when I first saw it."
Ai v10 will be officially available for download by the end of the year.