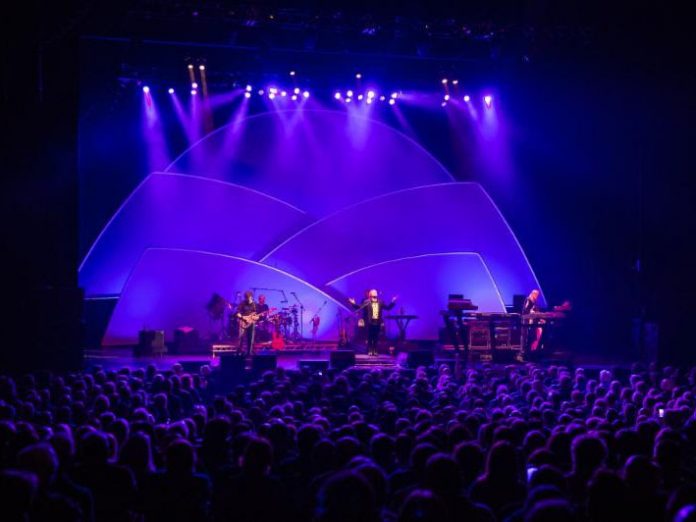 Yes featuring Anderson, Rabin and Wakeman, a newly formed group of the progressive rock band's core members, played a well-received show at Manchester Apollo, captured by Eagle Rock Entertainment for DVD. As the filming required precise lighting levels, Jonathan Pask of Illuminate Lighting Ltd designed a reliable multi-user control system of networked Avolites consoles to ensure each look was on point for camera.
"As the show was filmed for release later this year, it needed to be both amazing for the live audience and for those at home," said Pask. "I've used Avolites since I started out as an LD and their consoles have never let me down. The multi-console set-up for Manchester allowed us to both run the show smoothly and provide real-time management of the light levels, so that the cameras could capture high-quality footage."
To power the show's classic rock and roll looks, Pask selected an Avolites Sapphire Touch, the British manufacturer's largest, high performance control surface which offers increased submasters, more flash and executor buttons, and the power to control more challenging productions. This was networked with an Avolites Tiger Touch II and compact Avolites Quartz console to create a multi-user work surface, which allowed for any crucial adjustments on the fly. The lighting package was supplied by Leeds-based Zig Zag Lighting.
"Lighting operator Damian Courage used scale masters on the Tiger Touch II and Quartz to control the light levels on stage and call any colour adjustments to the followspots as per the requirements of the film director," continued Pask. "These were placed on the motorised faders above the touchscreens on the Sapphire Touch, which worked perfectly as I could see what changes were being made without having to be in constant contact with Damian."
Avolites' intuitive Titan software's ensured Pask could run the show quickly and efficiently. "I use the Key Frame Shapes feature a lot in my programming, it's a great way of creating a specific effect quickly and easily! I also love using the Set List feature, it ensures running the show is totally seamless. At times the band throw in an unplanned song but with Set List I can simply 'unpark' the track and slot it in where it goes in the list. I have a lot of macros that run in my Set List as well, which I use to trigger the appropriate starting cue. This makes it really easy to alter the order of songs on the day and ensure I still get a smooth running show."