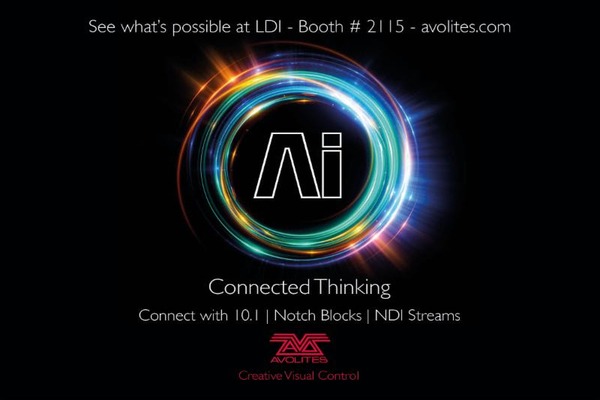 UK manufacturer Avolites will be join its US distributor, Group One Limited, at 2017's LDI exhibition in Las Vegas, Nevada. Avolites and Group One team members will showcase to visitors the very latest developments from the Avolites control and Ai media server product ranges.
LDI 2017 will see the official release of the latest version of Avolites Ai media server software. Ai v10.1 continues to build on the freshly redesigned Ai user interface and introduces a variety of powerful new features for all Ai users.
The new features of Ai v10.1 include updates to Notch live effects integration, native 3D projection mapping and simultaneous timecode playback and live improvisation – all with effortless compatibility with the rest of the show system.
The Avolites booth will showcase Ai's close integration with Notch, the providers of real-time, interactive, creative video tools. Visitors can meet with members of the Notch team and see a demonstration of how the Ai+Notch integration enables interactivity, live camera looks and desk control. Notch's Luke Malcolm said: "Avolites has always been great about showing 'how' you get things done. The stand will be filled with hands-on demonstrations and we're delighted to be part of that."
Discussing Notch, Malcolm explained: "Firstly, we have created an authoring tool that speaks the language of creatives, not software developers. Secondly, this is all about working with the wider ecosystem of products used in production industry to get the best of all worlds. Realtime should feel like a familiar creative asset that loads seamlessly into your favourite Ai server being controlled by your favourite Avolites desk. This is where the integration with Notch is so critical."
Group One's National Sales Manager, Brad White added: "The Avolites Quartz, along with an Ai server, is a spectacular package – full creative visual control of your space. On the other end of the spectrum, the Arena continues to be a popular console in all areas of the industry. On board fiber optic output in a fully integrated network switch coupled with 40 playback faders provides great control in any situation."
Group One will also be using LDI to launch a brand new Ai training initiative, as the distributor's Ai specialist Ruben Laine stated: "We'll be releasing a packed new training program for the Americas, to meet the huge demand for training nationwide, with two, two-day training sessions each month in cities around the US."
As well as being able to see first-hand the features in development and provide valuable user feedback, attendees on the training courses will also get to walk away with a fully licensed 2-output dongle.
"Ai has decided to do something no one else would dare! We're upgrading the licensing system to help early and new adopters meet the demands of this ever-evolving industry. Anjuna licenses will now provide two full outputs of 2K, while a Bondi license ups the game to four 4K outputs. And there is SO much more, but you'll have to come by our booth to find out!" Laine explained.
Group One founder and president Jack Kelly concluded: "LDI is the annual 'get together' for the professional lighting industry. It attracts designers, operators, facilities managers, rental companies, installers, the entire business at one show. Group One have participated in the show for more than 25 years and we find it the best platform to launch new products, meet new people, and continue to develop business for our brands."
The LDI show runs from 17-19 November 2017 at the Las Vegas Convention Center, booth 2115.
www.avolites.com