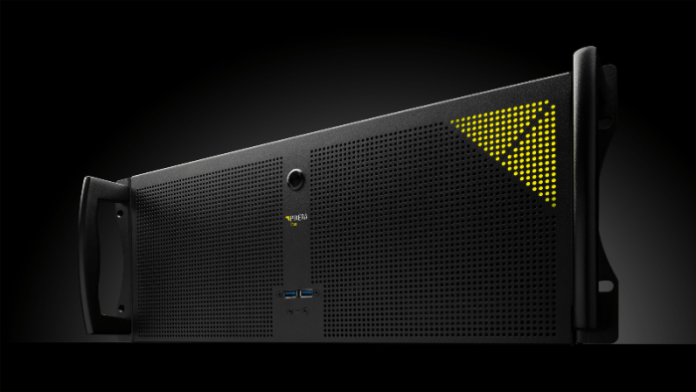 AV Stumpfl will present its mobile unibody screen system Monolyte, the new Flex Black PRO projection screen surface and new features of the upcoming PIXERA version 2.0 from 25 to 28 April at Prolight + Sound 2023 in Frankfurt, Germany.
The compact unibody screen system Monolyte has integrated legs, which makes it perfect for smaller venues and conference rooms. Even non-specialists can set it up in record time. Monolyte, meanwhile, has previously only been available to US customers and will be officially presented to the European AV market at this year's Prolight + Sound.
AV Stumpfl Screens Sales Director, Jan Walter commented on the success of Monolyte in the US market: "After many conversations with American customers, we knew it would absolutely make sense to introduce the product there, but the ultimate scope of our success went way beyond our highest expectations. It became clear that we absolutely had to offer Monolyte to customers in other territories as well."
The intuitive product design means that setting up a Monolyte screen can happen very quickly, without the need for additional tools. High-precision extruded aluminium profiles and snap joints define the skeleton of the projection screen. The entire frame block unfolds and the snap joints lock automatically. 
As an additional option, a so-called "skirt" can be mounted to the double studs at the bottom of the projection surface and along the lateral sides of the screen legs, should customers want to disguise the bare legs.
Prolight + Sound visitors will also be able to enjoy the official world premiere of a groundbreaking new projection surface material. The Flex Black PRO projection surface offers phenomenal contrast and allows for the realisation of highly impressive projection content displays. AV Stumpfl will also offer a sneak peek at the upcoming PIXERA version 2.0, which is scheduled to be released towards the end of June.
New multi-user workflow features will allow media server operators to be much more flexible and efficient when working on complex installations or show environments. Multiple PIXERA director licence can now be synched and complete projects can be shared in real-time. Users can choose whether they want to only share certain project parts among the connected systems, e.g. warpings or timelines, or every single editing action.
PIXERA Executive Director, Harry Gladow underlined the strategic importance of version 2.0: "Multi-user capability is just one aspect among the many different features we address with version 2.0. Our development team constantly inspires me with their ability to find a great balance between their own ideas and important customer feedback. An exciting and important new chapter is about to begin with PIXERA 2.0." 
AV Stumpfl will exhibit from 25 to 28 April 2023 at the Prolight + Sound exhibition in Frankfurt, Messe Frankfurt, Halle 12.1, booth number #B82.
www.avstumpfl.com
www.pixera.one