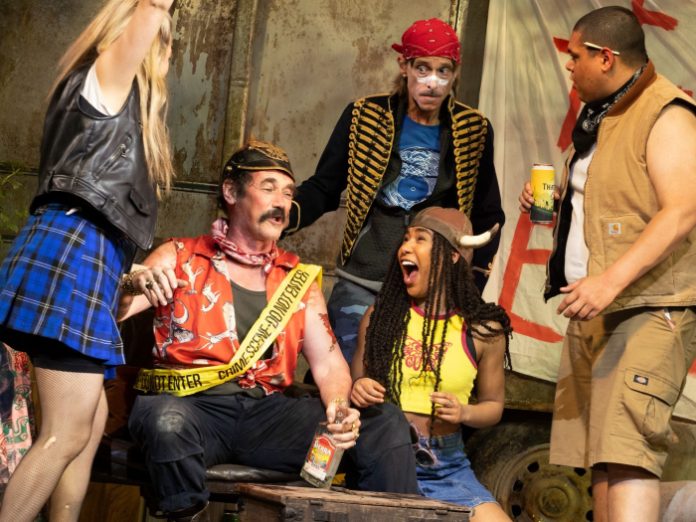 Described variously as 'the greatest British play of the 21st Century' or even one of 'the best plays of all time,' Jez Butterworth's modern classic has exploded once again into the West End 11 years after its last record-breaking, sell-out run. Back at its West End home of the Apollo Theatre with a superb sound design from Autograph's Ian Dickinson, this time featuring the aptly named Reference Series loudspeakers from EM Acoustics.
"I did the show the first time around when it was at the Royal Court, followed by its subsequent West End iterations, so I knew exactly what was required," explained Dickinson. "The Apollo is a beautiful theatre on four levels so, as ever, the priority was flawless coverage across all seats in the auditorium. The actors don't wear microphones, so the PA system is there to deliver clear playback of the music and numerous effects used in the show. The play is set in the middle of a wood, immersed in nature. It's the day of the 'Flintlock Fair' to celebrate St George's Day, and we often hear this away in the distance."
Dickinson opted for eight R8s on the proscenium whilst all surrounds and delays are EMS-51s. "I've used the Reference Series on a number of shows now, and I'm a convert!" he enthused. "Their quality vs. price point is pretty much second to none at the moment. I've also been really really happy with how they sound. For Jerusalem, the R8s on the proscenium give us great coverage across the entire auditorium with plenty of power when we need it without sacrificing the detail when we're playing around at lower levels. I also like the fact that they don't need an awful lot of work to get them sounding how I want, which came as a really pleasant surprise when we first started using them. The service from EM has also been great, especially in managing to turn stock around quickly and get equipment to us when we've needed it – which as we all know is no mean feat at the moment."
Dickinson also highlights the aesthetic aspect of Reference Series cabinets, which he says is often a significant factor when specifying loudspeakers. "Their slim profile means they can be tucked away much more successfully than other cabinets I might have used in the same application – either from EM or other manufacturers."
For front fill, he selected EMS-41s – a box he says he is "beginning to love, especially as a really useful, great-sounding, small profile front fill." Onstage FX include a mixture of EMS-51s, EMS-81s plus an EMS-61 hidden within the carcass of an old PA-type speaker that has been dressed to look as though it's a little worse for wear. 
"When I first put Jerusalem into the West End eleven years ago, the system at the time was a bit of a hotch-potch of different speakers for surrounds and delays on all the different levels simply due to stock availability," recalled Dickinson. "Obviously we made it all work, but this time round I was really looking forward to creating a cohesive sound experience and getting another chance to play with the sound on the show. The R8s and the rest of the EM gear did a sterling job and overall, I'm absolutely delighted with the sound. I love using the Reference Series – I've already used them on 'c o c k' and 'Camp Siegfried' and my colleague Luke Swaffield used them on 'Traplord' and loved them – I recommend them frequently to other designers and I'll be putting them on plenty more shows in the future."