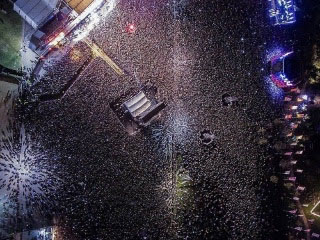 Audio-pro has decided to shift up another gear and service large-scale concerts. "For this we had to buy the best loudspeaker system in the world," said the company's owner Jorge Diez. "L-Acoustics K1 was the clear choice, for its rider friendliness, quality sound and longevity. We knew it would be a good investment."
Ordered in December, Audio-pro's L-Acoustics touring system, the first of its kind in Chile, comprises 48 K1, 24 K1-SB subs, 36 K2, 24 KS28 subs, along with 18 LA-RACK IIs, each with three LA12 X amplifiers, and four ARCS WiFo. The first benefit of stocking K1 was being able to take on supplying the main stage sound system for Lollapalooza where Metallica, Cage The Elephant, Rancid, We Are The Grand, Jimmy Eat World and Two Door Cinema Club, amongst others, were appearing.
Audio-pro had already supplied the sound system for the third biggest stage at Lollapalooza. This year, based on their trusted relationship with the festival, and the renown of the L-Acoustics K1 system, they were able to increase their remit at the event.
"We had been involved with Lollapalooza Chile Festival for the last four years," said Diez. "When Lotus, the festival's technical producers, learned of the arrival of our K1 system, they said, 'We want it for the Festival'."
Audio-pro was again contracted to supply the third stage this year, but with its new K1 system, it was also able to take on the main stage.
"This meant that we did two of the three most important stages of Lollapalloza Chile," said Diez. "Without a doubt, the power of K1 is a very positive point for a festival of this magnitude and we are very grateful for the trust that Lotus, the festival's promoters, put in our company."
With more than 140,000 people attending, this is the biggest crowd in the festival's history and meant that the main stage system needed to cover a very large area. With the help of Alex Soto, L-Acoustics Application Engineer for Latin America and the Caribbean, and using Soundvision to help with the design, the Audio-pro team were able to devise a system that would provide perfect coverage for the entire arena.
"This was a major challenge as we needed to cover up to 220 metres in depth and 170 metres width," explained Soto. "To achieve this, we had a set up that comprised 28 K1 with six K2 as downfill, plus 12 K1-SB in throw configuration. Side hangs were a further 20 K1 plus four K2 as downfill, with ten K1SB, again in throw configuration. We also had three delay towers; each with hangs of eight K2. We used two K2 and four distributed ARCS WiFo as front fill, with 24 KS28 and 16 SB28 ground stacked subs in an electronic arc configuration."
In addition to aiding with system design for Lollapalooza and being present throughout the festival, Soto has trained Audio-pro's team of engineers, ensuring that they'll get the very best of their system for all events on which they use it in Chile and beyond.
"This was the first project with our new L-Acoustics system and the bands' engineers were very happy with both our service and our new equipment," concluded Diez. "We have been extremely well supported and I am really happy to have entered the exclusive club of companies that use K1. I'm sure that this purchase will position Audio-pro as an important player in the competitive sound reinforcement industry and that we will gain new customers because of it. With our world-class service, our highly qualified sound engineers and now this great K1 system, we have the ideal mix."