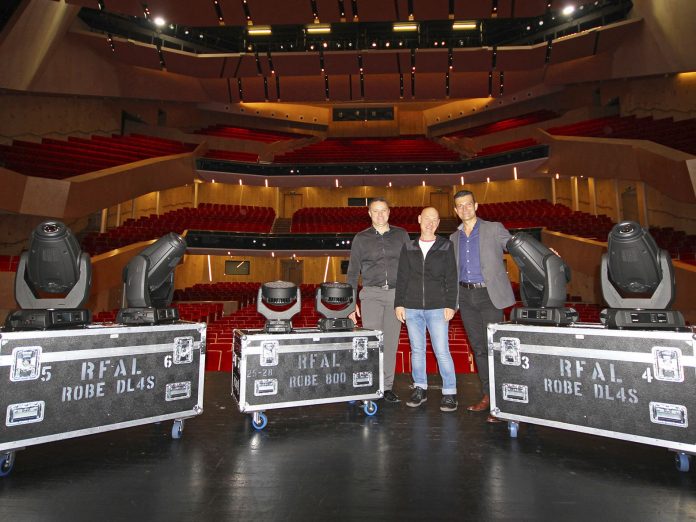 Auckland Live have added 44 new Robe LED moving lights to their existing stock – including 12 DL4S Profiles and 32 LEDWash 800's. The organisation run all of the live performance venues in New Zealand's largest performing arts and convention centre complex.
Head of Lighting Malcolm Ibel has been increasingly using Robe moving lights in his work in recent years, and Auckland Live initially invested in the MMX Series with the purchase of 12 MMX Spots and 12 MMX WashBeams and were extremely happy with their performance.
The DL4S Profile was selected for its finesse and elegance as a theatrical luminaire – compact size, light weight, good zoom, superior colour mixing including great whites and high CRI for good flesh tones, plus super-smooth dimming and shutter blades.
The LEDWash 800s were also chosen for their excellent colours and ability to reproduce the intricate pastel ranges as well as all the bold primaries and secondaries, and as a general solid and dependable all-purpose fixture. Being LED also means less maintenance and more power saving!
Like the MMXs, the new fixtures will be deployed across the various Auckland Live venues, and were also delivered by Robe's Australian and New Zealand distributor the ULA Group and their local representative, Lighting Supply Company, with whom Malcolm enjoys an excellent relationship.
Robe was mentioned frequently in discussions over the ideal affordable moving light, and Ibel also had the chance to meet Robe's CEO Josef Valchar on a visit and discuss the organisation's moving light requirements first hand in the context of Robe's current ranges.
"The Robe kit is properly innovative – it's not just a reinvention of something that has gone before. With every generation of product development, new technology is used and optimised," said Malcolm. He also added that Robe are "bang-on" in their commitment to having the right 'green' credentials. Getting units that were properly 'multi-functional' was another consideration. He needed fixtures that could be used to light a drama or a dance performance and also do some raucous rock 'n' roll shows.
While they don't need a lot of 'support' as such, as the Robe products are extremely reliable, ULA Group has arranged product training sessions to assist Auckland Live staff to get the most out of their kit, and Robe's international training and product support manager Steve Eastham has also engaged in a roadshow and on-site training to ensure everyone is fully aware of the power and potential of their moving lights.