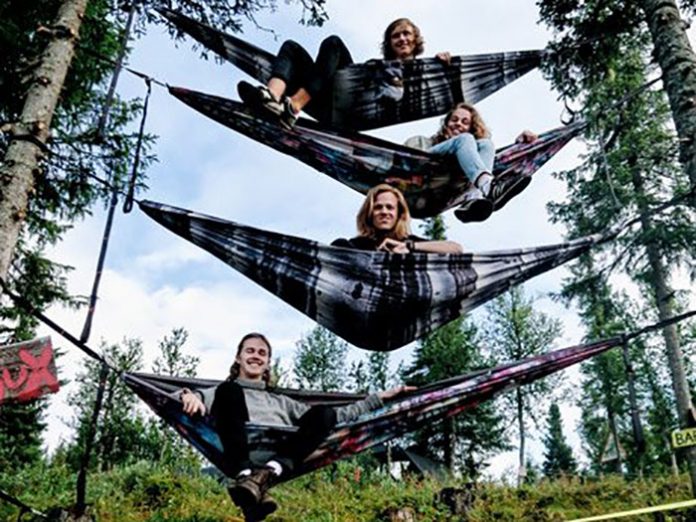 The Hammock Festival is a two-day music festival featuring several genres like pop, rock, folk, rap and reggae, where attendees camp in tents or suspended hammocks in the wilderness of Gamlestølen park in Valdres, Norway.
Dinbestefest.no was brought on board to design and install both lighting and audio in just under five months prior to the event and therefore, had to make the audio designs fast and plan quickly. First-time organisers Hengekøyefestivalen AS were occupied with the overall logistics of the event so they gave Dinbestefest.no free range on the audio system providing few requirements to meet.
While production details were modified several times in the lead up including a venue change, Project Designers Fredrik Aleksander Kindberg and Mads Gudem Christensen from Dinbestefest.no were confident in their system selection: "Time was running out and even though we had to completely adjust our production design at a certain point, we were never worried about the audio because we knew that our sound system from K-array would do the job regardless. We have used them since the beginning of our light and sound business in 2013 and have never been disappointed. Our costumers produce a K-Face every time and we wanted to give every festival attendee the same feeling."
The production company connected with dealer David Værås of DV Lyd & Lys and Norwegian K-array distributor First Audio to produce a new Concert Series system comprised of two clusters of two KH5 loudspeakers per side paired with six KS5 subwoofers – a first for an event in Norway. Christensen added: "We wanted a sound design with a good amount of bass for the electronic music that was going to be played at the festival and, at the same time, a system that would produce an excellent sound quality so that all the details in the music production would really move the audience."
The festival's nine DJ-acts took place in The Fusebox, the name given to the main stage in a 21 x 9m tent. "We used the KH5 system to get enough sound even if The Fusebox was filled up to its maximum capacity. We ended up reducing the subwoofers' dB to -30dB so that the audience and our tent would survive the festival and we still had a lot of bass left," said Christensen.
For DJ monitoring, a KRX402 system was implemented to give the artists all the sound they needed when the KH5 system was in full use. "Since the KX12 speakers delivers a lot of power, we only used two out of four (one on each side of the DJ) together with two KMT21 subs," commented Kindberg.
"I think Dsinbestefest.no and their production with audio system delivered by David Værås gave the festival a professional and functional soundscape and left attendees with the impression that the festival was professionally put together. And the sound system did not disappoint." said Ole Kristoffer Bjelland, Organiser and CEO.
Dinbestefest.no concluded:"The K-array systems used at this festival were easy to use, delivered more than enough power and at the same time it looked good and was very easy to install and because of that, we could not use anything other than K-array in The Fusebox."