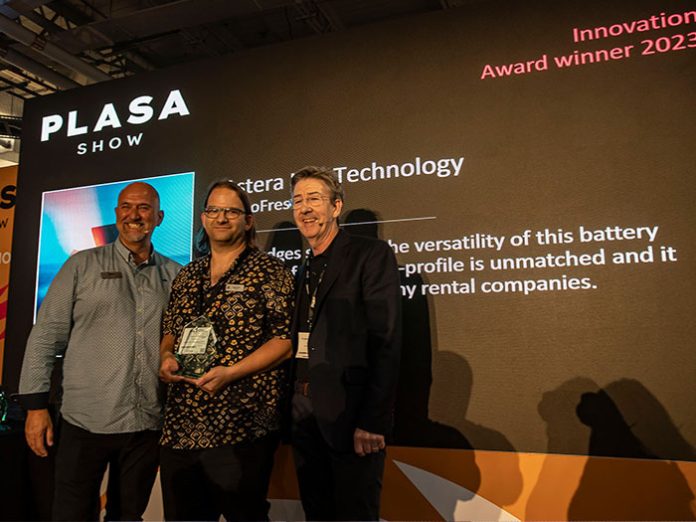 Astera has won a PLASA Award for Innovation for its new PlutoFresnel product.
The Awards were announced during the three-day PLASA London 2023. Astera's award was received by R&D director, Simon Canins.
Astera Sales and Marketing Director, Sebastian Bückle was delighted to win the award and stated: "We're honoured to receive a Plasa Innovation Award for PlutoFresnel, which is a groundbreaking lighting solution designed for film, studio, and event settings. The cutting-edge technology complete with built-in battery gives 3 hours of operation on MAX brightness, and its full-spectrum Titan LED Engine sets a new standard in lighting innovation. This recognition reaffirms our commitment to excellence in the industry, and we're excited to continue pushing the boundaries of what is possible in lighting."
Around 40 products were entered for the 2023 PLASA Innovation Awards, with the judges picking out just eight. This year's judging team comprised 12 independent technical specialists from a diversity of backgrounds, chaired by engineer and LSI columnist, James Eade.
Launched earlier this year as a lighting solution for film, studio, and events, the built-in battery is at the essence of PlutoFresnel's innovation. The 3 hours of battery operation can be elongated using the Astera RuntimeExtender for maximising use in remoter locations with limited access to power.
Wireless and wired DMX plus App control provide flexibility, while a set of accessories for rigging and positioning including quick-release, detachable YokeBase, removable handle and Airline Track mounting, all make the PlutoFresnel a lighting solution for creativity and productivity.
Designed under the mantra 'Fresnels made Portable', it weighs just 4.6kg and can be transported and installed in a range of contexts. Astera exhibited at the 2023 PLASA exhibition on the stand of its UK distributor Ambersphere Solutions.