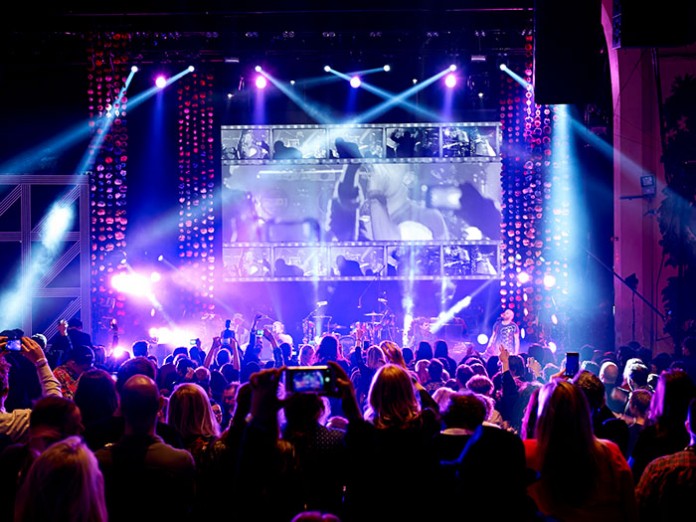 This year's NME Awards 2016 took place at London's O2 Academy Brixton, featuring performances from Coldplay, Foals, Rat Boy and The Maccabees, with lighting and rigging equipment from White Light.
The Lighting Designer for the evening was Quentin Jarman, who commented: "I have worked on several NME Awards and it's always a fantastic experience. For this particular occasion, I was responsible for lighting both the awards and performance stage, which were the two main areas used throughout the evening.
"With the performance stage, there were five bands playing who all had very different sets hence required very different feels. Similarly, with the O2 Academy Brixton being such a historic building with grand architecture, this was something I wanted to incorporate into the lighting design. Therefore I had to work with each band's creative team to formulate a design, which satisfied all of the various requirements. Once this was finalised, I approached WL to draw on its equipment range and make this a reality."
To create the exact feel required for the evening, Jarman used Martin by Harman MAC Viper Performances, Philips Vari-Lite VL3500 Washes, Clay Paky Sharpys, Robert Juliat 5k Fresnels and JB-Lighting JBLED A7 Washlights. WL also supplied the rigging equipment used to create the awards stage structure along with the pixel-mapped scenic LED tubes used for the awards stage tunnel.
"The show itself only lasts three hours so there is a great deal packed into a very limited time period. The live acts in particular revolve in quick succession, which meant I needed equipment that could not only deal with this rapidity but also consistently light the awards stage across the evening. Thankfully, the lighting available to me from WL did exactly what I required," Jarman commented.
In the weeks leading up to the NME Awards, Jarman utilised WL's state-of-the-art Studio15, based in its Wimbledon premises. This allowed him to use the studio space and equipment in order to prepare for the evening and ensure that he perfected his lighting designs.
Jarman then explained: "Using Studio15 was vital as we had an extremely limited timeframe, which is typical of any awards ceremony. Due to the busy nature of the O2 Academy Brixton, we literally had two days on-site so it was important that we went in fully prepared".
The evening was a huge success and the winners on the night included Taylor Swift, Wolf Alice, The Libertines and Yoko Ono, who won the NME Inspiration Award.
Jarman concluded: "With the NME Awards, we always try to push the boundaries and make it an unforgettable occasion with lighting obviously playing a large role in this. Therefore it's fantastic having the support of companies like WL where I know I can draw on the exact equipment I need, receive superb service and actually have the space to finalise my design."