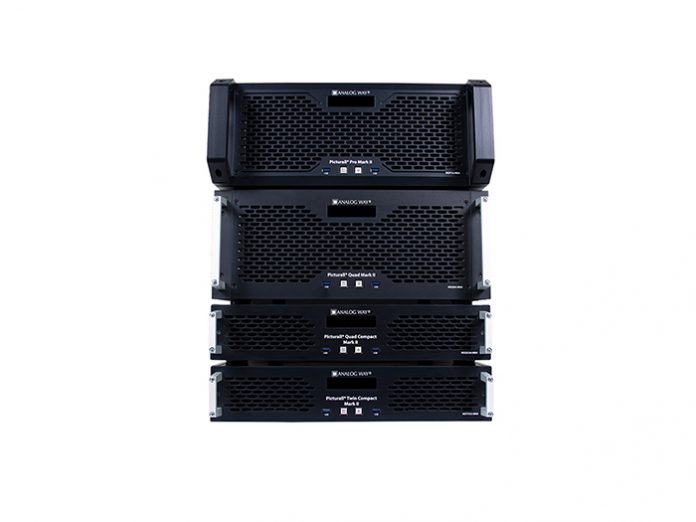 Engineered around a new, robust and powerful professional hardware platform, Analog Way Picturall Mark II series line replaces the current Picturall media servers and includes four products: Picturall Pro Mark II, Picturall Quad Mark II, Picturall Quad Compact Mark II and Picturall Twin Compact Mark II.
With the ability to drive up to sixteen 4K@60Hz LED videowall controllers or video projectors from a single server unit and enough power to play back media up to 16K@60Hz or uncompressed image sequences up to 8K@60Hz, the Picturall Mark II series is marketed as a solution for challenging video playback.
Picturall Mark II media servers have been designed with high-grade hardware components to provide a robust, heavy-duty platform and deliver optimised uptimes and durability for any mission-critical applications. Picturall Mark II media servers are based on the rock-solid Linux software engine by Picturall renowned for its extreme reliability, which is a result of 15 years of R&D and field experience. Additionally, the Picturall Mark II media servers feature a redundant, hot-swappable power supplies option to achieve high fault-tolerance capability.
Picturall Mark II media servers can receive up to six low-latency input cards to capture either up to 24x 1080p@60Hz or 6x 4K@60Hz sources. A wide selection of input interfaces is available supporting one or more channels of 3G-SDI, HDMI 1.4 or HDMI 2.0. The Picturall Mark II media servers can also receive several network video streams and are compatible with NDI live video streaming. They can also display HTML-based web content with full Java script support.
Picturall Mark II media servers come standard with read-intensive professional drives offering consistent performance and reliability for demanding 24/7 environments. Several storage options are available to store hours of high-quality uncompressed video content. The Picturall Mark II media servers also offer high network bandwidth with two standard 10Gb/s Ethernet connectors for faster transmission of massive media files and for more networked video streams.
Picturall Mark II media servers offer synchronised multi-channel audio playback and support real-time audio de-embedding and routing from HDMI or SDI sources, network streams and web sources. The Picturall Mark II media servers feature several optional audio interfaces and are also compatible with a wide variety of third-party multi-channel USB audio interfaces.
All products in the range feature Art-Net interface and Ethernet control via a standard TCP/IP socket connection supported by all major third-party control systems. They can be also entirely configured and operated by Picturall Commander, an intuitive, elegant and powerful user interface.