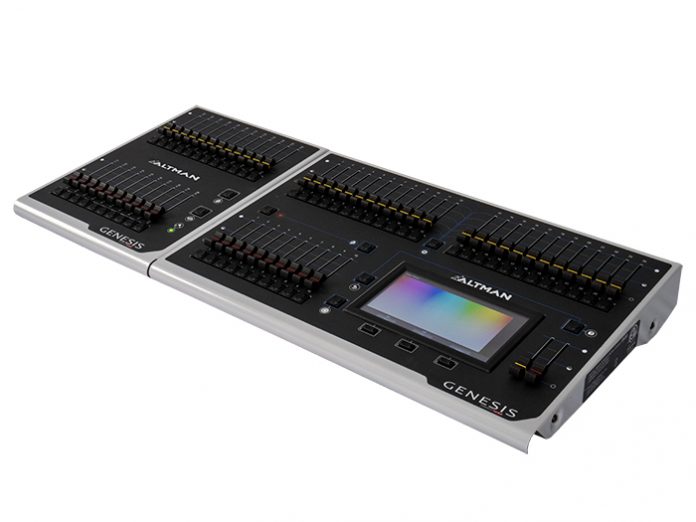 Building upon their reputation as one of the industry's most trusted entertainment and architectural lighting manufacturers, Altman Lighting is proud to introduce the simplicity of control with Genesis. Combining the ease-of-use of a fader-based controller with the power of an intuitive touch screen interface, the Genesis lighting console provides the programmer with a unique familiarity for the creative control of today's complex automated and LED luminaires.
"As theatres, churches, educational facilities and event spaces look to upgrade their lighting designs with the latest technology, Genesis is a user-friendly and affordable solution for the control of intelligent luminaires," stated Jason Osterman, Altman Global Specifications Manager. "Wanting to give users a simple experience in creating the most dynamic looks possible, Genesis is complete with a built-in animation effects engine, and an innovative software design which guides the lighting technician through each step of programming."
The Genesis lighting console also provides advanced programming functionality with features such as Shape FX, Chases, Fan, and Individual Cue Timing. Additionally, the powerful graphical user interface allows control of luminaire parameters via familiar icons, color picker, movement targets or touch sliders. For moving light control, pan and tilt are also controlled via the touch pad adding a fine movement control for those critical focus points. The unique animate feature provides a simple and intuitive way to quickly create chases, sequencing, and patterned attribute control within a single cue.
"Focused on giving programmers of all skill levels the operation simplicity of an instinctive console which boasts high-end features, we are very excited to be releasing Genesis," added Pete Borchetta, Altman Vice President Product Innovation. "This product line takes us into a new direction that allows us to broaden the innovative and affordable technology solutions that people in the industry have come to expect from Altman Lighting."
Genesis control consoles can control up to twenty-four (24) discretely addressed luminaires, each with a physical intensity fader and bump button, and each console is capable of controlling up to one (1) DMX 512 Universe. Additional universes and luminaire counts may be achieved through the connection of an optional Genesis wing, and two (2) Genesis wings may be added to each control console.