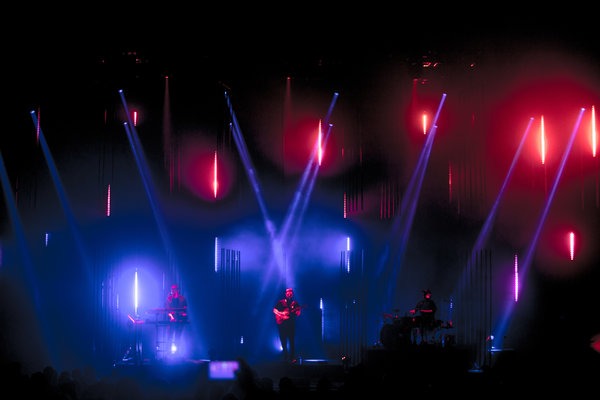 Having completed the US leg of their tour in support of their new album Relaxer, alt-J are set to arrive in Europe for theatre and arena dates, partnered with production equipment from GLP's award-winning impression X4 Bar 20.
Liteup Events will supply the core control package for the lighting and video production during the Europe tour dates, while Upstaging provided the lighting inventory in the States. Marc Callaghan, who co-founded Liteup Events with Kris Box, worked as Crew Chief on the tour, while the task of creating the visual impact, was entrusted to the US-based FragmentNine (Jeremy Lechterman and Jackson Gallagher) team.
Lechterman and Gallagher first worked together at Carnegie Mellon University, utilising their expertise in theatrical design and storytelling to the concert sector, providing technical services to a raft of musicians and festivals.
"As soon as the immersive digital forest concept came about. We knew we wanted a vertical batten behind the LED surfaces, and when compared to other linear tilting battens, the X4 Bar won due to its pixel density and output.
"We were very happy with the result using them at that show. No other batten can create as uniform a light curtain as the X4 Bar, nor can it throw a beam as far as the X4 Bar. We use them primarily to create large curtains of light emanating from the video wall, which could not be achieved with any other product that we are aware of," Lechterman explained.
In 88-channel mode, the X4 Bars become a feature midway through the set, immersing the band in ominous green and yellow swathes of light during The Gospel of John Hurt.
"They are used in more than half the songs and are fully controlled via video aside from their tilt. The most successful usage of them is playing content on our Vanish walls and then duplicating the content again on the X4 Bars so it looks like the video is pushing out in 3D space behind the band volumetric video.
"We love them for their speed and reliability with 186 fixtures from various suppliers travelling across several continents so far, we've only had two fixtures go down in four months of touring.  We are well happy with that," Lechterman concluded.