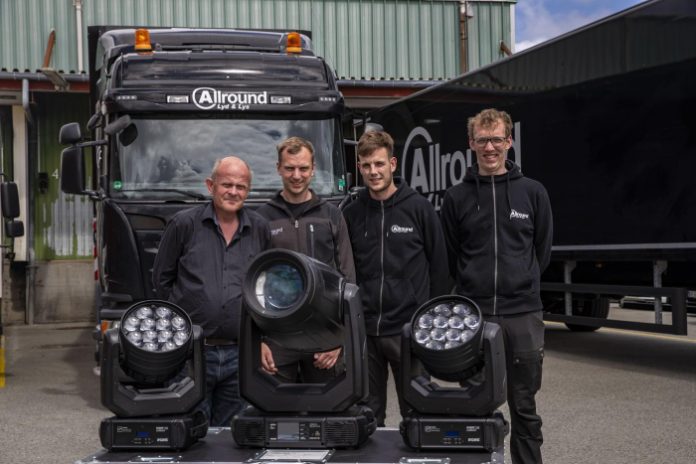 AllRound Lyd + Lys (Light & Sound) is a well-established and respected Danish rental company based in Struer, a key Danish railway hub and home to famous radio and TV manufacturer, Bang & Olufsen. The company was founded by owner Laurs Pedersen originally as a music technology enterprise, which thas gradually grown and diversified into providing lighting, sound and LED technologies to meet client demand. 
The company now has a successful 20-year history of supplying tours, concerts, events, and productions across multiple genres from touring to theatre, and recent investments in Robe LEDBeam 350s and ESPRITES have seen a major change breaking with its previous moving light manufacturer. 
The new kit was delivered just in time to assist with the explosion of live shows and events in Denmark over the summer due to the final lifting of COVID-19 restrictions and the return of the market for in-person events.
Like many, Pedersen and his team including Head of Lighting, Martin Breinholt and Head of Rental, Daniel Sand, spent a lot of time amid the pandemic reflecting and contemplating their next investments. Requiring new fixtures that would cover large stages for summer tours and festivals, while fitting into existing pre rigged truss sections, the team turned to Robe lighting. 
"We needed an intense wash light and generally lots of output," explained Breinholt, adding that they also consulted many designers, programmers, and technicians before making the final decision. "Robe fixtures came up time and time again."
Around 36 LEDBeam 350s and 25 ESPRITES were delivered by Robe's Danish distributor Light Partner, located just 40km from AllRound Lyd + Lys in Herning. "ESPRITES are bright enough to cover festival stages nicely but quiet and refined enough to be utilized for theatre productions, so it's a great choice for us given the current workflow," Breinholt pointed out.
As for the LEDBeam 350s, he praised the 'nice tight beam with no spillage'. "This is essential for theatre applications, but also for festivals not to have that unsightly sideways spread out from the optics," he said, while referencing the tight beam capabilities. 
"They are small, light and bright, perfect for a rental inventory," Petersen chimed in. "The price point is excellent."
Recent festivals serviced with the new Robe lighting fixtures include Hede Rytmer in Silkeborg, Skive Festival and Haze Over Haarum.