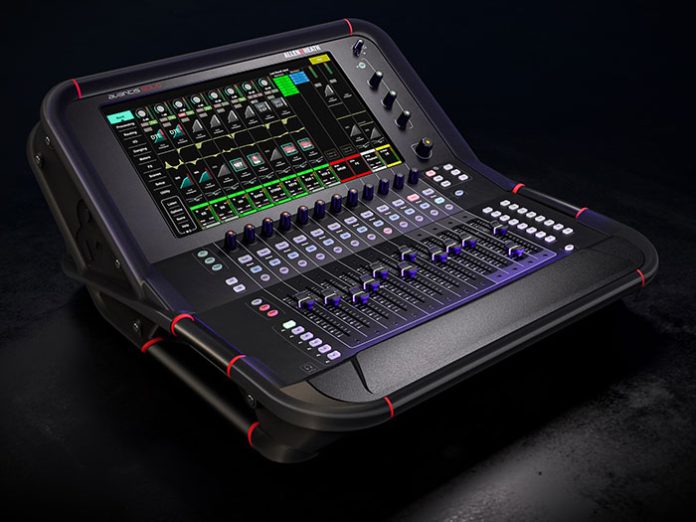 Allen & Heath has announced the launch of Avantis Solo, the second member of the Avantis mixer family, condensing the full power of the mixer platform into a 12-fader, single-screen package. 
"Since launching in 2019, Avantis has been scooping up accolades including the TEC Award for Small Console Technology and the MMR Dealers Choice Product of the Year," commented Jack Kenyon, Product Specialist at Allen & Heath. "We've received overwhelmingly positive feedback from engineers, venues, houses of worship, and rental companies, with the consensus being that the only thing missing was a smaller model that sacrificed none of Avantis' audio capabilities. Enter Avantis Solo, taking everything that engineers love about Avantis while reducing the footprint by nearly fifty percent."
Based on XCVI, Allen & Heath's next generation 96kHz FPGA engine, Avantis Solo delivers the same 64-channel, 42 bus architecture as Avantis, running at an ultra-low 0.7ms latency, with full onboard processing and 12 RackExtra FX slots.
Control is handled via 12 faders with 6 layers providing a total of 72 fader strips, a Full HD 15.6" touchscreen with dedicated rotary controls, plus 18 assignable SoftKeys, all tied together via the Continuity UI.
Avantis Solo is equipped with 6 XLR analogue inputs, 6 XLR analogue outputs, plus AES (Stereo In, Stereo Out). The integrated SLink port enables connection to Everything I/O, Allen & Heath's ecosystem of remote expanders, plus the ME Personal Mixing System. Two I/O Ports allow the use of the full range of dLive/Avantis option cards, including Dante, Waves, gigaACE, MADI and more, expanding the scope for system integration, digital splits and multitrack recording.
Avantis Solo includes full-fat channel processing and FX, Automatic Mic Mixing (AMM), plus Allen & Heath's next-generation RTA engine and in-mixer Shure and Sennheiser RF integration.
Upgrading to dPack brings dLive processing to Avantis Solo, including the Dyn8 dynamics engine (up to 16 instances), Allen & Heath's DEEP Compressors and Expanders, plus the Dual-Stage Valve preamp.
Outside of the mixer, the Avantis Director software enables online control and offline editing, while the MixPad app grants remote wireless mixing via iPad.
"At half the size of the dual-screen Avantis, yet lacking none of the power, Avantis Solo will be welcomed by owner-operators, corporate AV, and rental houses thanks to its compatibility with their existing stock of Allen & Heath expanders and networking cards," added Kenyon. "Additionally, smaller venues and houses of worship will embrace the top-end mixing experience in a form factor that can be easily dropped into mix positions where space is at a premium."