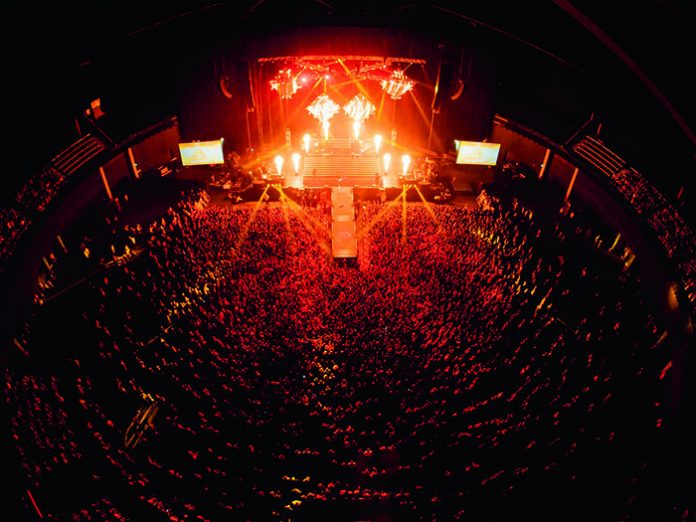 American pop punk band All Time Low recently secured a number one album in the UK with the release of their sixth studio effort, Future Hearts, which in turn dictated the demand for another UK tour. In February 2016, the band's highly anticipated live shows proved to be another success for the baltimore quartet, when their five-date back to the Future Hearts tour allowed their talented crew to produce another stand-out arena production. TPi's kelly murray reports…
Production Manager Daniel Nickleski has worked with All Time Low for six years, having started their touring union as the band's monitor engineer. As a close friendship ensued, he later became their tour manger and eventually turned his hand to a dual production management / monitor engineer role. But as the band's popularity showed no signs of slowing down he stepped into the production office full time. "It made sense for me to jump into the PM role because I know all the different aspects of their production but as the band kept growing, I couldn't continue to do both," he explained.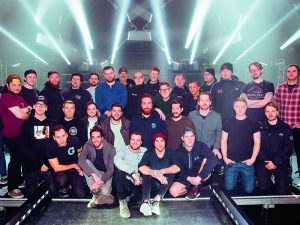 PRE PRODUCTION
Nickleski's familiarity and ease with a production of this level stems from running his own rental company, Sound Works Productions in Chicago. In terms of choosing the suppliers for the band's biggest headline arena tour to date, he opted for companies that he either knew previously or had strong recommendation of. "We've been with our lighting supplier Zig Zag for some time now. We like how each other work. I'd come across BPM very briefly; I worked with them at the BBC Radio One Teen Awards last year, which was very last minute – we were thrown onto it! They did a great job with the pyrotechnics so I wanted to use them again. Our sound vendor Adlib has been on-board for two years and we have a really good relationship with them. We've been using Fly By Nite trucking for six years, and they're great. They actually store our backline for us. Beat The Street are the best buses you can get when you're living on the road, and Eat To The Beat are a favourite with a lot of the crew, so I'm very happy with who we have on tour with us. Our freighting is from Rock-It Cargo who are great, I've never had a problem with them.
He continued: "Relationships are the reason I use all the same companies. This has to be done right the first time, there's no room to mess up. Before the tour began we had a couple of full production rehearsals at Millennium Studios in the UK, and that went really well."
Stage Manager Rob Highcroft first worked with All Time Low in February 2015, when he was production managing that tour's co-headliner, You Me At Six. He explained: "That tour was a huge success on a production level with both bands getting two totally different shows on the same night with what was essentially the same kit. It worked out so well that Daniel wanted to give me a shot at working with them to ensure we achieved the same level of success for their solo headline tour.
"My job role crosses many different lines with all of the acts I work with, a common one being the PM / TM combination, but I get so involved in all my tours that I like to be integrated in all aspects of production. It's nice to be able to get experience of all the roles needed to make a large production work smoothly.
"I love putting shows together and making them come to life, it's what any touring person loves. It's the real reason we do what we do. I'm glad I accepted this job, the whole team is doing a great job," he concluded.
SHOW DESIGN
Alongside Nickleski, another long-serving crewmember is Lighting and Show Designer, Jeff Maker. He creates intelligent, perfectly layered looks which integrate lighting and video in a simplistic, yet effective process. The LD – who is both Parnelli and TPi-Award nominated – takes his initial approach to show design with a quick sketch of his vision: "I'll start off with pen and paper, then clean it up in Photoshop before moving to Wysiwyg for pre-visualisation. Pen and paper is just a natural way to begin getting my creative ideas out, and it works. These sketches do eventually come to life on stage!" he said.
This design is centred on four LED diamond video screens, which play video content throughout the show. "I started designing for All Time Low seven years ago, and as the rooms they play in have got bigger, so have my design ideas. The tours all have their own vibes, and because their fans buy tickets for their shows religiously we want to give them something new to see visually. We like to keep it interesting and keep things fresh. Obviously, the band approves my final designs but they let me do pretty much what I want within reason – that's why they're so great to work with."
With this in mind, Maker continued his preference of naming his themes after stars or consolations, allowing his self proclaimed "obsession" with space to have a place in his art. "I named this one Polaris which is the brightest star in the constellation Ursa Minor." Timely, seen as these bright young stars are giving their loyal UK fan base a performance to remember…
Maker's star-studded rig mainly comprises Robe lighting fixtures. He specified 32 Robe Robin Pointes, 16 Robe Robin BMFL Spots, 16 Robe Robin 600 LED Washes, 30 Robe Robin 100 LED Beams, 10 Robe CycFX 8's, eight Robe Force 18 LED PARs and two Robe Robin 600e Spots. He is also utilising 16 2-Cell DWE Blinders, 20 PAR 38 LED Truss Toners and 24 Martin by Harman Atomic 3000 Strobes, all supplied by Zig Zag.
"I was the first LD to take the Robe BMLFs on tour in the UK with The Gaslight Anthem. I think it's an amazing fixture. It allows light to travel and doesn't lose its intensity at all. I like what Robe does with all of its products. Some companies will really try to force their products on you, but Robe doesn't. They don't need to, they speak for themselves. When the BMFL first debuted two years ago, I watched the online launch and I knew I wanted to have them," he said.
The Robe Pointes are placed upstage, mid stage and downstage as well as on the upstage and downstage left and right floor package. The BMFLs are on the upstage truss and midstage truss and the Robe 600 LED Washes are on the upstage and downstage trusses. Underneath the risers: Robe 100 LED Beams to pack a punch. The Martin Atomic 3000 Strobes are placed on all four of the video diamonds (midstage and downstage truss).
A brand new addition to Maker's design this year is the Elation ACL 360 Bar, of which he is using 32. "Their role was to frame four diamond-shaped video walls rigged upstage as well as to help trick the eye into transforming the diamonds into circles or squares. Since all four of the diamonds moved into different static positions during songs, the ACL 360 Bar was perfect for creating new looks for each new position," he explained.
Wanting to add a special dynamic element to the design, Maker chose the variety of looks that the 360-degree rotation, narrow-beam LED effect light makes possible. "The ACL 360 Bars have infinite design possibilities," he said.
Lighting Crew Chief, Tom Clifford-Loynes explained how the ACL 360 Bar found it's way into the Zig Zag inventory: "Neil [Hunt, Zig Zag owner] had been looking at these fixtures for a while and when Jeff came to us with the design, we decided to invest. It's been a great fixture to tour with; we've had no problems. They have so many great looks built in, and, crucially for us, they're easy to maintain."
For control, Maker is using his trusted Avolites desk. "I first got my hands on an Avolites console in 2006 and I've been using it ever since. If it's my choice to bring a console, I will always bring Avolites. I've stood by it for so long because it works best for what I want to do for my live shows. It's on my comfort level and I know the ins and outs of their software. I've also got to know the people at Avolites and they treat me well! They're always willing to help me put together the show that I want." Maker has been using the Avolites Sapphire Touch model for the past two years, and carries both a main and back up. The tour also utilises an Avolites Quartz for rig testing. VIDEO AND VISUALS Video Design has supplied all video elements to the show. Stage Manager Rob Highcroft recommended the company. Andy Tonks, Video Crew Chief explained: "We were already working with You Me At Six so like Rob, we've come onto this show with existing relationships and knowledge that we like how one another work.
"The video on this tour is effective but it's been a very simple, smooth job for us. The challenges have come from long days as we're doing four arena shows in four cities back to back. The four LED diamond shaped video panels are made up of Winvision 9mm, which screens visual content. The LED was a fun little project, I built my own little scaffolding unit which goes from a square to a diamond, that moves up and down at the back of the stage on a Kinesys Elevation automation system," he explained.
Tonks – who is joined on tour by Video Director Mark David and Video Engineers Alan yates and Jack Middlebrooks – is also looking after L-R IMAG screen and utilising two Panasonic PT-DZ21k projectors, seven cameras, including two handhelds for live camera feeds. The video switcher is a Black Magic Atom and the media server preference is d3 Technologies. Tonks continued: "d3 is our media server of choice because in a nutshell we know how good it is. It does exactly what it says it will. I'm freelance but the kit we get from Video Design is packaged so well, it always works properly, and I have to say that makes our lives as crew much easier."
Head Rigger Damian Courage is the tour's only rigger and chiefs 12 local venue riggers each day, mainly to help with flying the video. Courage stated: "When Jeff first sent the design through, I had to choose the appropriate weights and decide how those weights would be distributed. The design is quite wide at the back and for the best look we can achieve; we have to consider things such as how to hide the rigging cables so that there's no sightline issues in the way of the diamonds. The local riggers really help with this, and are invaluable at getting the show flown." Rigging equipment is supplied by Zig Zag, allowing Courage to deal easily with the 36 points on the 11-tonne rig.
As well as creating live camera feeds, the show's video content plays a big part in the overall design. Said Tonks: "This is the kind of band, who are inclined to run around all over the stage, so we're capturing a lot of the energy that they put into the show alongside the visual which have been created by Oliver Hutchinson. I think he's done a great job."
Hutch, as he's known on the road, featured in TPi's January issue with Bring Me The Horizon, for whom he mixes both FOH and operates the video content. He told TPi: "I've always been very interested in holistic show design and I love the idea of a perfectly integrated lighting, video and audio show.
"I gained a lot of inspiration from looking at their album artwork and repeatedly listening to songs and watching their music videos. I worked with Jeff to fit with his lighting colour schemes for each song, but otherwise I had free reign to design the visuals. The band had a couple of requests for lyrical content in certain songs and I tried to involve an element of their album artwork into some of the videos, as seen when the birds are flying in Old Scars.
Hutch created the vast majority from scratch primarily using Adobe After Effects. He noted: "Looking back, I wish I'd changed my approach slightly as I ended up doing a lot of the standard editing within After Effects [as opposed to Premiere] which would have saved time and allowed me to experiment with different arrangements faster. I had many late nights preparing the videos, and then would wake up excited to see the finished product!
"I think the whole show looked great. Jeff did an amazing job of incorporating all the elements the band wanted. The lighting was dynamic and it offered multiple looks from a simple but very effective rig. The Kinesys automation system allowed Jeff to trim the video at different heights, producing a sense of varying spatial intimacy. He nailed it big time and managed to not let any of my flashing strobe-based visuals detract from the set! Instead, it sat nicely as between multiple layers of lighting and special effects."
Maker added: "We do have a lot going on during this show, but the band really like that. They want to give as much as they can back to the fans for supporting them. They have very loyal fans here in the UK, and we're giving them everything, including a serious amount of pyro!"
SPECIAL EFFECTS
To give Maker's solar sensation another dimension, BPM provided special effects in the form of some full throttle pyrotechnics which complement the lighting and video feat. Pyro Op Tom Stead explained: "The show is fairly covered in flames! The first three tracks are quite fire-heavy in particular, and the closing track also ends on some big flame effects.
"When our production manager Daniel explained what the band wanted in terms of impact for the crowd, and we thought we could help them create the looks they were after, safely!"
Throughout the show Stead is handling eight Galaxis Showtechnik G- Flames (flame projectors), four Flamanaics (a liquid flame unit that produces six metres of flames in five different directions), and an impressive 70 units of pyrotechnics. The effects are fired using a Galaxis Showtechnik system. FOH AUDIO FOH Engineer Phil Gornell is celebrating his one-year anniversary with the band, and yes, it is as idyllic as it sounds. Having met the band in 2007 as a fan, he gradually became involved in touring, initially by helping out with the band's merchandise. As his interest in pro audio grew, opportunities to learn how to live mix went hand in hand. Gornell worked with Bring Me The Horizon until 2014 and in February last year became a fully-fledged member of All Time Low crew.
By his own admission, he's a "gear head" and relishes the opportunity to incorporate the latest technology into the show, whilst maintaining integrity to the band's own favourite tools, and of course, their trademark melodic, guitar-driven sound.
At the helm of his world is a Midas PRO2. He explained: "I've used Midas since 2012, and I still love it. In fact, I hate not being on it! I might even rely on it a bit too much to be honest!
"I was using a different desk when I started and I thought I'd better get some experience on a different board. When I tried Midas I was like "wow!" When you have a board of that quality, it's musical and it does what it's meant to, you get used to a very easy workflow. It's like my baby!
"When mixing for All Time Low, I need to tick a lot of boxes. For example, there will always be people in the audience who are experiencing their very first gig. They've never been clubbing until 3am and had their ears wrecked! I have to keep the volume down at times because that's what younger fans will be used to hearing. I mix them like a pop band, so it's vocal heavy; it's shiny and clean as well as exciting with the guitars and drums. From that stance they're a fun band to mix because they're so dynamic on stage. Alex [Gaskarth, lead singer] has a great voice, so that makes things a little easier too.
"The band don't soundcheck, so we do a virtual soundcheck each day. Part of the reason I love working with Alan Harrison, my system tech, is because he makes sure that everything I need to mix is there. I use a Dante Virtual Soundcard out of Tracks Live by Waves and it plays back through a Klark Teknik DN 9650 network bridge into the surface. It's as if the band is on stage, and I can rehearse everything. Instead of listening to my favourite song, I can listen to what 10,000 fans are going to hear that night. This set up also gives me a chance to experiment. In the console itself, I use a few mutli-band compressors, which makes sure the vocals are always sitting on top. It gives the mix more of a record feel.
"It's my main priority to make the show sound like what the fans are used to, so I employ many traditional recording techniques in the live environment, to recreate that 'record sound' people come to hear. The Waves MaxxBCL goes at the end of my mix chain: it provides a level or saturation and works wonders with the transients of the mix, to help achieve that mastered sound quality. Keeping Gornell on his toes is drummer, Rian Dawson. "He's really into engineering, so we try not to change too many things, because he'll genuinely notice. If we want to change something, we can't just do it for a laugh – there needs to be a valid reason. It's fun having somebody that's so involved with technical aspects. For example with microphones we use Sennheiser equipment like they do in the studio. We keep a level of consistency to bring a pop sensibility to their sound because it's those familiar tones. I have to piece that together the best that I can and make it sound like their record at the end of the day. It needs to sound slick and be familiar for the fans."
The band uses, amongst other models, Sennheiser e945 dynamic microphones and Ew500 G3 for wireless vocals. "We use Kempers on stage resulting in a quiet stage volume which is key to keeping the volume reasonable at FOH. Besides the vocal mics, the only other mics onstage are on the drums," said Gornell.
For rental requirements, sound equipment provider – and TPi Award winner – Adlib is an obvious choice for Gornell. "I'd always use Adlib. I trust them and they trust me so I know they're going to do the best they can for us. We have a really good relationship because we both want every show to be the best it can be."
Harrison is looking after an L-Acoustics K1 rig which uses a maximum of 14 K1's per side for the main hang and 12 K2's per side for the side hangs depending on venue size. A total of four KARA are utilised for downfill, and ARCs and KARA are deployed for front fill and focus pulling. There are also 18 SB28 subs and the system is using L-Acoustics LA8 amplification and Lake processing.
Harrison explained: "This is a pop rock show, so the interest is on delivering a good amount of SPL but with clarity, and the K1 system is pretty much perfect for that, it's got a lot of weight to it without being muddy in the top end. The highs / mids are ideal for guitar music too, because they're not harsh but they deliver in the detail."
Harrison is also a fan of the Midas PRO2, which is used at the monitor position too. "It sounds great for a rock show as it can handle a lot of level, which obviously complements the PA. This is actually one of the better sounding tours I've ever done." Monitor Tech Jay Petch and PA Tech Hassan Essiahi complete the Adlib team.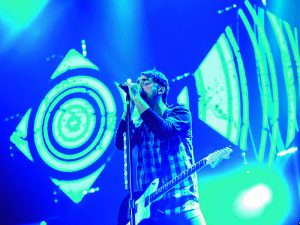 MONITOR WORLD
At monitor world, Richard Fernandez is the newest crewmember employed by the band, having been asked by Nickleski to take over as his monitor engineer. "Daniel hired me to be his monitor tech, and I loved it because I love working with this band. About two thirds of the way through my first tour he asked me if I wanted to doing their monitoring full time. Of course, I couldn't say no. It was unexpected but I was so happy!"
Using his PRO2 desk, Fernandez is generating 12 mixes: 10 stereo and two mono. Within the band, the drum mix is loud, lead vocals are loud, with guitars secondary and the rest of the band sitting fairly quietly under that. Continued Fernandez: "Alex's mix has vocals and guitar fairly above the mix and everything else pretty low, so if I need to listen to his mix I have to turn my pack up to hear where everything else is sitting, whereas Jack [Barakat, bassist] has the crowd mics and all of the instruments pretty loud because he vibes off the crowd, so anytime I cue his mix I have to turn my pack right down."
"Mixing on the PRO2 is perfect for me because it's very easy to navigate. I can have most set-ups in banks of eight faders, so no matter what the band are asking for, I can quickly get to whatever they need. I can adjust on the fly if I need to."
The Sennheiser theme continues for monitors, echoing Gornell's attitude towards consistency. Fernandez relying on Sennheiser in-ear ew300 G3 transmitters with Sensaphonics custom molds. Adlib has provided the line system and there are no wedges on stage, encouraging the band roam around its clean edges whenever they want.
He concluded: "Adlib have been incredible, this is the first tour where I have had assistance dedicated to me and my tech Jay has been great. I can't speak highly enough of their service." CATERING Eat To The Beat sent four catering staff to the tour, having already cooked for the camp during their last arena stint with You Me At Six in 2015. Led by Genti Hoxha, the ETTB team is completed by Blaise Vasseur, Kate Thornton and Vicky Lee.
Hoxha sat down with TPi – after ensuring an appropriate amount of vegetarian dessert tasting took place – to talk about the tour. "We're cooking for the entire band, and all of the crew. This also includes the support bands." Worth pointing out here is that TPi was stood by Hollywood starlet Cameron Diaz who was on tour with her husband, Benji Madden of support band Good Charlotte. It's worth pointing out because Diaz seemed to be – rather comfortingly – enjoying the fruits of Eat To The Beat's labour at both lunch and dinner servings.
Continued Hoxha: "She is lovely – and she must have good taste in food! There are round about 80 people to feed depending on where we are in the UK. When we have crew friends and family visiting, this number can grow. Sunday is my favourite because we make great roast dinners! For the rest of the week we have a different soup every day and we make that vegetarian because we have 10 on this tour. We also have dietary needs for diabetes, gluten free, celiac crewmembers. They certainly enjoy their food."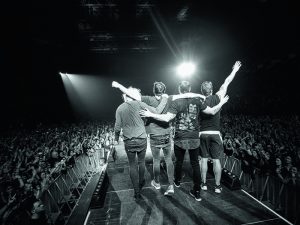 FAITH AND FRIENDSHIP
During TPi's time with this touring crew, the sense of appreciation from band to crew and vice versa was evident. Monitor Engineer Richard Fernandez made it very apparent that this is not a band that would ever want a clear divide with their crew. And although he's taken the reigns in monitor world, and this is the last road adventure for Production Manager Daniel Nickleski – as he moves towards growing his business in Chicago – the sense of friendship and affinity the crew feels with this tour is obvious.
Show Designer Jeff Maker gave his thoughts: "Its like one big family on this tour. The band hire the right people and it's very professional but very light hearted at the same time. It doesn't seem like a job to me, which is great."
Nickleski concluded: "All Time Low are probably the best band to tour with. They put all of their trust and faith in me, they trust their crew and they're not looking over your shoulder all the time. They really respect what we do. The best part about it is that they're all good guys who play really great shows. We've been best friends since we started touring together." As the Back To The Future Hearts UK tour draws to a close, this friendship is surely set to continue off the road.
Photos: Adam Elmakias and Tom Falcone
http://alltimelow.com http://soundworkspro.com www.adlib.co.uk www.flybynite.co.uk www.beatthestreet.net www.zigzaglighting.co.uk www.eattothebeat.com http://bpm-sfx.com