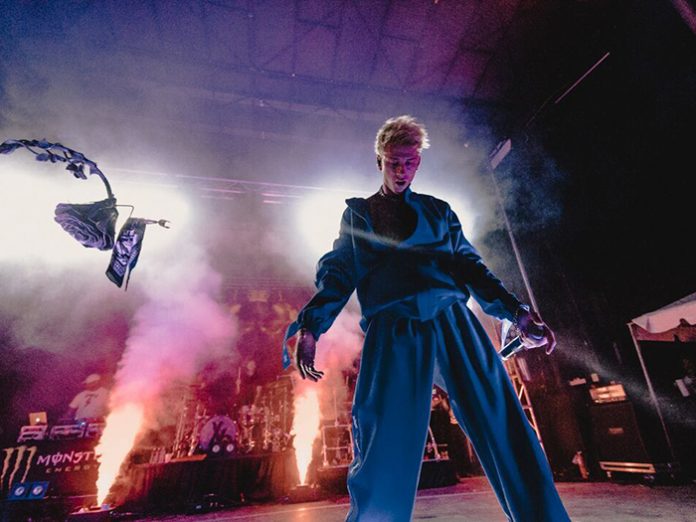 The theme of the fourth annual EST Festival, which took place outside Cleveland 11-13th August , was '1970 Something', a tribute to those unruly, hard-driving days when social inhibitions seemed to be falling like bowling pins. Early Seventies style swagger was out in full force during the two-day festival, as its founder Machine Gun Kelly and other hip-hop heavyweights like Gucci Mane tore things up with some high-powered decibels. There were even some period piece scenic elements dotting the festival grounds for atmosphere, but the Alex Kay light show that supported the onstage performances went way beyond anything anyone could ever have imagined back in the day.
Kay, of NPi Audio Visual Solutions, used an array of high output fixtures, a 13 x 20ft video wall, and projection mapping with 20K projectors to create a non-stop visual assault that matched the music on stage note for searing note. Anchoring his rig was a collection of Rogue, Nexus, COLORado and COLORdash LED fixtures from Chauvet Professional.
Flying many of his fixtures on truss that ran over the video wall, mid, & downstage at an average of 27 feet as well as on vertical poles, Kay created a glowing lightbox effect on stage. Adding colour to this framework were the eight COLORado 2-Quad Zoom Tour RGBW units and six COLORado 1-Quad Zoom Tour pars.
"We got excellent colours over a wide area from the COLORados," said Kay. "Brightness and colour from our blinders, beams, strobes and COLORados created a sense of intensity and drama on stage, which fit the music and the artists."
Kay added to this dramatic effect by uplighting artists with COLORdash Quad fixtures placed on the downstage deck. Lending even more power to the scene was the fog from the six Vesuvio RGBA LED units that were positioned on the upstage, downstage and mid-stage deck.
"Since the Vesuvios put out such a thick cloud of smoke, I covered the stage with them," said Kay. "Then I used my blinders, which were positioned very low on the deck, to shoot towards the downstage. Doing this let me get Machine Gun Kelly's tall frame to glow in colour against the fog – so yeah, it created the kind of image that gets seared into your brain."
Aside from the design advantages of using the Vesuvio, the water-based foggers offered Kay a practical benefit as well. "They served as a great substitute for CO2 jets," he said. "At a festival site like this, it's a pain to get the tanks to the stage, so the Vesuvios are a good alternative."
Also helpful to Kay on a multitude of levels were the five Rogue R1 FX-B fixtures in his rig. Positioned three on horizontal mid-stage truss and one each on stage left and stage right vertical posts, the Rogues provided him with an endless variety of looks during the festival, something he deeply appreciated since he had to punt for the entire event.
"I was the LD for all of the festival, and I pretty much punted the whole time," said Kay. "It was loads of fun, but it wasn't without its challenges, since I never wanted to repeat a look. Each of the R1 FX-Bs has five independent moving heads on it so with five of these units in my rig, it was like I had 25 moving lights. Plus, they could pan, tilt and rotate, which just opened up a lot of possibilities."
A LED colour mixing fixture with all that independent movement? That certainly wasn't something on the horizon back in 1970 Something, but in 2017, it helped this talented designer create looks that are something else.
www.chauvetprofessional.eu