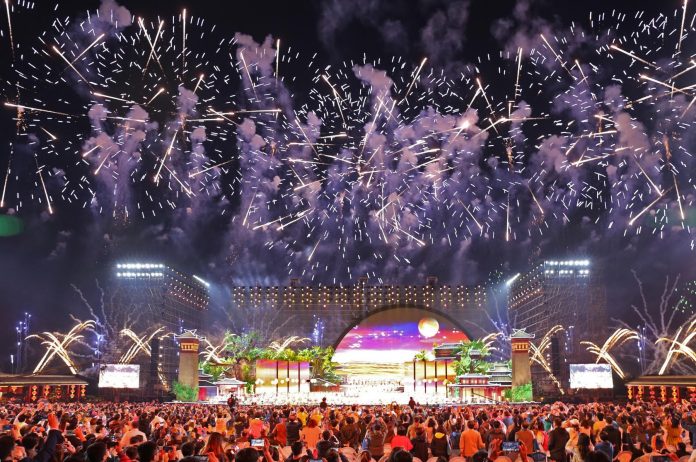 With a spectacular outdoor live production and 6000m2 audience arena, the Mid-Autumn Festival Party of China Media Group is a difficult challenge for any sound reinforcement system. However, thanks to an Alcons Audio pro-ribbon LR28 larger-format line array system, the audience at the latest event in Qufu enjoyed high-quality sound throughout.
Qufu is the hometown of Confucius, China's most famous teacher, philosopher and political theorist. Located in Nishan Holy Land – a 35km2 area around Qufu developed as a Confucius commemoration site and cultural heritage destination – the festival featured a huge, 60m wide stage and large set, with an audience of 5000 seated in an arena 80m wide by 100m deep.
Several audio challenges had to be overcome by the event's audio director Liu Yibin – lead sound engineer for China Central Television (CCTV) – and chief sound engineer Mr Xu. Because of the arena's size, the Front of House system had to be positioned and aligned very accurately. The festival site was also very close to Mount Ni mountain and the Nishan Reservoir, meaning strong breezes and changing humidity could cause problems with the sound.
To deliver great quality sound and overcome the potential issues, an Alcons Audio LR28 larger-format line array system was chosen, supplied by Alcons Chinese distributor and Pro-Ribbon partner EAD.
The main system comprised flown L-R clusters, each of 14 LR28/80 and two LR28/110 wide dispersion modules, plus three LR18 compact mid-size line array modules for downfill per side. Six ground-stacked groups of three LR18 were used across the front of the stage for fills, with 14 BC543 very high-output cardioid subwoofers arranged in L-R stacks of seven each. Due to the width of the stage, two more BC543 were used to enhance the bass in the central stage area. The system was powered and controlled by 28 Alcons Sentinel10 amplified loudspeaker controllers.
The HF section, the critical element of any line-array, in the LR28 comprises the multiple-patented, purpose-designed RBN1402rs 14" pro-ribbon transducer with 3.000 peak power handling and a 1:15 dynamic RMS-to-peak power ratio. Below 1 kHz, 4 high-output 6.5' midranges and 2 14" woofers complete the spectrum.
The site was modelled in EASE Focus software, which showed that the system would provide the required sound pressure level and even coverage. The CCTV audio team then used Alcons' ALControl software to quickly and easily build the network system control for the arrays.
"Thanks to the directivity, all-natural cylindrical wavefront and exceptional throw of Alcons Audio's pro-ribbon technology, a strong breeze and high humidity did not affect the transmission of sound at all. The pro-ribbon drivers of the LR28 system really pushed the high frequencies, ensuring very low distortion and maintaining a very clear sound for the whole audience," says Mr Xu.
Liu Yibin agrees, adding "The Alcons Audio system ensured that the sound was very clear and accurate for all of the 5000 people in the arena. The sound pressure level was maintained perfectly to the far back and sides of the audience, keeping a very even sound field throughout."