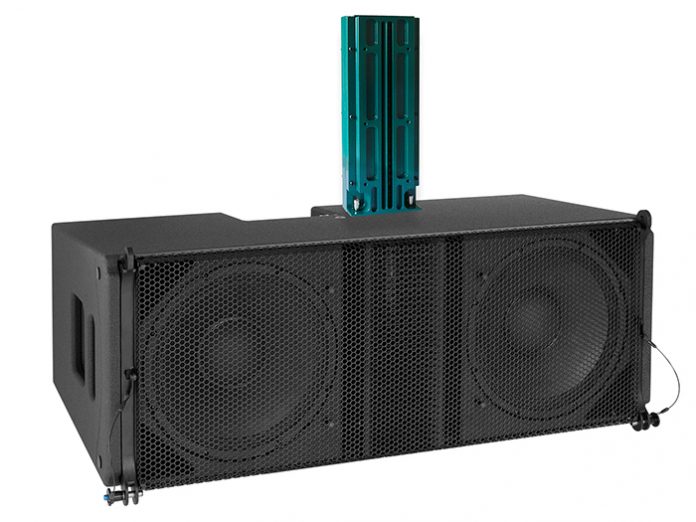 The LR24 is a 3-way, bi-amped "mid-size" format line-array system; Loaded with Alcons' multiple-patented pro-ribbon technology for mid and high frequencies, the system features an unusually high dynamic range with a fast impulse response with up-to-90% less distortion. This results in an intuitive linear response, with optimal intelligibility and non-compressed identical tonal balance at any SPL.
The all-natural cylindrical wavefront of the purpose-designed RBN1202rs 12" pro-ribbon transducer and the acoustically and electronically symmetrical component configuration bring an industry-leading pattern control in both the vertical as well as the horizontal plane, up to the highest frequencies without any distortion-inducing horn constructions. The very-coherent vertical dispersion enables a non-destructive inter-cabinet coupling for maximum HF throw and wind-stability.
The RBN1202's large 12″ voice-coil features an unusual power handling of 2500W and RMS-to-peak ratio of 1:15, from 1.000 Hz to 20.000 Hz; This caters for a remarkable intelligibility combined with a virtually unlimited dynamic headroom reserve.
The MF-section, features two high-efficiency 6.5" midrange transducers with Neodymium motor-structure, coaxially mounted behind the HF driver in a horn-loaded configuration.
The LF-section delivers a tight and accurate low frequency with highest output under lowest distortion possible. The new-generation 12" transducers are fitted with a large, dual-3.5" voice-coil Neodymium motor, enabling a significantly-extended excursion, while maintaining a high sensitivity.
The LR24 is driven by the Sentinel amplified loudspeaker controller, optimizing the system's response by configuration-specific VHIR™ drive processing and feedback. The Signal Integrity Sensing™ pre-wiring ensures dynamic cable/connector compensation between the LR24 and ALC; This further enables a 1:1, undistorted natural sound reproduction, regardless of cable length and amplifier impedance load, with a system damping factor 10.000.
The patent-pending flying system facilitates both compressed and non-compressed suspension, while enabling angle-setting on the cabinets without lifting the array. It has a WLL of 24 cabinets under 10:1 safety.
Suitable for medium-to large touring and production applications, the LR24 system is inventory of "The Ribbon Network"; Alcons Audio's international network for dry-hire cooperation of Alcons systems; backing member with enough inventory, to bring the Alcons experience to even the largest audiences.
Tom Back, managing director Alcons Audio: "The LR24 is filling the gap we had between the compact LR18 and large-format LR28 pro-ribbon line-arrays and, as such, is a direct derivative of both systems, sharing features like low weight, bi-amped high output and the unique flying system of its larger sibling LR28. We had many requests from Alcons users that were looking for a high-end touring system solution, where the LR28 was simply too large for their majority of applications, but its sound performance was essential."
Due to the completely neutral, high dynamic and ultra-low distortion "Alcons signature sound", the LR24 can be used for any application and source possible, from speech, to classical music, jazz, all the way to pop, EDM and hard-rock performances.
Philip "Dr. Phil" de Haan, Head of Alcons R&D: "With this new system, we were again able to introduce new technologies, continuing our strive for natural, uncoloured sound reinforcement with an intuitive response, regardless of type or size of application; From a 2-seat studio, to a 2.000 seat Broadway show or a 20.000 seat hardrock concert, all with the exact same groundbreaking high-resolution. Or as we put it: "What You Mix Is What You Get!"
www.lr24.info
www.alconsaudio.com