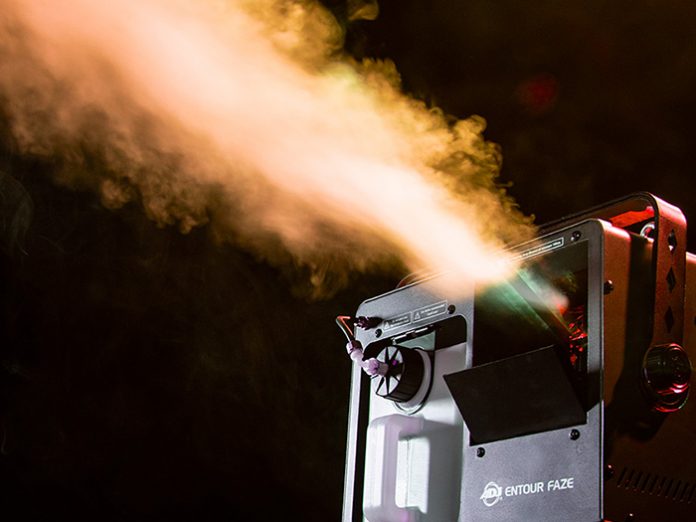 ADJ announces the immediate availability of the Entour Faze, the latest addition to the company's Entour range of professional effect generation equipment.
The new Entour Faze builds on the Entourage professional touring faze machine and Entour Venue installation model, offering a more affordable and compact solution that still generates an impressive output.
Combining the latest heating technology with a high-powered fan, the unit uses standard water-based fog fluid but outputs a fine mist rather than the thick plumes of smoke created by traditional fog machines. This makes it ideal for generating a light show-enhancing atmosphere for both stages and dancefloors.
Equipped with a 450W heating element, the Entour Faze is capable of generating 1000 cubic feet of atmospheric haze per minute. It also offers a large 3-litre fluid tank and a low consumption rate of 10ml per minute, which means that it is capable of 5 hours of operation from a single tank of fluid.
The unit also features ADJ's new patent-pending Rapid Heater Technology that means the machine can be ready to start producing haze just 40 seconds from the time it is turned on.
The unit is also fitted with a useful 'quick connect' hose which joins the machine to the fluid tank. This allows the tank to be disconnected simply, with the push of a button, allowing for quick and easy refilling of fluid.
An automatic cut-off circuit is also fitted that protects the pump if the tank runs out of fluid. For optimal performance, only use a light formula water-based fog fluid in this fazer. ADJ recommends the F4L ECO water-based fog fluid for the Entour Faze.
A flexible fixture, the Entour Faze can be operated in a number of different ways to suit a variety of applications. For simple faze generation, if offers an on/off trigger switch on its back panel that can be used to engage the effect whenever it is required.
It is also supplied with a timer remote control, which connects to the main unit via a ¼" jack plug and can be used to set bursts of faze to be generated at user-determined regular intervals. Finally, the unit is also compatible with DMX control, with a choice of 1, 2 or 4-channel operation, allowing it to be controlled using any DMX control hardware or software.
The machine features a unique dual hanging bracket system that can be used to hang the unit from above or serve as a variable angle floor stand. A safety eye is provided to allow the attachment of a safety wire when the unit is rigged and it is also fitted with rubber feet that allow it to operate standing directly on the floor of a stage or venue.
With compact dimensions of 16.25" x 8" x 12" / 414 x 202 x 303mm (L x W x H), the Entour Faze is easily portable. Weighing just 10 lbs. / 4.5 kg, the unit is also easy to carry and rig, making it ideal for enhancing the effects created by a mobile light show.
"The Entourage and Entour Venue faze machines have both proven to be extremely popular," enthused ADJ USA's National Sales Manager, Alfred Gonzales, "however many of our users wanted a similar kind of unit but that was more compact and affordable.
While still offering impressive output and a durable case design, the new Entour Faze is smaller, lighter and sits at a lower price point than the other units in the Entour range, making it ideal for small-to-medium-sized venue installations as well as for use by mobile entertainers and other gigging performers.