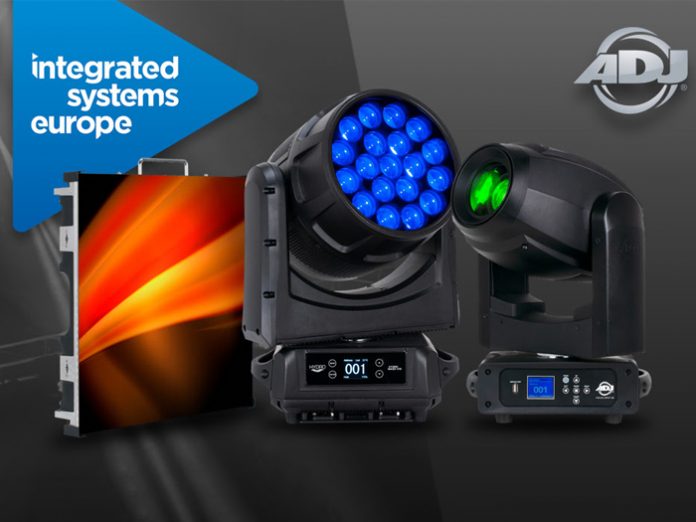 ADJ will be using the up-coming ISE exhibition in Amsterdam – billed as 'the world's biggest pro AV show' – to host the European debut of a variety the company's latest professional lighting and LED video products. These will include the next evolution of the popular Vizi Beam moving head series, a new range of LED-powered ellipsoidals, the latest addition to the ground-breaking Hydro Series of IP65-rated moving heads and a complete new range of LED video panels.
ADJ's new 'VS' Vision Series of LED video panels offers a versatile modular solution that has been developed to make life easier for video professionals installing LED walls on either a temporary or permanent basis. Each model in the range features four individual modules, which are both front and rear serviceable, making it ideal for temporary hanging as well as permanent installation. Across the range, the modules are all mounted to the same frame, allowing panels of different resolutions to be used together and meaning that the same rigging bar and road case can be used for all VS models.
The panels feature in-built corner protectors as well as an innovative setup mechanism featuring magnets that make it possible for a single user to setup a full wall of panels. Featuring the highest quality LED binning as well as bright, clear output, the VS Series will launch with three panel models. The VS5 offers a 5.95mm pixel pitch, the VS3 has a 3.91mm pixel pitch and the VS2 offers the highest resolution in the range with a 2.97mm pixel pitch. The VS Series is completed by the VSFC8 flight case, a robust wheeled road trunk designed to transport and protect up to 8 panels, and the VSRB1 rigging bar, which can be used to vertically hang or ground stack up to 20 VS panels.
The Focus Series is ADJ's range of feature-packed and compact LED-powered moving head fixtures. The new Focus Spot 5Z harnesses the power of a brilliant 200W cool white LED engine to generate potent mid-air beam effects and vibrant surface projections. It packs a whole host of beam manipulation tools into its neat 18" high frame, including motorized focus, motorised zoom (11-22°), 14 dichroic colours including CTO, CTB and UV filters (split across two wheels), 7 replaceable rotating GOBOs (including a 4-colour glass GOBO to allow the creation of multi-coloured beam effects), two rotating prisms (5-facet linear and 6-facet circular) and two frost filters (heavy and light) to create wash effects. It is designed both for temporary live events and fixed installations in nightclubs, theatres, event centers or churches.
Joining the Focus Series as its new flagship, the Focus Spot 6Z boasts a powerful 300W cool white LED engine and pairs it with precision-engineered optics to create an impressively sharp and bright output. While still retaining a compact design, this is ADJ's most feature rich Focus Series moving head to date. It is equipped with motorised focus, iris, shutter and zoom (with a range of 9-28°) as well as two rotating, indexable prisms (6-facet linear and 6-facet circular) and two frost filters (heavy and light). It also features two separate colour wheels, loaded with both vibrant saturated colours and useful CTO, CTB and UV filters. In addition, it offers two separate wheels each offering 7 replaceable slots for indexed, rotating GOBOs that can be used simultaneously to create animation effects. With its impressive collection of professional grade features, this versatile fixture is ideal for a wide variety of applications including production and rental as well as permanent installation in churches, nightclubs and concert venues.
Bringing a dedicated wash luminaire to the Focus Series for the first time, the new Focus Wash 400 features a 400W HEX LED engine (red, green, blue, amber, cyan and lime) that generates an output of 11,000 lumens with a high CRI. Its large Fresnel lens generates a homogenised output, while its motorised zoom function allows for a variable beam angle of 10-46°. The ideal companion to the Focus Series' spot fixtures, especially the popular Focus Spot 4Z as well as the new 5Z and 6Z models, this impressive wash fixture generates vibrant saturated washes with a very even field.
The Hydro Series is ADJ's flagship IP65-rated moving head range, offering lighting professionals high quality, yet affordable, fixtures that are sealed from liquid, humidity, dust and dirt. The Hydro Wash X19 is the latest model to join the range, which is a potent and punchy wash luminaire. Powered by 19 x Osram 40W RGBW (4-in-1) LEDs, it offers a wealth of features including motorized focus (6 ~ 40-degrees), WiFLY wireless DMX, 6 dimmer curve modes and gamma correction, as well as fine pan, tilt and dimming control. The other fixtures that make up the Hydro Series and will also be on display at ISE are the compact Hydro Wash X7 and Hydro Beam X1 as well as the flagship large-format Hydro Beam X2.
The new Encore Profile Pro WW is an LED-powered ellipsoidal designed for professional theatrical and other performance lighting applications. It utilizes a potent 260W warm white LED light source with a colour temperature of 3200K and an extremely high CRI in excess of 97. The fixture has a robust aluminum die-cast body and offers smooth 16-bit dimming, manual focus and zoom, framing shutters and a GOBO holder. It boasts an extremely flat, even field as well as crisp optics for GOBO projection and industry standard lens compatibility. ADJ will offer a range of optimised lenses for the fixture: 5/10/14/19/26/36/50 static and 15-30 / 25-50° zoom.
In addition, the Encore Profile Pro Colour offers all of the same features but loaded with a 250W HEX (red, green, blue, white, amber and lime) LED light-source. This allows for an extensive palette of both rich saturated colours and subtle pastel shades with a high CRI in excess of 90. As well as full colour mixing control, the fixture also offers a set of useful colour temperature pre-sets, ranging from 2800K to 6000K.
Representing the latest evolution in ADJ's extremely popular Vizi Beam range, the new Vizi Beam 12RX is a high-powered unit designed to generate crisp mid-air beam effects at concerts, dance events and in large nightclubs. Powered by the exceptional 260W Philips Platinum 12R LL MSD discharge lamp, which offers an impressive 6,000 hour average lamp life, the fixture incorporates a precision optical system that focuses the light into a razor sharp 2° beam. This can be shaped using a host of onboard features, giving lighting designers vast creative potential. These include a 14 position dichroic colour wheel + open, 16 GOBOs (including 4 beam reducers) + open, motorised focus, two rotating prisms (24-facet circular and 6-facet linear) and a frost filter for wash effects.
"We are excited to use the last ISE show in Amsterdam [before it moves to Barcelona for 2021] to introduce our exciting new professional lighting and LED video products to AVL integrators from across Europe and even further afield," commented ADJ's EU Sales Manager, Sebastian Mobers. "The installation and integration market continues to be a growing area of business for ADJ, which means that ISE has become an important show for the company. It is an opportunity for us to meet with existing customers and also to show off our exciting new products to a large number of potential new customers."
ISE 2020 takes place in Amsterdam at the RAI Convention Center, February 11 thru 14, and is expected to attract over 80,000 attendees. ADJ will be exhibiting on stand #7-N218, where members of the company's sales team from across Europe will be on hand to give demos and answer questions.