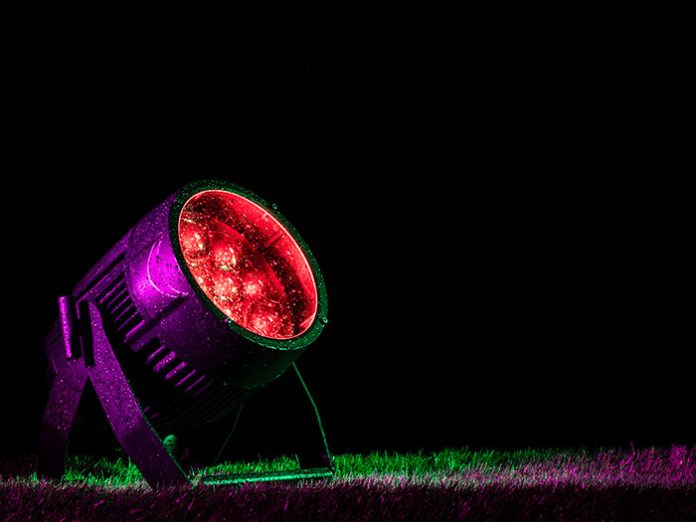 The Encore LP12Z IP is powered by twelve potent 20 quad colour RGBL LEDs, which deliver a combined output of up to 4,400 lumens. A 16-bit precision dimming control of the red, green, blue and lime LED chips allows for the creation of a huge gamut of output colours, while selection of options is facilitated via 64 preset macros.
The fixture can also be used to output white light with colour temperature variable between 2700K and 6500K. Five additional white light macros allow selection of popular choices.
The inclusion of the Lime LED element boosts CRI and perceived brightness as well as filling in gaps in the colour spectrum. The unit's overall CRI is 84.4, while its CRI R9 measures at 77.
The fixture's motorised zoom function allows its beam angle to be adjusted remotely between 5 and 30-degrees (9 to 50-degree field angle). Linear Zoom control allows the selection of beam angles while six presets aid programming.
With an all-aluminum construction, the Encore LP12Z IP, it has an IP65-rated sealed casing design, which means that it can be safely and reliably used outdoors in any weather conditions. It is also protected with a C3 marine-grade coating.
A 32-character backlit LCD display on the rear panel of the fixture provides access to a menu-driven interface for mode selection and DMX addressing. In addition to DMX control, with a choice of six modes (6, 9, 10, 12, 15 & 18-channel), the unit also offers three standalone options.
Static Colour Mode allows quick and easy selection of one of the pre-programmed colour macros, RGBL Dimmer Mode allows custom colours to be mixed directly from the menu interface, and Program Mode provides access to seven internal chase patterns, which can be configured with custom speed and fade times.
The LP12Z IP can be adapted to a user's personal preferences, or the specific requirements of a particular application, using a wide variety of customisable options. These include six selectable dimming modes (Standard, Stage, TV, Architectural, Theatre & Stage 2), four selectable Dimming Curves (Square, Linear, Inverse Square & S-Curve) and adjustable Dimming Speed (between 0.1 and 10 seconds). In addition, the LED Refresh Rate can also be adjusted using 14 presets (ranging from 900Hz to 25,000Hz) to eliminate flicker for broadcast or video capture applications. All these customisable parameters can be altered via DMX as well as directly from the LCD menu interface.
A recessed panel on the rear of the fixture offers protection to the unit's connection sockets, which are all fitted with rubber plugs to provide watertight protection when they are not in use. 5-pin DMX input and output sockets are provided for control, while IP65-rated power input and output sockets allow the electrical supply for multiple units to be 'daisy-chained' from a single outlet. The fixture is also equipped with an in-built ADJ WiFLY EXR extended range wireless transceiver, allowing it to receive a DMX signal wirelessly from a compatible WiFLY transmitter or another WiFLY-equipped fixture over a distance of up to 2500ft. / 700m (line of sight).
The fixture also supports the RDM (Remote Device Management) protocol.
The Encore LP12Z IP is available now from ADJ USA.