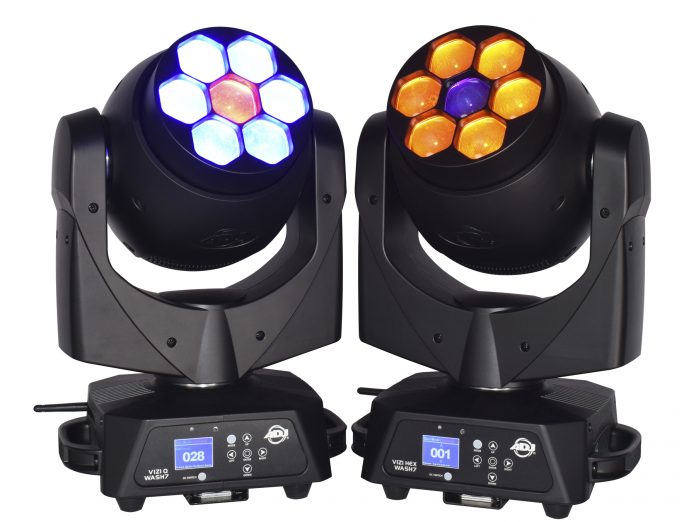 ADJ has expanded its Vizi Series of professional moving head fixtures with the introduction of the 105W Vizi Hex Wash7 and the 280W Vizi Q Wash7. Both these powerful wash units offer WiFLY wireless DMX and motorized zoom, allowing them to create tight beams for mid-air effects as well as wide washes for illuminating stages.
Powered by seven incredibly potent 40W quad-colour (RGBW) LEDs, the Vizi Q Wash7 produces a huge amount of light output. It's red, blue, and green LED elements allow for full colour mixing, while its white component also means that stark white illumination can be achieved when required. With a combined LED output of 280W, this is an extremely powerful fixture ideally suited to installation in big venues as well as for touring and large-scale one-off events.
The Vizi Hex Wash7, meanwhile, incorporates seven 15W HEX (RGBWA+UV) LEDs allowing for an extremely wide colour palette. The inclusion of an amber LED element means that warm white washes can be achieved for applications such as stage lighting, while the addition of a UV component makes this fixture ideal for clubs and EDM events.
Both the fixtures feature smooth variable electronic zoom, allowing the beam angle to be altered between a very tight 5° and an evenly spread 55°. This makes these units very flexible, ideal for providing illumination and effects for a wide variety of applications ranging from churches to theatres and clubs to concert tours.
"As LED technology continues to advance at a rapid rate, we're now able to supply LED-powered moving heads that offer massive light output," explained ADJ USA's National Sales Manager, Alfred Gonzales. "With the Vizi Hex Wash 7 and Vizi Q Wash7 professional fixtures, lighting designers and equipment installers working in very large venues can now enjoy the benefits offered by LED such as low power consumption and no need for lamp changes. I'm especially excited about these two new wash moving heads. Lighting Designers can choose the powerful 280W quad LED version, or they can go with the vast colour palette of the HEX LED."
Offering a 270° tilt range and a huge 630° of pan movement (with the option to limit this to 540° on the Vizi Hex Wash7), these versatile fixtures have a very wide field of movement. They incorporate speedy stepper motors that allow for very fast sweeps, while 16-bit fine pan and tilt control facilitate smooth slow movements and precise positioning. Both pan and tilt can also be inverted, to create contrasting movements when fixtures are linked together or to synchronize the movement of multiple units when some are floor standing while others are hanging downwards.
The fixtures offer smooth 0 %– 100% master dimming, for any selected colour, as well as a choice between five separate dimmer curves each optimized for a different application (Standard, Stage, TV, Architectural & Theatre). They also both feature variable speed strobing and pulse effects, allowing them to create energetic effects for nightclubs as well as concert lightshows.
Offering a choice of two operating modes, both fixtures are easy to get up and running. In Program Mode, they can be set to run through internal pre-set programs, with multiple fixtures connected together for synchronized master/slave operation. This allows an effective lightshow to be setup very quickly without the need for any programming. The effectiveness of such a setup can also be enhanced using the fixture's pan/tilt inversion option.
For integration into larger lighting systems, and to provide lighting designers with full control over all their features, both fixtures offer a choice between two different DMX channel options. The units are each equipped with a large backlit LCD screen that allows access to an intuitive menu-driven interface for mode selection and DMX addressing. This LCD menu can also be inverted to allow for easy use when the fixture is installed hanging downwards from a lighting rig.
In addition to compatibility with conventional cabled DMX, both fixtures are also fitted with ADJ's WiFly EXR extended range wireless DMX system. This means that the fixtures can receive and transmit DMX control signals wirelessly over a distance of up to 2,500 feet (line of sight).
On both fixtures, professional locking powerCon AC sockets are provided for mains power input and output, which means that the electrical supply for multiple heads can be linked together to reduce the amount of cable required to power a multi-fixture lighting rig. The units are also fitted with both 3-pin and 5-pin XLR sockets and allow multi-voltage operation (100-230V, 50Hz/60Hz), meaning that they can easily be integrated into any existing DMX system and are suitable for worldwide touring applications.
The fixtures themselves have sleek black shells with elegant contoured designs and are fan-cooled to allow for continuous operation for prolonged periods of time. With a weight of 19 lbs. / 8.5 kg., both units are easy to transport, carry, and rig. Both have dimensions of 11.75" x 8" x 15.75" / 300 x 200 x 400mm (LxWxH), which means that they are relatively compact fixtures, especially considering their impressive output. They are fitted with large rubber feat, for placement directly onto a stage or riser, and are also supplied with Omega brackets to allow truss mounting in any orientation. The units' bases are fitted with large robust handles that can be used to conveniently carry and lift the fixtures for rigging purposes.
The Vizi Hex Wash7 and Vizi Q Wash7 are professional-calibre fixtures that are packed with useful features. Both are ideal for permanent installations as well as touring shows and one-off events, while their alternate LED configurations differentiate them for specific applications. The Q model offers phenomenal brightness, making it perfect for large-scale light shows in huge venues, while the extended colour palette offered by the Hex model's 6-in-1 LEDs makes it suitable for applications where a wide range of colours, including UV, are required.