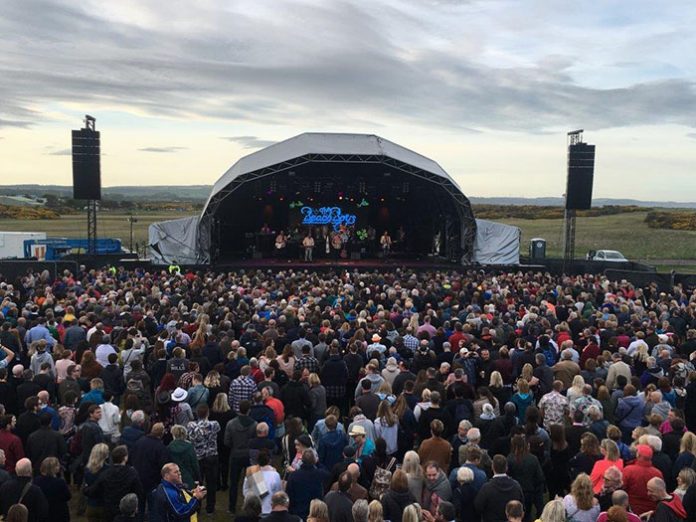 Adamson's UK partner The Warehouse Sound Services Ltd working with promoter LCC Live designed a substantial Adamson sound reinforcement system for Montrose Music Festival's 10th Anniversary event last month. The three-day festival featured headline performances from The Beach Boys and Deacon Blue alongside a range of other artists.
Montrose Music Festival or MoFest as it has become affectionately known as takes place at the end of May each year in Montrose, Angus. It has become a much anticipated, annual event across Scotland. 10,000 fans packed out the festival for the event.
Deacon Blue returned to perform at MoFest for the first time since 2009 when they became the only headliner in MoFest history to play shows on two consecutive nights after the first gig sold out in less than two hours.
The Beach Boys thrilled on Sunday with hits such as Good Vibrations, Surfin USA, Sloop John B, and Wouldn't It Be Nice.
Systems engineers Aidan Thomson and Graeme Brown from The Warehouse created the system design with Mike Kerr, Production manager for LCC Live.
The festival featured full complement of Adamson E and S-Series line array modules and subwoofers. The Warehouse used left/right arrays made up of E15 enclosures with E119 subwoofers driven by a Lake LM44 and Lab Gruppen PLM20K44 amplifiers. Front fill was covered by S10 enclosures. Lake LM44 was used to send Dante to the amplifiers, passing 96kHz seamlessly, with a 96kHz AES and an analogue backup from front of house to the amplifiers ensuring a rock solid system. A full wired and wireless microphone package was provided with AKG, Shure, Sennheiser and DPA microphones, IEM Systems consisted of Sennheiser IEM300G3's and Shure PSM1000's.
Aidan Thomson of The Warehouse commented:
"The bar has been raised for what people expect sonically at festivals and concerts, we needed to make sure that the full 10,000 strong audience had an amazing sound experience right across the site. The system performed flawlessly providing consistent and even coverage with exceptional sound quality and further underline's the true scalability of the Adamson E15/S10 systems."