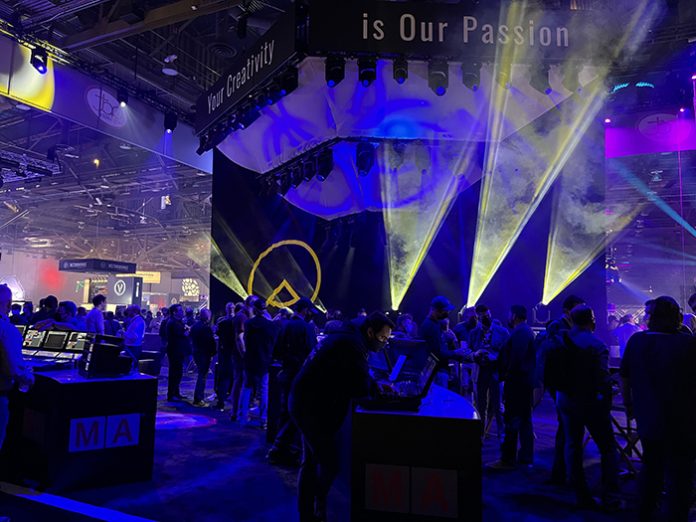 ACT Entertainment has enjoyed a successful LDI 2021, reconnecting with customers in Las Vegas. Two ACT brands – ProCo and the.BRIDGE – were honoured with Best Product Awards, while ACT netted the show's Best Large Booth Award "for an inviting layout of all brands," according to the citation.
"We brought a tremendous amount of exciting new technology with us to show our constituents," said ACT Entertainment CEO, Ben Saltzman. "We participated in LDI this year to support the amazing industry we work in and the talented people who support us. I could not be prouder of the ACT team and what we accomplished."
"We had two key takeaways from this very unique LDI," noted ACT Entertainment Senior Vice President of Sales, David Johnson. "One was the surprising number of key designers, influencers, and rental companies who took time out of their newly busy schedules to attend the show. The other was the sheer amount of quality time we were able to spend with attendees and the opportunity it afforded us to have deeper, more meaningful conversations with both new and existing customers. Those discussions gave us new insights into our brands, our clients, and our industry."
ACT Entertainment Marketing Manager – Concert Touring and Live Experiences, Ryan Hindinger commented: "Everyone we met was excited to be there, busy, and looking for new gear solutions. The industry clearly has a lot of momentum and demand for innovation is high."
ProCo was honoured in the Best Sound Product category for its Wireless In-Ear Monitor System (WIEMS), which provides small theatres and houses of worship with a in-ear monitor solution. Just Industries' the.BRIDGE, which enables lighting control via the Internet, won the Widget Award.
ACT netted the Best Large Booth Award for its new spin on showcasing customer favourites and new brands, such as ROXX lighting fixtures, and many products that attendees had not had a chance to see in person during the COVID-19 pandemic.
"We configured our booth to show how the products would be used in a concert or live event venue," Hindinger explained. "We had MA products front of house, lighting over the stage, attendees at audience couches and tables, and our infrastructure and networking products backstage or to the side. Customers got the concept. In fact, it worked so well for us that I think we'll keep this booth setup at future shows."
Saltzman concluded: "We knew LDI2021 would be special as the first show back since the pandemic, and we're grateful to everyone who helped make LDI happen this year and to everyone who turned out to make it a huge success."