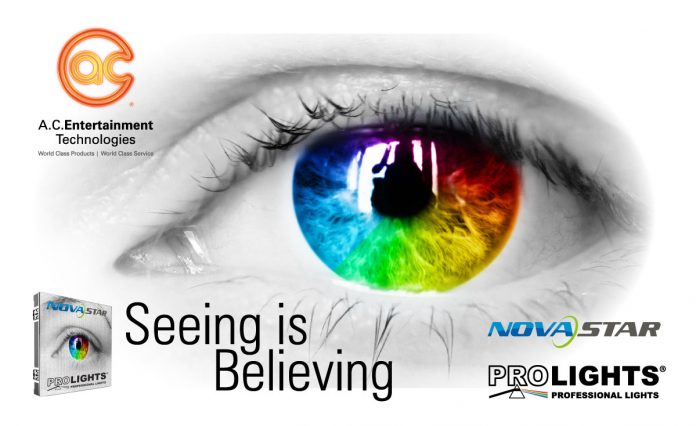 A.C. Entertainment Technologies Ltd. (AC-ET) has announced that in partnership with leading video brands including NovaStar and PROLIGHTS, it will be hosting a Seeing is Believing UK training and demonstration event on 6 March 2019.
Held at leading Live Events community, Production Park in Wakefield, technical experts from NovaStar and PROLIGHTS will provide hands-on product training focusing on the key features of NovaStar's award-winning LED display processing solutions, as well as how to operate and specify them for different projects.
Attendees will get an insight into NovaStar's extensive product lineup that includes the Taurus next-generation multimedia player for smart display systems; the MCTRL660 PRO controller, which provides an excellent ultra-low latency solution when paired with NovaStar's A8s and A10s receiving cards; and the InfoComm award-winning MCTRL4K controller, which utilises the latest HDR technology to show more details and bring pictures to life.
In addition, the day will give an overview of PROLIGHTS 39; flagship OmegaPIX modular LED displays, which feature NovaStar's A8s card to deliver stunning image quality for professional applications. The card perfectly calibrates every pixel for incredible image consistency and a smooth picture.
Video content will be driven by Green Hippo's versatile Hippotizer V4+ Media Servers range and product specialists for all featured video technologies will be on hand to answer any questions.
This is a free event and complimentary lunch and refreshments will be provided throughout the day.