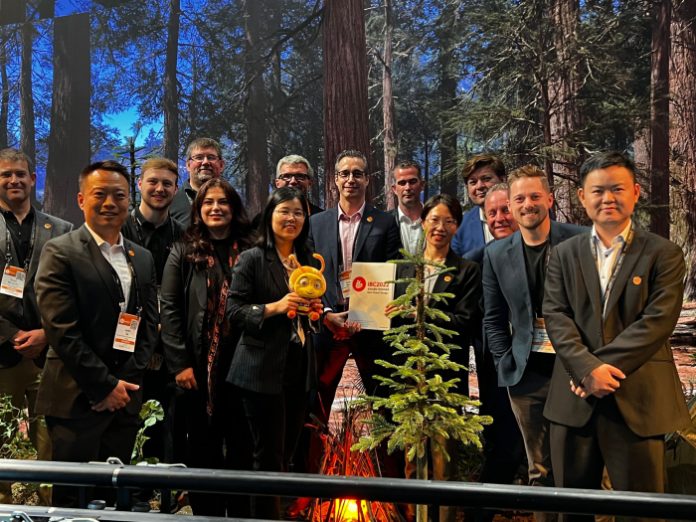 Attracting over 37,000 visitors from 170 countries, IBC 2022, held at the Amsterdam RAI, proved an ideal platform for Absen to showcase virtual production solutions using its latest LED technologies.
Absen's virtual studio set allowed visitors to interact, in real-time, with the production set that emulated an earthy woodland LED background setting complete with a welcoming campfire.
The set was developed in cooperation with various Absen partners including Brompton Technology (LED video processing), ARRI (motion picture equipment) and stYpe (camera tracking technology).
Absen's latest innovations formed the building blocks of the film set, which consisted of; the Clear Cobalt 0.9mm MicroLED, part of the Clear Cobalt series, boasting black coating and calibration technology, the AX1.5 MiniLED, part of the Aries series, and the MR series of LED floor panels – MR2.5 and MR4.8 – for virtual production stages.
Jess Golding, European Brand and Marketing Director at Absen, believes the show presented some exciting opportunities for new studios worldwide. "It was a delight to be back at IBC, promoting our latest technology in the broadcast and filming industry," she said. "The Absen team got to meet with existing clients and some potentially exciting new ones – we're eager to start the many projects discussed over the show!"
IBC judges were equally impressed with the set, awarding the LED manufacturer with 'best medium sized stand design' overall: "We're thrilled to have won an award for our booth," concluded Golding. "The importance of LED virtual studios is only going to increase in the future which is why Absen is constantly evolving and progressing with technology in this area. We very much look forward to returning to IBC, bigger and better for 2023."