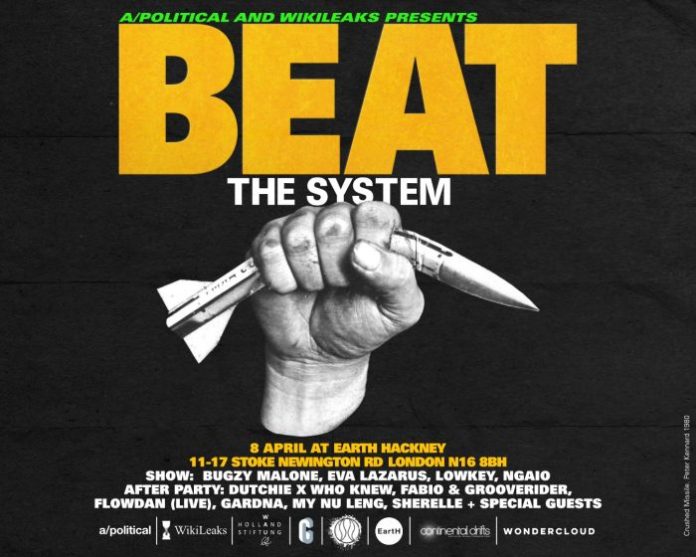 a/political and WikiLeaks present: BEAT THE SYSTEM on 8 April at EartH Hackney as the closing event for the States of Violence exhibition at a/political. The night brings together artists and musicians to raise awareness around the importance of press freedom and to empower the public to create positive change.
BEAT THE SYSTEM features a back-to-back line up of acts including: Bugzy Malone, Lowkey, Eva Lazarus, and My Nu Leng. Shangri-La's creative team, wondercloud creations, are creating stage sets and installations for the show in collaboration with ShangrilART and artists from the a/political network.
Taking place just ahead of the four-year anniversary of Julian Assange's imprisonment in Belmarsh Prison, weeks after the 20-year anniversary of the invasion of Iraq, during a moment of widening inequality and the worst strikes over pay in history in the UK, BEAT THE SYSTEM seeks to turn the spotlight back onto the public, emboldening young people in the pursuit of their artistic and political endeavours. It urges them to understand the realities of the world today and to speak up for their right to live in a society that is fair and just. The night is in solidarity with artists, musicians, journalists and whistleblowers who are fighting to expose injustice around the world.
Robin Collings, Founder of Shangri-La Glastonbury, commented: "Shangri-La exists to reflect the issues of our time, we invite our community to broaden their perspectives, and we promote free expression through music and art. We have always had an incredible and diverse line up and artistic team, all with important voices. It has never been more important to listen!"
a/political spokesperson stated: "Music is a tool for change and empowerment. This night will show that politics affects everyone, and we will be encouraging people to actively engage with it. Music moves people. At its best, it signs, if not cries, out with truth. It can be the engine of change and an indispensable vessel for truth when states fail us. That's why so many brilliant artists, who touch the hearts and lives of millions, support this event. Together we stand for freedom: a world without repression. No more white noise. Sing the truth. London hears our call. Beat the system and Free Assange NOW."
Tickets: link.dice.fm/N62138f43d16