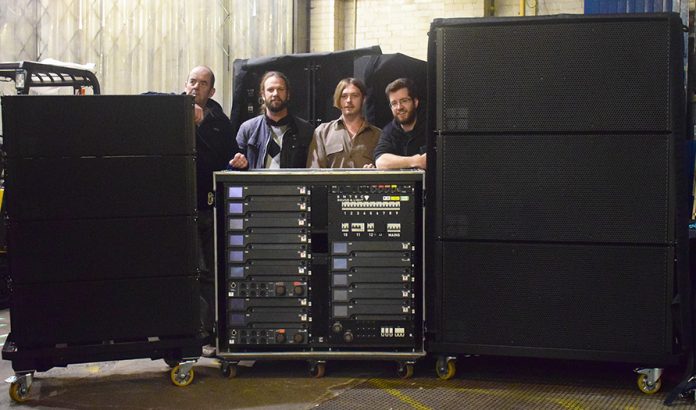 West London rental specialist Entec is delighted to announce the appointment of Daniel Scantlebury as its new Head of Sound, effective immediately.
Scantlebury, who has joined after several years with Manchester-based dbnAudile as a senior project manager, said: "It was time for a new challenge and an incredible opportunity like this does not come along very often, so I'm thrilled. I've always respected Entec for its approach to business as well as its impressive history, and moving south to be closer to my family was also a consideration."
Entering the live industry at 17 as a touring audio freelancer, Scantlebury later became a full time system tech for dbnAudile, eventually coming off the road to assume the position of senior project manager. He commented: "I did a lot of festivals with them every year and I particularly enjoyed running the audio for Boardmasters, rigging the system and mixing at front of house for a main stage audience of 50,000. That was my showcase project for dbnAudile along with being on the team that handled a system installation at Printworks in London."
The news of Scantlebury's appointment coincides with another major move for the company's sound department. A committed d&b rental house since 1995, Entec recently invested in the brand's latest generation SL-Series with the purchase of 50 KSL line array loudspeakers – 28 KSL 8 (80° dispersion), four KSL 12 (120°) and 18 cardioid SL-Subs – for medium to large applications.
Making its début with Entec on Van Morrison's autumn UK tour, this investment follows the company's exposure to the SL range whilst working on Gorillaz' most recent tours, Humanz Live and The Now-Now, in partnership with Colorado's Brown Note Productions.
"We are set up for the future," claimed Scantlebury. "In my opinion, KSL and its sibling GSL have superseded every other brand on the market, so we are entering this new phase with seriously cutting-edge technology that has been proving itself over and over.
"The tonality is absolutely brilliant and from a practical perspective it's very quick to rig. The audience is happier and the band on stage love it because there's no extraneous low end spilling out of the back of the hangs."
Scantlebury follows in the footsteps of Jonny Clark, who successfully served as the department head for three and a half years. "There was a very helpful, week-long handover period," commented Scantlebury, "and I'm happy to say I have inherited an excellent starting point with which to move things forward and develop new client relationships in the touring world.
"I am also enthusiastic about applying my knowledge and experience within the festival market to gain some ground in that sector over the next few years. Diversification is key to a healthy future and Entec certainly has the range of leading-edge equipment, the right attitude and instinct to offer positive solutions in both areas, so I'm thrilled to be in a position to take that to the next step."
Entec's Managing Director Noreen O'Riordan said: "On behalf of all our staff, I am very excited to welcome Dan onboard to head up the Entec audio department. Dan has an engaging personality and the right leadership skills and knowledge to extend the growth and vision of this company. We all look forward to working with him."