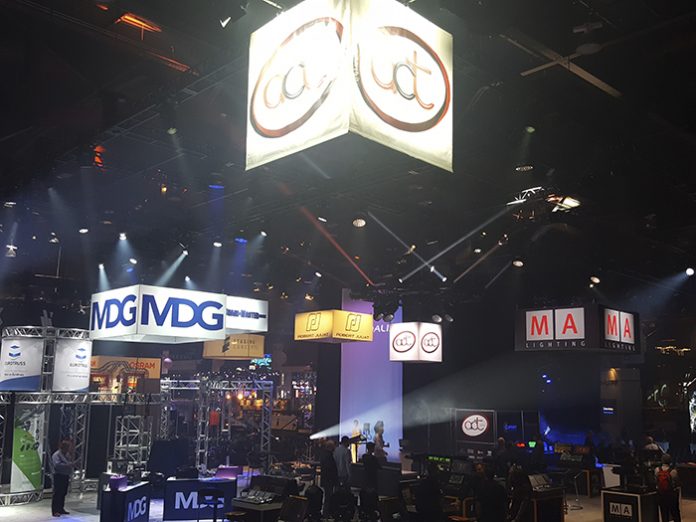 A.C.T Lighting celebrated one of its most successful LDI shows ever, both on and off the convention floor. The exclusive distributor of MA Lighting, Clay Paky, Robert Juliat and other leading brands in North America, A.C.T Lighting was a major participant at LDI 2016, held 17-23 October in the Las Vegas Convention Centre.
"I believe we had the largest booth on the tradeshow floor," said Brian Dowd, Vice President / Sales at A.C.T Lighting. "With 6,000 sqft, a good open layout and a prime location at the entrance to the Central Hall, our booth pulled in a lot of people who were eager to see what's new from the best product lines out there."
Clay Paky drew crowds to displays of several new lighting fixtures. Scenius Un1co made its international debut at LDI 2016. The latest addition to the Scenius product range, Un1co is billed as the ultimate "All in One" fixture combining the features and functions of a spot, wash, beam and profile. It offers creative effects, an exclusive beam framing system, rich and even colour washing, solid and parallel beams, and matchless light quality – all in a single lighting instrument. "People were really impressed by its output and feature set," noted Dowd.
Clay Paky also drew a positive response with its innovative new Hepikos hybrid beam / washlight. A highly-compact, advanced multi-purpose light, Hepikos optimises both beam and wash functions and is a perfect complement to the beam/spot effects produced by the popular Mythos. Hepikos offers great performance, versatility, an abundance of colours, and low power consumption.
Robert Juliat expanded its Dalis LED family with Dalis 862, a new asymmetrical 150W LED footlight designed in partnership with Laser Imagineering. It incorporates 48 patented asymmetric reflectors arranged in a double row; each row can be controlled independently for long or short-throw capabilities and creating upstage or downstage lighting. Also on hand was the upcoming Dalis wash light. "Robert Juliat's Dalis products generated some of the best audience responses of the booth," said Dowd.
MA Lighting continues the development cycle of its popular consoles with announcements of software upgrades for the grandMA2 and dot2 product lines and advances in networking solutions and media servers.  Those solutions showcased the MA Network Switch with an easy user interface making network management simple for the entertainment technician.  MA also continues to push video-for-the-lighting guy with the addition of a new codec and built in video converter for the VPU.
A.C.T Lighting's booth also unveiled MDG's new Me8 fog generator. The latest in MDG's Me range of foggers, the eight-nozzle model delivers exceptional results on a vast scale. "It's the most powerful fog generator on the market," said Dowd. "It can create 28,000 cubic feet of fog per minute for projects requiring a massive output. A demo in the Convention Centre was out of the question!"
Rounding out the booth Eurotruss showed its new high-polish finish and ChainMaster introduced a high-speed (32 fpm) half-ton hoist equipped with encoder for use with Kinesys Digihoist positioning controls.
A.C.T Lighting maintained a busy presence off the show floor, too. The company hosted a private viewing of soon-to-be-released Clay Paky fixtures to crowds that "packed" the preview space throughout LDI. 300 invited guests had fun at the A.C.T / Clay Paky party on the 108th floor of Stratosphere Las Vegas. "The view was amazing, and the response was awesome," says Dowd. "We're huge supporters of LDI. It's truly the premiere tradeshow for our industry."